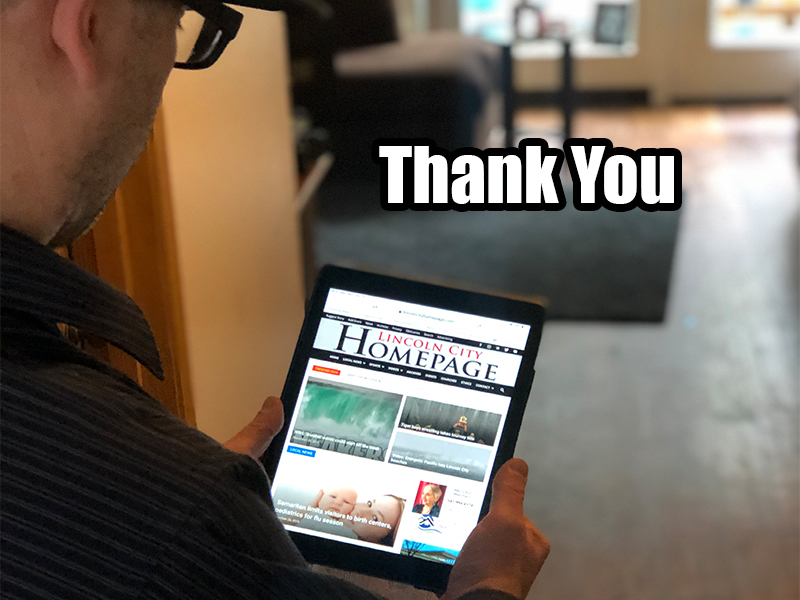 2019 was a great year for news in Lincoln City, even as long-established newspapers shutter their doors or scramble to increase their internet presence across the country.
Our meteoric rise has had a positive effect on local news media as evidenced by a more informed public and increased level of quality professional reporting across the board. Sometimes a kickstart is all it takes to get something good going — and right now — the going is good.
A very special thank you is in order for our readers as you have been instrumental in making our success possible. Placing your trust in us has been a great honor and we will continue to uphold our ethics and quality controls in our reporting.
With this success, we have been able to attract advertisers, and with the funds received from them we procured tools to do our job more effectively. We plan to bring you high-quality video reporting about things you care about in glorious HD with our new professional video camera.
We have also been able to increase all aspects on the website side, such as a better server and self-hosted video — all of which is very technical and boring so we'll leave it there, but please note our internet capability has increased about 1000 percent.
Homepage Executive Editor Jim Fossum constantly speaks his mind on all things pertaining to our readership, including how he feels "mind-boggled" about our growth, the number of hits our articles get and breaking 5,000 Likes on Facebook. Everyone at Homepage has experienced mind-boggling and we'd like to thank you for it.
As 2020 looms, we have big plans in store to increase our coverage of all things that affect you and your daily lives.
We have the technology in place to bring you a streaming video service. Those of you who enjoy filming are invited to get on board from the beginning. We are currently looking for video partners by way of cooking shows, documentaries and anything you'd find on the big streaming providers. Our beta test group was "blown away" and went "absolutely insane" when we showed them our test site. You'll see it soon as we get more content for you to consume.
We are hard at work on an app that will potentially make every local citizen a reporter. Can't get into details about it just yet but it should prove to be a huge benefit to those wanting to tell their stories easily.
Homepage will continue to deliver the news daily to the people of Lincoln City (and beyond) and to further this we have obtained a brick-and-mortar location where citizens can come in to tell their stories or voice their concerns. We'll make the location public as soon as the paint on the walls is dry.
Thank you so much for visiting our website, greeting us in public, inviting us to your events and believing in us. Hope you have a great 2020.
Sincerely,
Lincoln City Homepage Publisher Justin Werner