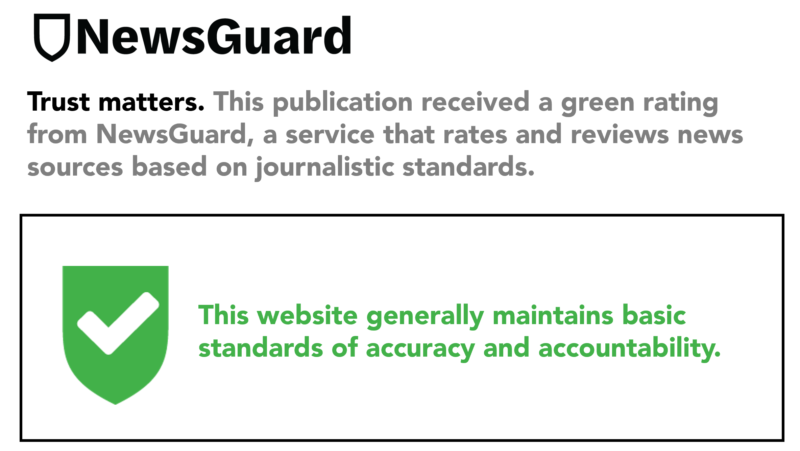 Lincoln City Homepage's efforts to be the most credible news source for the community and surrounding area were rewarded Thursday with a "green" rating from NewsGuard Technologies, the "Internet Trust Tool" that analyzes journalistic integrity.

By "avoiding deceptive headlines, not publishing false content, disclosing ownership and financing information and gathering and presenting the news responsibly," Homepage joins heavy hitters such as the New York Times, Washington Post and Wall Street Journal.
NewsGuard was launched September 2018, and has been using teams of trained journalists to combat fake and misleading news with an extensive information gathering process and rating system.
Lincoln City Homepage as defined by NewsGuard:
A website that publishes hyperlocal news serving Lincoln City, Oregon, and the surrounding area.
NewsGuard also provides "Nutrition Label" write-ups of the more than 2,000 news and information sites that account for 96 percent of online engagement in the United States in English.
 HOMEPAGE NUTRITIONAL INFORMATION
Homepage missed a perfect rating as only one major correction has been issued. The requirements for "regularly corrects or clarifies errors" would have needed more corrections or clarifications to be published to earn a perfect score.
NewsGuard offers browser extensions to tell if a news source is reliable. As users browse the web, color-coded ratings and descriptions offer a detailed accounting of a website's reputation.
A NewsGuard green-rating is not only beneficial to readers looking for the truth, it also helps reputable news organizations get in touch with advertisers who are trying to keep their ads off false news and misleading sites.
From NewsGuard's website:
The NewsGuard rating of news websites separates sites that are doing reliable journalism from purveyors of false or misleading news or disinformation. Advertisers use the NewsGuard ratings to build a list of reliable news sites safe for advertising and to keep ads off inappropriate sites.
Our goal is to give everyone the information they need to be better informed about which news sources they can rely on—or can't rely on.