News flash . . .
Lincoln City Homepage is all about providing you the news – what you want and when you want it – which means now and free.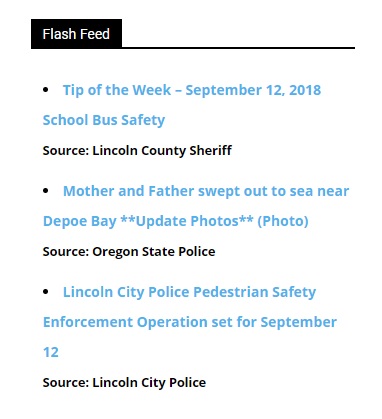 In several new features premiering today, Homepage brings you immediate access to all-encompassing weather reports, community festivities and events, and all of the area's breaking crime news from your major local law enforcement agencies — direct from the arresting officer's mouth, so to speak.
Under the title "Flash Feed," you can now instantly obtain all the invaluable information being shared by the Lincoln City Police Department, Lincoln County Sheriff's Office and Oregon State Police regarding arrests, criminal activity and other public service announcements the moment it is released by the respective law enforcement agencies.
The weekly local crime log is also just a click away, alongside a series of colorful buttons that now includes an evolving calendar of community events and all your local and national weather news, complete with forecasts and detailed maps. Submit your weather photos or scenery shots for consideration for publication under our new expansive weather format.
Like the police, fire and rescue agencies whose job it is to keep you safe, Homepage is here to serve. We are pleased to bring this new and exciting community service to our growing and coveted readership.