"SMOKY-VOICED, PIANO-PLAYING, 70s INSPIRED VIXEN" LEADS MOODY LITTLE SISTER, AT THE LCCC NOV. 19
LINCOLN CITY – She's got a mind of her own, and it changes so fast it will make your head spin. But with that changeable nature comes great thoughts and deep inspiration. She's your Moody Little Sister, the namesake of the Americana duo of Naomi Hooley and Rob Stroup, on stage at the Lincoln City Cultural Center on Saturday, Nov. 19.
The LCCC is proud to welcome Naomi and Rob back to the LCCC, where they'll play two sets of original folk piano, guitar, percussion and vocals, starting at 7 pm in the auditorium, 540 NE Hwy. 101 in Lincoln City. Advance tickets for the Nov. 19 show are $20, on sale now at www.lincolncity-culturalcenter.org. Current LCCC Members receive a $2 discount (to learn more or to join, call the office at 541-994-9994).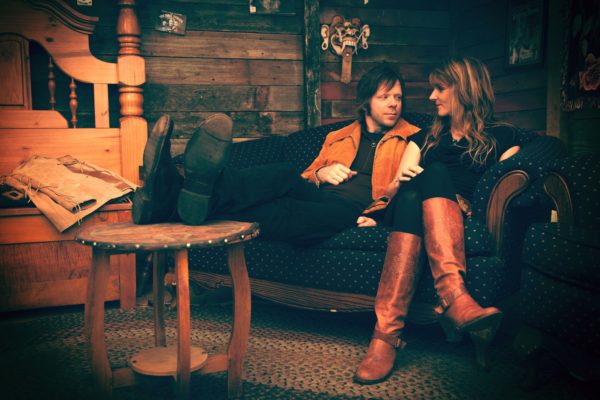 "One is a smoky-voiced, piano-playing, 70s inspired vixen; the other a dusty blues guitarist and singer" (The Source Weekly).
Naomi Hooley was raised in a small town in Alaska, which she calls the "wild sanctuaries of the last frontier. The forests and creeks reared me and they waited only feet from my back door to teach me the hard and beautiful truths of Mother Nature." She encountered her first piano at age five, but even then she knew what to do. Hooley taught herself to play, sing and write songs, and always considered herself a songwriter. "I was born with music inside of me, asking to be written," she said.
She grew up, and put her musical dreams aside. After years working in offices, and at the end of a marriage, she decided it was time to pursue her dreams. In 2010, she drove 3,000 miles from Alaska to Portland to make her first record, "It Was a Great October." Since then, she's released "Naomi Hooley Live at the Aladdin," along with "Naomi Hooley & Rob Stroup's Winter Wonderland" and, as Moody Little Sister, "Wild Places."
Katie Presley of Bitch Media said in 2012: "Her sound is earthy and approachable, and her backstory is the stuff of serendipitous musical legend. My theory is, no matter where you listen to Naomi's music, you will be reminded of home."
Rob Stroup also grew up a bit wild, in a family dedicated to hunting, fishing, working and religion. He always loved to sing and play the drums, and saved his money to buy his first Galaxy 5000 drum set when he was 8 years old. He grew up, thought hard, and went on to play and lead several bands in Portland, including Baseboard Heaters, The Imprints and Rob Stroup and the Blame. He also works as a recording engineer and record producer, and is the owner and founder of 8 Ball Studio (producing Tony Furtado, Debra Arlyn, Vagabond Opera and others).
Together, Rob and Naomi perform as Moody Little Sister and specialize in songwriting that is emotionally moving and structured beautifully, with solid instrumentation and a sense of community. Three years ago, after a violent crowd in a small town bar, Naomi and Rob found a different path: house concerts, back yards and "camping concerts" where fans enjoy nature, hang with the band and become part of the tribe. These newlyweds, who got married after a concert on Aug. 27, are just back from their "Southwest Honeymoon Tour."
On Nov. 19, the doors to the LCCC auditorium will open at 6:30 pm. First-come, first-serve seating will be at small tables and in theatre-style rows. Refreshments are available for sale, including Northwest beers and wines, Mountain Man nuts, and cookies by My Petite Sweet.
The Lincoln City Cultural Center is a non-profit center for community and creativity, inside the historic Delake School building, at the corner of NE Sixth St. and Hwy. 101. The center, which is also home to the official Lincoln City Visitor Information Center, is open from 10 am to 4 pm every day except Tuesday. For details, head to www.lincolncity-culturalcenter.org, or call 541-994-9994.