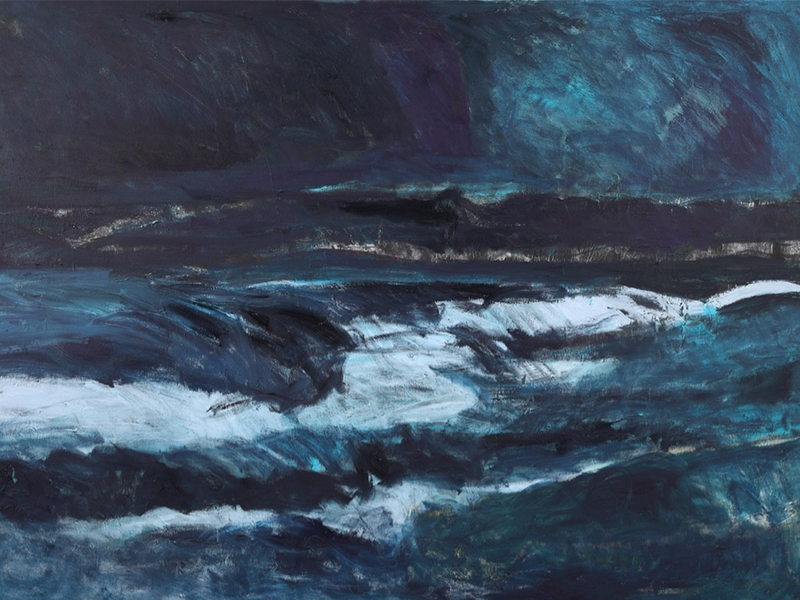 Lincoln City Cultural Center will be the scene Friday, Aug 9, for "Source2," a free to the public art experience about water and its role in our world.
The event is a collaboration between the Lincoln City Cultural Center and two artists, the internationally renowned Liisa Rahkonen and Former Newport Mayor Sandra Roumagoux.
"Source2 will encompass our relationship and responsibility to protect the living water around us — clean streams, rivers, estuaries, lakes and the sea," Rahkonen said. "This show is about vulnerability, and a call to action."
"Source2" will begin with a reception at 5 p.m. showcasing paintings by Roumagoux and  sculptures by Rahkonen in the PJ Chessman Gallery. Reception attendees will be able to meet the artists and enjoy light appetizers and wine.
At 7 p.m. in the auditorium, the main presentation begins, where sculptures, paintings, stories, science and conversation about water are on the agenda. The program will include several speakers who will explore the spiritual, societal and scientific needs of water, as well as a dance performance and a heritage interview on video.
Featured speakers and performers at "Source2" will include:
Duncan Berry – photographer, entrepreneur and leader in the Cascade Head Biosphere Reserve Conservancy
Elizabeth Wilson – Board of Directors and longtime instructor in Peace Village Global, an international instructor in Peace and Social Justice through Pacific University
Jerri Bartholomew – Glass artist, professor and head of the Department of Microbiology at Oregon State University, who will speak on the current and future conditions of the Pacific Ocean
Dancers from the LCCC Ballet Program – Led by Diane Christiansen, performing to "Time to Swim" by the Shook Twins
A recorded interview with Agnes Baker "Grandma Aggie" Pilgrim, Takelma and Confederated Tribes of Siletz Indians.
Those who find themselves inspired to take action on clean water issues in the region will find information from local agencies and nonprofit organizations. Rahkonen is also planning a "Gratitude Wall," which will thank local groups and individuals for the work they have already done.
The exhibit will include Rahkonen's traveling installation that promotes healing and reflection. It's called "BLame and EXcuse" or "BLEX," and it's a ceramic green bear cub in a nest of sticks and twigs. The onlooker is invited to write a blame, an excuse or a blessing on a piece of paper, and wrap the paper around a stick with a piece of tape. Then, the message stick is inserted back into the nest, where it will stay until the end of the show. When "Source2" is dismantled in September, the sticks will be gathered and burned so that the messages are released.
"No one will read your personal message, but if you are concerned, just hold the message in your mind, and make a mark to represent what you wish to release. Your intention is clear, and that is enough," the instructions say. "Please write for yourself, your family, friends and community. Please write messages to the waters and all life forms on this beautiful planet."
The "Source2" art exhibit will be on display in the PJ Chessman Gallery through Sept. 9. Gallery hours are 9 a.m. to 5 p.m. Wednesday-Monday. For more information about the gallery, call Lincoln City Cultural Center Visual Arts Director Krista Eddy at 541-994-9994.
ABOUT THE ARTISTS
Liisa Rahkonen's lengthy career has primarily focused on painting. However, for "Source2," she is showing a series of raw and emotive ceramic sculptures of birds, fish and animals that depend on clean water for their survival. Her work has been collected throughout the U.S., Paris, France, and Australia. A mixed media piece was selected by the United States State Department for the American Embassy in San Salvador, El Salvador.
Sandra Roumagoux is showing a series of powerful oil paintings with dark tones and implications. She is a strong regionalist painter with environmental and social concerns, and is collected by the Portland Art Museum and the Microsoft Collection, Redmond, Wash., for their permanent collections. Sandra was Mayor of Newport, Oregon for three terms with her last term ending in January 2019.  During her tenure as Mayor she was involved in Newport's dam, a study which is ongoing.
The Lincoln City Cultural Center offers performances, fine arts, classes, and visitor information inside the former Delake School at 540 NE Hwy. 101 in Lincoln City. Summer hours are 9 am to 5 pm, Wednesday through Monday.