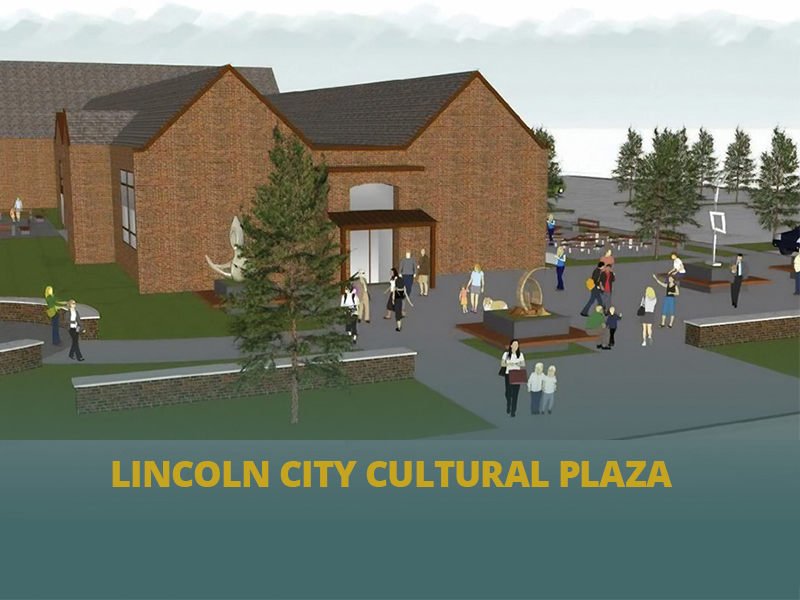 A $1.5 million State lottery bond allocation for the Lincoln City Cultural Plaza revitalization project will help redevelop 2 1/2 acres with sidewalks, gathering places, public art, vendor amenities, parking and landscaping.
Rep. David Gomberg on $1.5 million Lincoln City Cultural Plaza Project Funding

David Gomberg, Our State Representative, shocked a packed house at the Lincoln City Cultural Center Tuesday by informing them he asked the Oregon State Legislature for $1.5 million to help redevelop 2 1/2 acres with sidewalks, gathering places, public art, vendor amenities, parking and landscaping. That's nearly three times the original amount of $600,000 requested. He got it.

Posted by Lincoln City Homepage on Tuesday, July 2, 2019
"We were looking for $600,000. We didn't get it. We didn't get it because I asked for more," Rep. David Gomberg announced tonight before a standing throng of community supporters and project donors at a packed news conference at the Cultural Center. "And, in that budget that we passed, is 1.5 million dollars."
The "game-changing" seven-figure fiscal support, added to an early investment by the City of Lincoln City and individual donations to the $1.8 million Cultural Plaza Campaign, puts the project on a fast track for construction in 2020, Gomberg said. The investment was approved as part of the Oregon State Budget with just hours to spare after the Senate reconvened Saturday.
"The Lincoln City Cultural Center is about more than the visual and performing arts," Gomberg said. "It is about supporting the retirement community and tourism. And, it is about enhancing our blossoming art industry."
The Cultural Plaza funding request was included in the budget as part of five projects approved by the Cultural Advocacy Coalition. Other projects to be funded include Oregon Nikkei Center ($500,000), High Desert Museum ($250,000), Cottage Theatre ($375,000) and the Patricia Reser Center for the Arts ($1.5 million).
"Converting the parking lots and playgrounds at the iconic DeLake School into a modern cultural plaza will benefit the entire community. I was pleased to advocate for this transformative funding," Gomberg said.
Design highlights at the facility at 540 NE Highway 101 include a meandering roadway for the west lawn, an outdoor classroom on the east side, and a permanent location for the community Christmas tree. The LCCC Board of Directors, under the guidance of landscape architect Shapiro Didway, has taken the project from inception to design over the past 18 months.
"We are so thrilled and thankful for the support of the State of Oregon, the Cultural Advocacy Coalition and all the legislators who helped bring this investment to Lincoln City," LCCC Board President Greg Berton said. "Most of all, we thank Rep. Gomberg, who has been such an amazing champion for Lincoln City and the Cultural Center."
The capital construction funds will come from the Cultural Resources Economic Fund (CREF), which include lottery-backed bonds, as well as General Fund dollars and appropriations through the Department of Administrative Services. The money will be available for project reimbursement in spring 2021.
Because the project is in design and State funds will not be available for two years, the Cultural Plaza Campaign's fundraising activities will continue as planned, officials said. The committee is selling commemorative bricks, and will offer more naming opportunities in the coming months.
"This is such amazing news," Board Treasurer and volunteer Project Manager John Colliers said. "It will give us the financial backing we need to complete design and engineering, find our contractor and prepare for construction in 2020.
"But the community needs to know that in order to secure these funds, we promised $250,000 in individual donations — and we're only halfway there. We're asking for your continued support as we transform this property."
For information on the Cultural Plaza, call the LCCC at 541-994-9994 or head to lincolncityculturalcenter.org/plaza.
Cultural Plaza Project
Designed in cooperation with landscape architect Shapiro Didway, the Lincoln City Cultural Plaza project will create a pedestrian-friendly envelope around the building, with safe and attractive spaces at every entrance. Other features include:
•  A meandering path that will be ADA compliant as well as convenient for vendor vehicles;
•  New patios on the south and east, in the most protected and sunny locations;
•  An outdoor classroom for activities like raku kiln firing and children's classes;
•  Dedicated spaces for public art installations, immediate and in the future;
•  Gathering places with seating and decorative paving, including a custom-built location for the annual community Christmas tree;
•  Adequate lighting for evening use, throughout the parking and pedestrian areas; and
• Redesigned traffic flow and parking area, with islands and other upgrades required by city code.