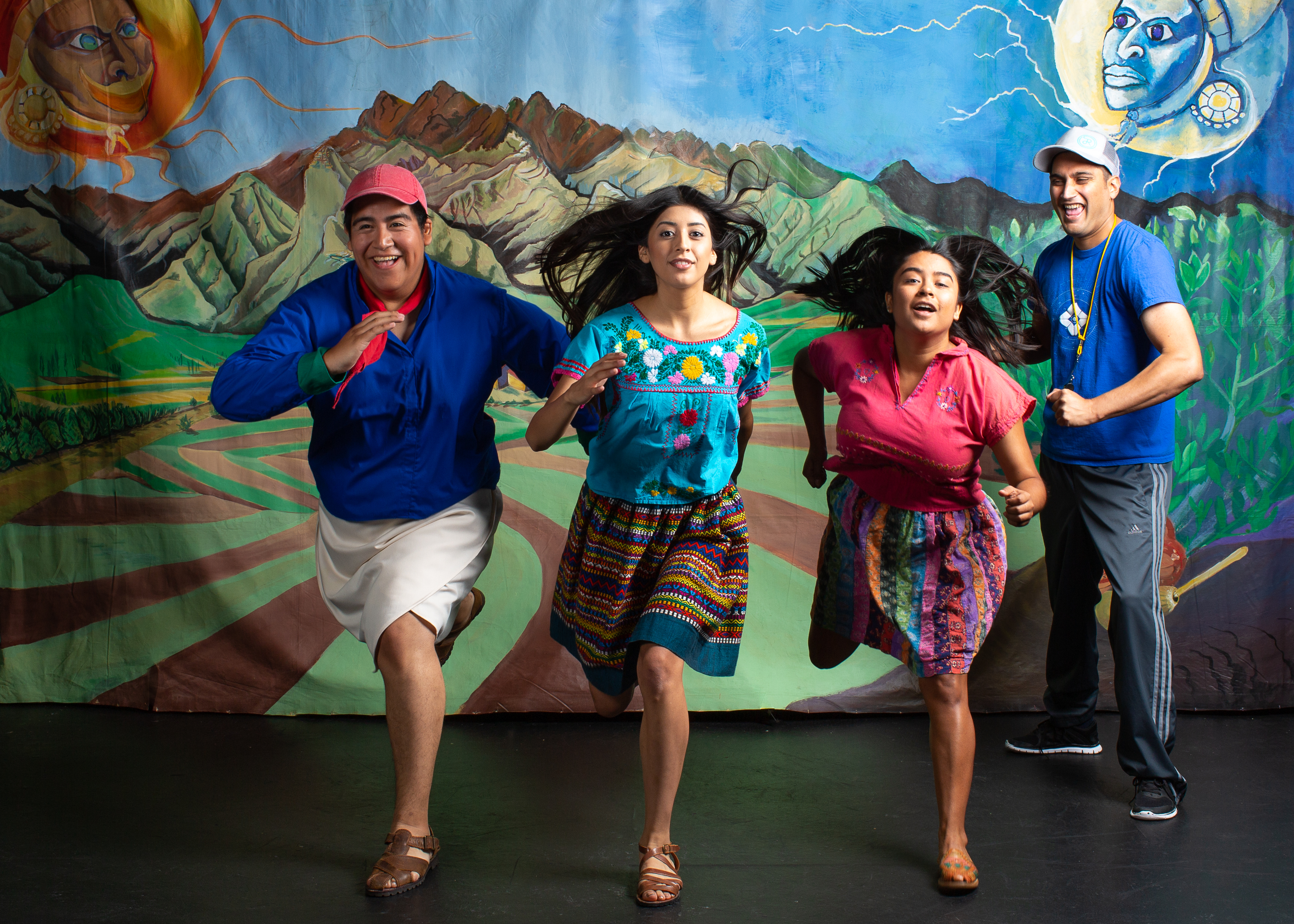 Inspired by real-life stories of Tarahumara runners, "¡Corre! ¡Corre!" shares the story of a young girl and her coach, who sees her potential as an Olympic competitor. It's a story told in English and Spanish, using mythical imagery, dance movement and poetic narrative to showcase a cultural perspective that inspires athleticism and perseverance – and it's coming to Lincoln City.
The community is invited to enjoy a free performance of Teatro Milagro's "¡Corre! ¡Corre! A Race Against Time," at 6:30 p.m. Tuesday, March 12, at the Lincoln City Cultural Center, 540 NE Highway. 101. Seating is first- come, first-served, with the doors to open at 6 p.m. Tickets are not required.
Renowned for their incredible long distance running ability, the Tarahumara are the indigenous people who live in the northwestern region of Mexico. Inspired by the real life stories of Raramuri runners, Teatro Milagro's newest bilingual play shares the story of Estrella, a young village girl, who becomes an Olympic competitor. Estrella, and her family, like most Raramuri, live in extreme poverty. Training for the Olympics means becoming "Chabochi" and giving in to modern ways, but not joining the team means not helping her people.
Winning a race could mean a cash prize that would be greater than a month's wages. Already her older brother Rahui has been forced into working for the drug cartel and the villagers are contemplating inviting tourism. With the help of her trainer and strength from the wisdom of Rayenari the sun god and Metzaka the moon goddess, she will run to win and run to save her village.
"¡Corre! ¡Corre!" was written by seasoned Milagro lead teaching artist and resident playwright, Ajai Terrazas Tripathi. Teatro Milagro's new team of touring artists includes Cindy Angel in the lead role of Estrella, Marissa Sanchez as her sister Alma and Metzaka the moon and Eduardo Vasquez as the brother Rahui and the moth. Terrazas Tripathi also performs in the roles of Carlos the trainer, Rayenari the sun and Gano the rock giant. Costumes were created by Joeanally Gonzalez, music by Lawrence Siulagi and Teatro Milagro's signature mural by Tomas Rivero.
¡Corre! ¡Corre! opened in July, performing for summer school programs in Hillsboro Beaverton and Cornelius, and reaching 852 audience members. "I really enjoyed the incorporation of Spanish and English, the folklore, the acting, and the whole concept," said one reviewer from Metro Arts. An audience member from Vose Elementary wrote: "I liked the message of the story, the inspiration to go out and reach for your goals. It was informative, educational, and culturally relevant."
In addition to the free community performance on March 12, "¡Corre! ¡Corre!" will also be performed during the school day for fifth and sixth grade classes from Taft Elementary School (315 students in all). Limited tickets for those morning shows may be available, for details call Niki Price at 541-994-9994.
The Lincoln City performance of "¡Corre! ¡Corre!" is sponsored by grants from the Sponenburgh Memorial Trust and the Oneatta Fund of the Oregon Community Foundation, along with a generous lodging sponsorship by Surftides Lincoln City. The project is also supported by Family Promise of Lincoln County, the Lincoln County School District and the team from new nonprofit, Music Is Instrumental.
To learn more or join the LCCC, head lincolncityculturalcenter.org or drop by the LCCC Information Center, open from 9 am to 5 pm Thursday through Monday (closed Tuesday and Wednesday). For more information, call 541-994-9994.
Spanish Translation
Inspirado por las historias de la vida real de los corredores tarahumaras, "¡Corre! ¡Corre!" Comparte la historia de una joven y su entrenador/a, que ve su potencial como competidora Olímpica. Reconocida por su increíble capacidad para correr a larga distancia, los Tarahumaras son los indígenas de la región noroeste de México. ¡Corre! ¡Corre !, de Ajai Terrasa Tripathi, utiliza imágenes míticas, movimientos de danza y narraciones poéticas para mostrar una perspectiva cultural que inspira el atletismo y la perseverancia.
El espectáculo se ofrecerá en dos presentaciones durante el día para alumnos de 5º y 6º grado de la Elemental de Taft, seguido de una presentación gratuita por la comunidad a las 6:30 pm. Las puertas se abrirán a las 6 pm.
Patrocinado por Surftides Lincoln City, Family Promise of Lincoln County, el Lincoln County School District y Sponenburgh Memorial Trust.