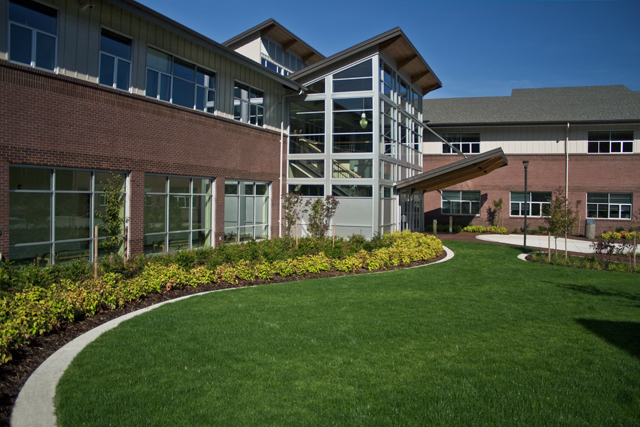 Oregon Coast Community College is hosting an open house at its Lincoln City campus on Aug. 24 for prospective students.(Photo: Oregon Coast Community College)
There is a lot happening at your community college right now. In order to help prospective students get a handle on all that's being offered in the coming academic year, Oregon Coast Community College is hosting an open house at its North County Center in Lincoln City.
The event will run from noon to 4 p.m. on Monday, Aug. 24. Admission is free and all are welcome.
"We're every excited to throw the doors open and share some of OCCC's exciting news with the public," said Dave Price, OCCC's director of small business development and community education.
Price said Chris Spaulding, director of Career and Technical Education programs and the OCCC's spectacular Aquarium Science Program, will be on hand, along with the College President, Dr. Birgitte Ryslinge. They'll be answering questions about OCCC's new two-year business transfer degree, coming to the Lincoln City center beginning this fall.
"This new degree offers students the chance to earn the first two years of a four-year degree here on the coast," Price said. "For other students, the two-year degree may be just what they need to ramp up their career skills and find that better job. Others simply have a passion for business, and for learning, and this degree program will deliver for all of these types of students."
Price said the open house will feature OCCC staff who will be on hand to talk about financial aid and the free placement tests that OCCC is offering all month long.
"For students considering starting or returning to college in the Fall term, it's important they come and see an advisor soon, and financial aid applications are due very soon for Fall classes," he said. "This open house is a great opportunity for those folks getting going late in the process to have all of their questions answered, and start moving forward."
The open house will also feature information about OCCC's other associate and transfer degrees, plus its nursing, medical assistant and criminal justice programs, along with GED and ESOL offerings.
"We'll also have information about OCCC's innovative new Early College Program," Price said, "which will offer college-ready high school juniors and seniors from throughout the county with the opportunity to take up to three college courses – completely tuition free."
Teachers of a variety of Fall term community education and small business classes will be on hand during the afternoon to answer questions about their upcoming classes. The fall term features a variety of community education, from painting to guitar to Japanese, Spanish and French language classes, and much more.
"Come meet some some of our instructors at the open house," Price said, "and we'll be processing registration that day, too, so you can reserve your place in these classes before they're filled."
Oregon Coast Community College's fall term schedule, "Catch the Wave," features a complete listing of all of these noncredit course offerings, and is being mailed this month to every residential address in Lincoln County. The online edition of Catch the Wave is available for viewing and downloading now from the college website, oregoncoastcc.org.
Follow Oregon Coast Community College on Twitter, @occcsharks, or find OCCC on Facebook for regular updates and news about special events and new classes.
Oregon Coast Community College's North County Center is located at 3788 SE High School Drive in Lincoln City. The Center can be reached at 541-994-4166.