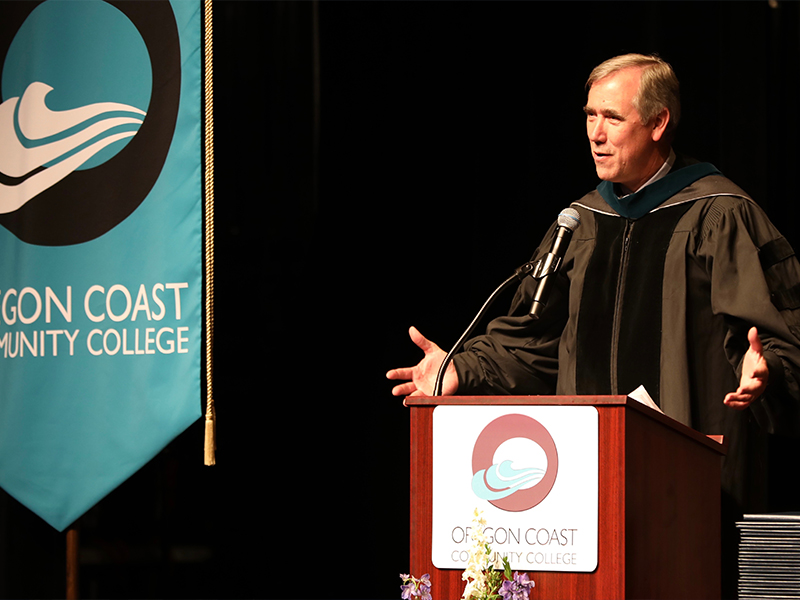 On Friday, June 14, Oregon Coast Community College celebrated its 31st annual commencement with United States Senator Jeff Merkley delivering the address to a packed house at the Newport Performing Arts Center.
OCCC President Birgitte Ryslinge, Chief Academic Officer Dan Lara, Dean of Students Cindy Carlson, Board of Education Chair Debbie Kilduff and other College leaders conferred certificates and degrees to the graduates.
In summary, the Class of 2019 included the awarding of:
Nine Associate of General Studies degrees
28 Associate of Arts Oregon Transfer degrees – typically, these students will move on to a four-year Oregon university beginning in the fall, generally entering at junior status, with only two years remaining
Two Associate of Arts Oregon Transfer – Business degrees.
Four Certificates in Early Childhood Education (ECE). This was the inaugural year of OCCC's new ECE Program. Check the ECE page on the College website for news about a new Early Childhood Education scholarship program, posted now for students interested in enrolling for the Fall.
Seven Associate of Applied Science Degrees in Aquarium Science
Two Aquarium Science Certificates
17 Associate of Applied Science Degrees in Nursing
19 Certified Medical Assistant Certificates
Eight General Education Development (GED) Awards
Friend of the College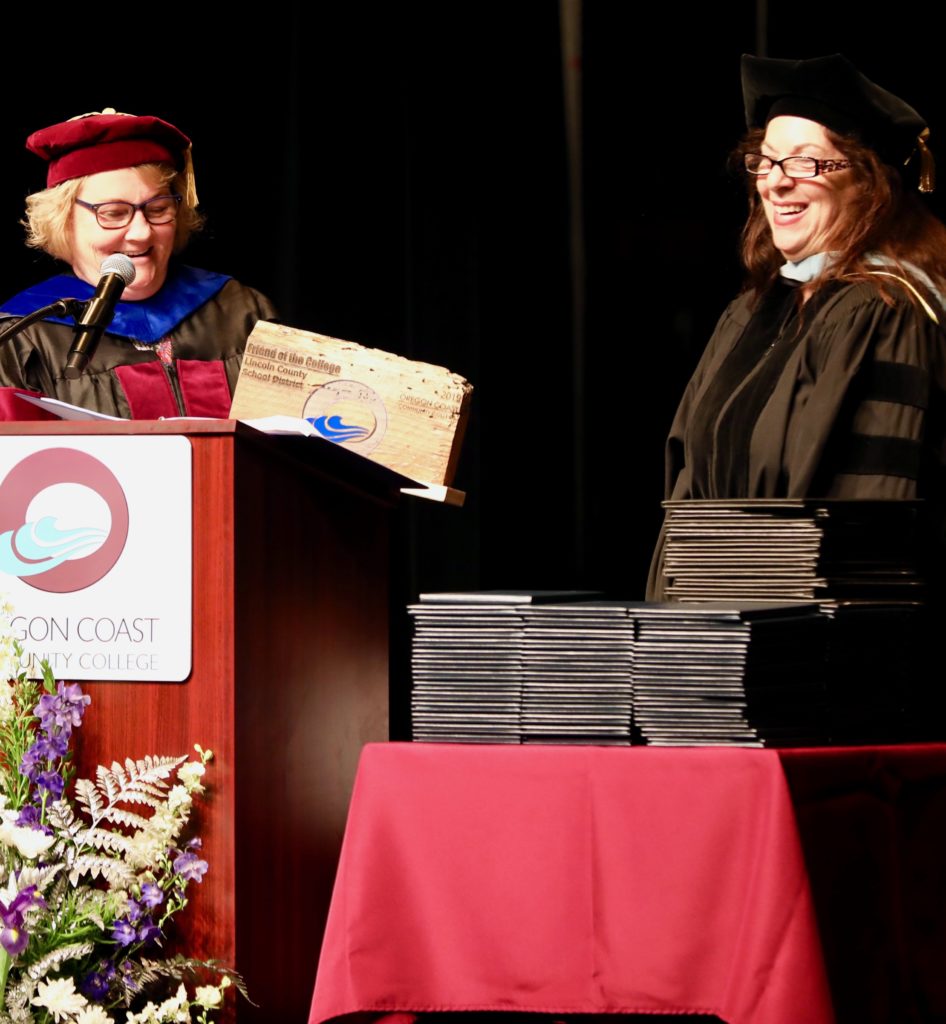 During the Commencement, President Ryslinge presented the fifth annual "Friend of the College" award to the Lincoln County School District, and Superintendent Dr. Karen Gray, in recognition of the many ways in which Dr. Gray and the LCSD are partnering with OCCC to serve students and our communities. Examples include dual enrollment, allowing students to earn OCCC college credits while still enrolled in high school, as well as special projects like the upcoming welding classes to be taught at Taft 7-12, the Port of Toledo, and Waldport.
Aquarium Science
The College's Aquarium Science Program (AQS) is the only one of its kind in the nation. It offers a two-year degree program as well as a one-year certificate. Almost all the students who pursue the certificate come to OCCC having already earned a four-year degree in biology or the natural sciences. These students come from Oregon as well as from around the country. Some find living space at the Hatfield Marine Science Center thanks to a partnership with Oregon State University.
AQS graduates are in high demand in the aquarium and zoo industries. Among this year's graduates are Kate Stanley, who recently secured an internship with Walt Disney World Animal Programs. Robert Nowlan will be continuing his studies at the Exotic Animal Training and Management Program at Moorpark College in California, while Josh Young will be staying closer to OCCC, working as a Life Support Technician for the Oregon Coast Aquarium.
Nursing
With this year's graduation behind it, OCCC's Nursing and Allied Health Program has now graduated more than 200 nurses – most of whom are at work today in Lincoln County, helping meet the increasing need for healthcare professionals right here at home.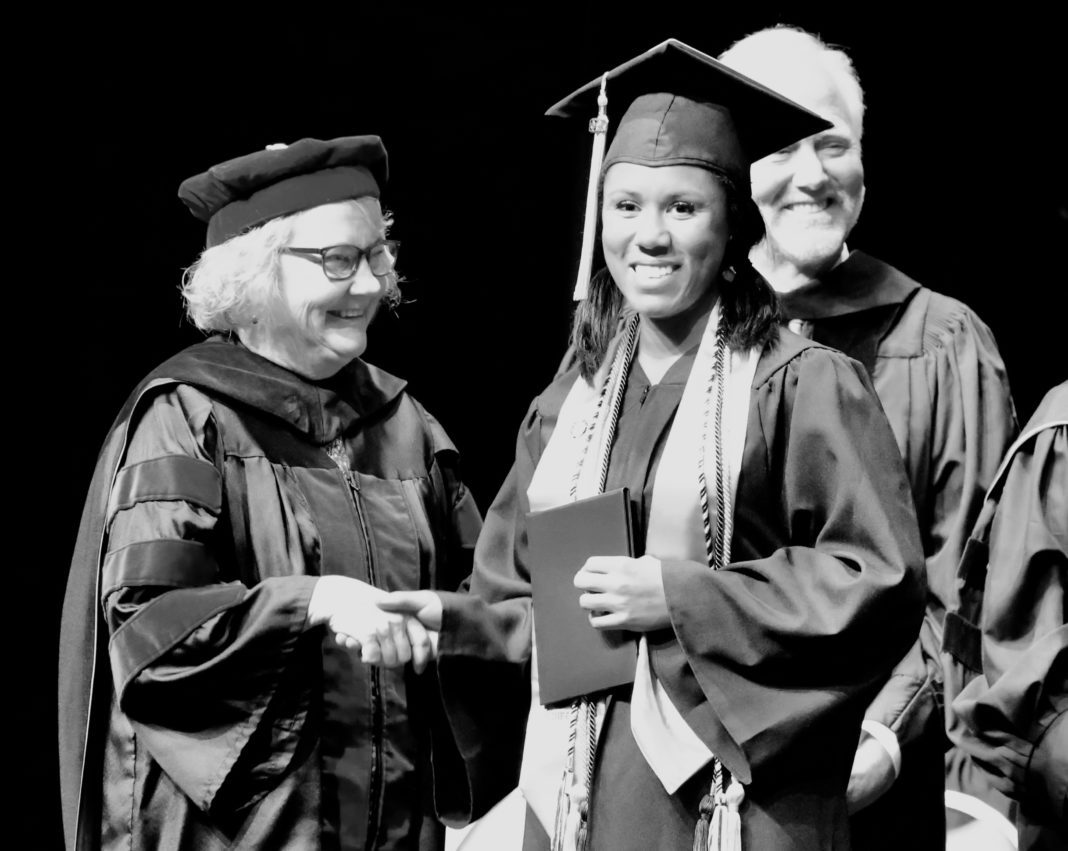 Small Business Development Center
Also in June, 26 Small Business Management Program Certificates were awarded by the OCCC Small Business Development Center. Over the course of the program, participants learn about business law, changing payroll and human resources rules, innovated emerging marketing techniques, tax law changes, and much more. Any business owner in the county is invited to apply to this program, which features 10 months of workshops and classes plus monthly one-on-one business advising throughout the program. Applications for the 2019-20 year are available now at oregoncoastcc.org/sbdc.
Apply Now
Registration is open now for the Fall 2019 term at Oregon Coast Community College, serving students with facilities in Newport, Lincoln City, and Waldport. Explore the College's new and improved website, at oregoncoastcc.org, to learn more.
The College and the LCSD continue to partner on the innovated "Grow Your Own Teacher" program, in which students can earn the bulk of a four-year teaching degree right here at home – excepting nine months at Western Oregon University – and enjoy job placement assistance and preferential hiring treatment here in Lincoln County upon completion. The College is also excited to grow its Early Childhood Education Certificate Program as it enters its second year this Fall, helping meet a profound need that is felt throughout Lincoln County while providing students with valuable skills for careers in that growing field.
Follow OCCC on Instagram or Facebook, @occcsharks, online at oregoncoastcc.org, or call the College at 541-867-8501.