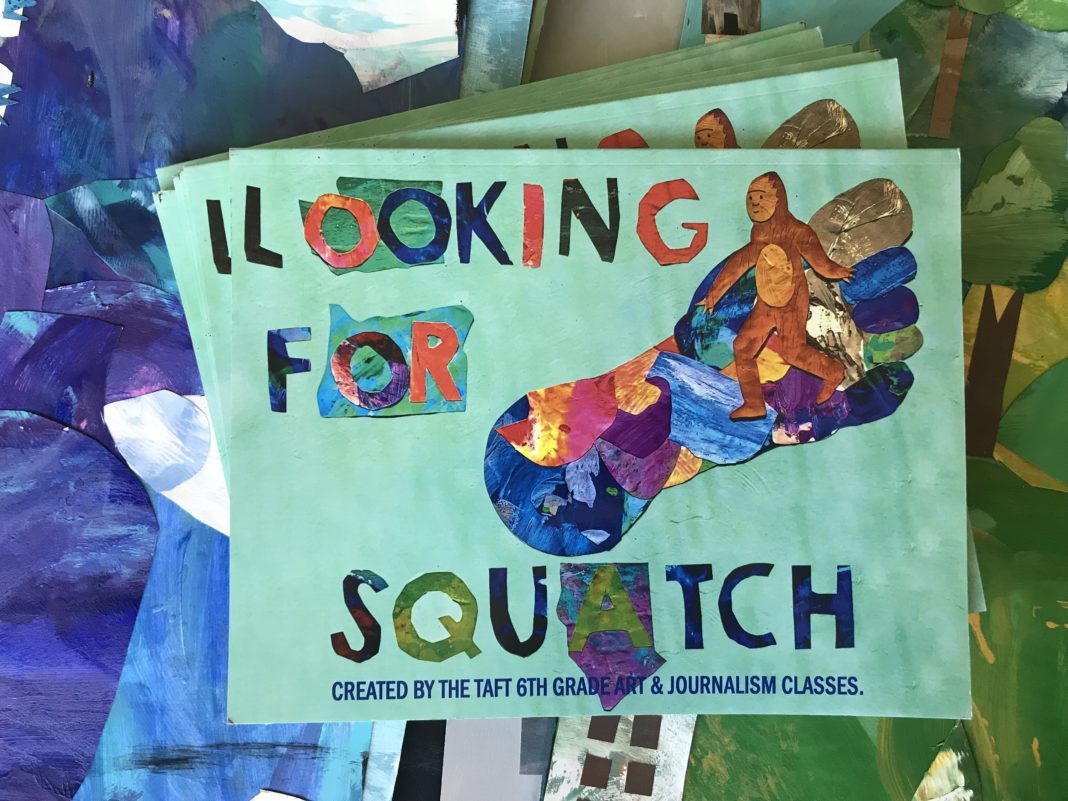 Taft Elementary sixth-grade art and journalism classes worked collaboratively this year to create a visual and poetic story about a search for Sasquatch with Looking For Squatch.
"The book was so much fun to make, though it took some hard work too. I especially loved painting the paper." Sasha H., a sixth-grade art student said.
Looking For Squatch is a hidden picture book where each image has Squatch visiting a new location along the coast, throughout Oregon, dipping into Washington and down to California.
Mrs. Buck and Mrs. Rivas were the teachers involved with the project and had this to say about the year-long process:
"The sixth-grade art and journalism club enjoyed the creative process of Looking For Squatch. The book depicts a young Squatch who feels it's time to come out of hiding and share his story.
"The illustrations were created using painted paper and collaging different areas of the Pacific Northwest.
"Each location has a hidden Squatch. Journalism did research of the locations and met with the art club. Together we came up with a great finished project."
The original paintings will be hung at the school.
From the back of the book:
The 6th grade art & journalism classes at Taft Elementary School in Lincoln City, Oregon, have put many hours into creating this delightful story about the Pacific Northwest's famous character, Sasquatch, named Squatch in the book. You are taken on an entertaining journey through some of the most reportedly spotted locations, while you look for Squatch in the pictures. We hope you enjoy!
"It was fun… especially having to research each town/place was interesting." – Lily S. (Journalism)
"The process was simply challenging, but fun." – Rachel N. (Art)
"It was interesting writing about the locations." – Maggie R. (Journalism)
Copies of the book can be purchased through the Taft Elementary Office for $17. Sales from the books support sixth-graders.
Students who contributed to the book are: Abigail (Abby) M, Abigail R, Alex H., Alex T., Alexandra H., Alexis (Lexi) M., Allison C.L., Alyson R., Aurora D., Avery D., Beverlyann S., Carley C., Chelsea R., Conner W., Evangel A., Emma T., Evan L., Gracie H, Haleah M., Ivan A., Janet G., Jayde R.C., Julia T., Knaudia T., Lily S., Magdalene (Maggie) M., Maggie R., Nitaya F., Quinn F., Rachel N., Ryley R., Sasha H., Seth S., Shayna R., Shyla P., Tesh F., Ximena S.L., Yadira F.C.