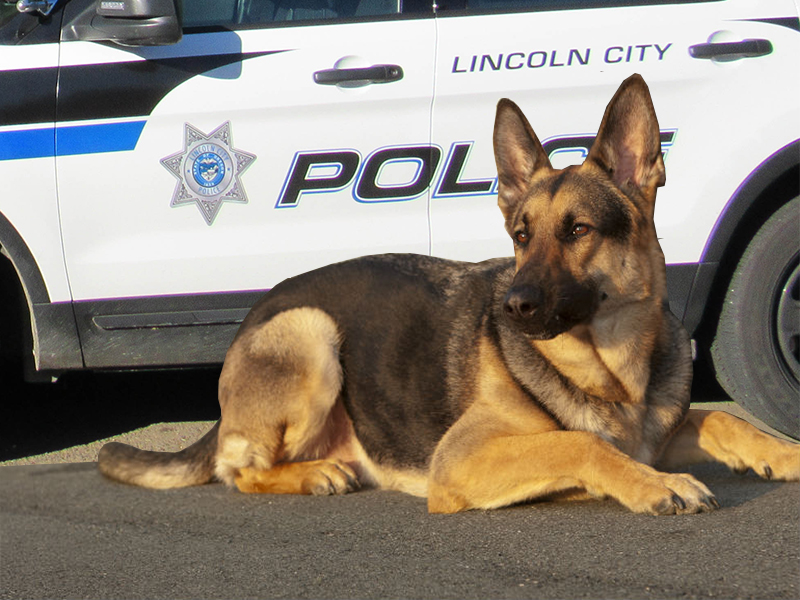 The Lincoln City Police Department (LCPD) reports that approximately two-thirds of the necessary $75,000 has been donated by citizens and organizations toward its implementation of a K-9 program.
"The response and support thus far from the public [$50,000] has been phenomenal," LCPD said Tuesday in a news release.
The police dog program is intended to collar criminals and provide safety and security for area residents. K-9's duties include searching for drugs and explosives, locating missing people, finding crime scene evidence and attacking targets of law enforcement.
The LCPD intends to acquire its dogs through a certified training program designed for police and public safety work. Both the K9 officer and their dog will receive extensive schooling in order for the public to feel safe and interact with the animal.
Police dogs must remember numerous verbal cues and hand gestures. The most commonly used breeds are the German Shepherd, Belgian Malinois, Bloodhound and Dutch Shepherd.
The program will utilize social media to notify the public of activities of the K9 teams in their law enforcement capacities and when they participate in educational demonstrations with civic organizations or community-oriented events.
It will share links to non-affiliated K9 team pages, recognize canines that serve in other aspects of public safety and the military, share helpful tips to educate the public on the care of their own dogs and more.
Donations can be made through a Go Fund Me account at https://www.gofundme.com/lincoln-city-k9-program-fund, or at www.lincolncityk9.com, or mailed to the Lincoln City Police Department, Attention K-9 Fund, 1503 SE East Devils Lake Road, Lincoln City, OR, 97367.
Call 541-994-3636 or by email at [email protected] for further information.