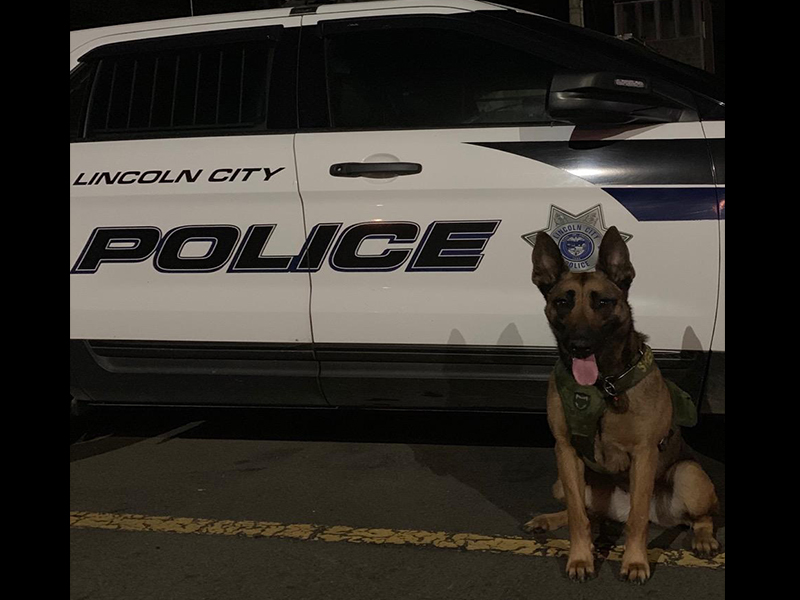 Lincoln City Police officer Torin Liden was assisted by Lincoln County Sheriff K9 officer Nix and an Oregon State Police trooper shortly after midnight Thursday in the apprehending of a wanted suspect who ran on foot after a traffic stop.
At approximately 12:51 a.m., Liden initiated a traffic stop on a white 2000 Subaru sedan at D River Wayside for a traffic violation. The Subaru pulled over and Liden contacted the driver who identified himself as Jacob Ivan Sutter, 27, of Lincoln City.
A license and warrants check on Sutter, showed a suspended driver's license and an active felony warrant issued for probation violation for burglary and stalking. As the information was dispatched over the radio, Sutter jumped out of the vehicle, ran down to the beach and fled north on foot. Linden did not give immediate pursuit, but instead provided responding officers with a good description of the fleeing suspect and watched him as he crossed the D River and continued to run north behind the Sea Gypsy hotel.
Additional Lincoln City Police officers, as well as a Lincoln County Sheriff's sergeant and an Oregon State Police trooper responded to the chase and set up a perimeter while waiting for Lincoln County Sheriff's Deputies, including K-9 Nix, to respond. Nix began to track the fleeing suspect north behind hotels and along the beach. The K-9 tracked Sutter for some distance before locating him hiding in thick brush about 20 feet up the embankment. Once Sutter realized that he had been found and that a K-9 was on scene, he complied with verbal commands and surrendered without incident.
Lincoln City Police secured Sutter in a patrol vehicle and transported him back to the original stop location.
Sutter was transported to the Lincoln County Jail and lodged on charges of misdemeanor eluding on foot, escape and felony warrant for probation violation. He was also issued a citation for driving while suspended and driving uninsured.
No injuries were reported as a result of this incident.
Lincoln City Police would like to thank the Lincoln County Sheriff's Office and the Oregon State Police for their assistance, along with a special thank you to Deputy Smith and K-9 Nix for their help in locating and capturing the suspect.