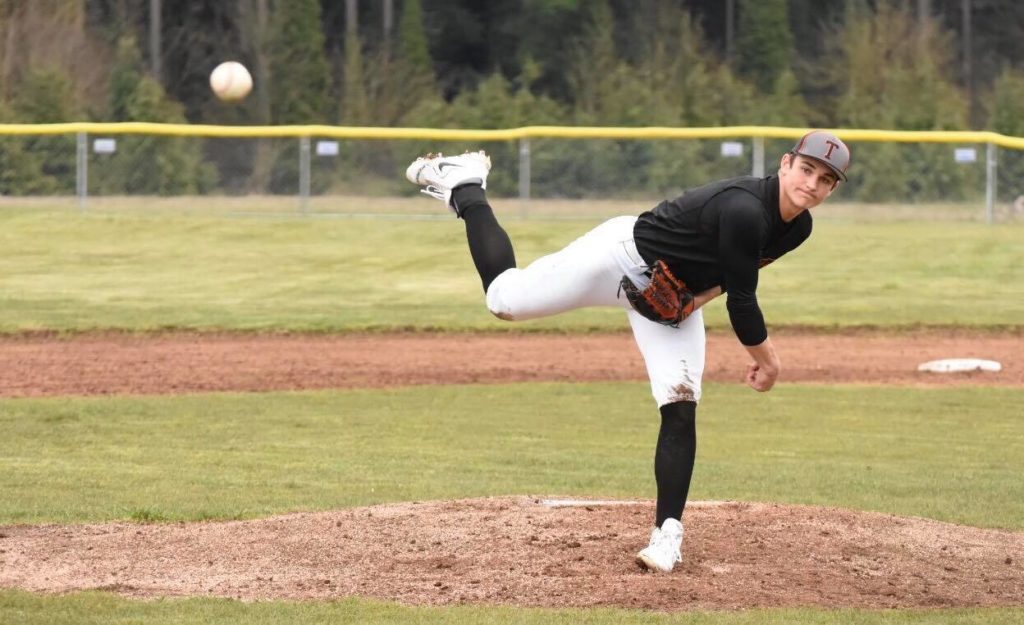 Some might say "Jack is back," but others insist he never left.
Senior ace Jack Stempel, returning to the mound this season following a serious leg and ankle injury, went the distance and doubled in a run Tuesday to lead Taft High to a 4-1 West Valley League victory over Horizon Christian-Tualatin in a battle of top-five ranked baseball teams.
"We came into a tough environment field-wise and came out on top," Taft Coach Matt Hilgers said. "We had a great pitching performance and managed to get some timely hits that propelled us to the win."
Junior outfielder Tyee Fisher doubled in two runs in a four-run fifth inning that broke a scoreless tie, while senior outfielder Caleb King also doubled and drove home a run for the Tigers (9-2, 2-0 West Valley), who took over the state's top ranking with the win.
"We played really good as a team tonight, and the guys were huge in the field," said Stempel, who broke his right fibula and tore ligaments in his ankle before last season's opener while sliding into second. "Horizon was making contact with the ball, but we played great as a team and our defense was outstanding."
The fifth-rated Hawks (5-3, 0-1) tallied a lone run in the bottom half of the inning off Stempel, who scattered six hits, struck out five and walked none
"My curveball was working a little better tonight than it was in the last game against Crook County [an 18-9 nine-error, nine-walk loss Thursday to open the Madras spring break tournament]," Stempel said. "After we scored those four runs in the top of the fifth, I was able to relax a little because I had a good cushion."
Starter Sam Romero suffered the loss for Horizon Christian.
"We did a much better job playing on a dirt infield than we did last week, fundamentally speaking, and it showed as we limited our errors tonight," Hilgers said.
Cody Knott led Taft with two hits, while fellow junior infielder Kam Kessler and sophomore outfielder Trenton Fisher had one each.
Senior leadoff hitter Josh Salsbery drew a walk and scored a run for Taft, while cleanup hitter Stempel, King and Knott also scored for the Tigers.
Senior catcher Nathan Brucker and sophomore shortstop Cade Tillema led Horizon Christian with two hits apiece.
Sophomore third baseman Luke Klein scored Brucker with the Hawks' only run.
The Tigers return home at 4:30 p.m. Friday, April 6, to meet Amity (3-2, 2-0) in league play.
"We will look to build on this win to finish off the week," Hilgers said.
Taft 4, Horizon Christian 1
TAFT AB R H BI
Josh Salsbery 3 1 0 0
Eli DeMello 2 0 0 0
Caleb King 3 1 1 1
Jack Stempel 4 1 1 1
Cody Knott 4 1 2 0
Kam Kessler 4 0 1 0
Tyee Fisher 3 0 1 2
Bleiz Kimbrough 3 0 0 0
Trenton Fisher 3 0 1 0
TOTALS 29 4 7 4
HORIZON CHRISTIAN AB R H BI
Luke Klein 3 0 1 1
Greyson Pihas 3 0 0 0
Brannon Macfarlane 3 0 0 0
Sam Romero 3 0 0 0
Nathan Murrell 3 0 0 0
Anthony Petit 3 0 0 0
Nathan Brucker 3 1 2 0
Cole Armstrong 3 0 1 0
Cade Tillema 3 0 2 0
TOTALS 27 1 6 1
TAFT 000 040 0 — 4
HORIZON CHRISTIAN 000 010 0 — 1
LOB–TAFT 8, HORIZON CHRISTIAN 5. ERR—Kam Kessler, Luke Klein, Anthony Petit. 2B–Tyee Fisher, Jack Stempel. HBP–Caleb King, Eli DeMello. SB–Cody Knott.
TAFT IP H R ER BB SO HR
Jack Stempel (W) 7.00 6 1 1 0 5 0
HORIZON CHRISTIAN
Sam Romero (L) 6.00 6 4 1 2 4 0
Luke Klein 1.00 1 0 0 0 2 0
PB–Nathan Brucker (2). BALK–Sam Romero. BB–Josh Salsbery, Eli DeMello.
NOTES: The No. 1-ranked Taft High softball team will return to action at home at 4:30 p.m. Friday, April 6, for its West Valley League opener against eighth-rated Amity (4-3). The Lady Tigers (6-5) won their first six games of the season before dropping five straight against bigger California and Nevada schools during a spring-break tournament last week near Napa, Calif. . . .The Taft boys and girls track and field teams will return to competition Thursday, April 5, for a West Valley League meet at Dayton. The Tigers will compete Saturday, April 7, in the Mark Dean Tillamook Invitational before hosting a league meet Tuesday, April 10, at Voris Field. . . . The Tigers boys golf team is scheduled to compete, Monday, April 9, in the Trysting Tree Open in Corvallis. The girls are scheduled to compete Monday, April 9, at Creekside in Salem.
Horizon Christian-Tualatin roster/ schedule
Class 3A West Valley League standings