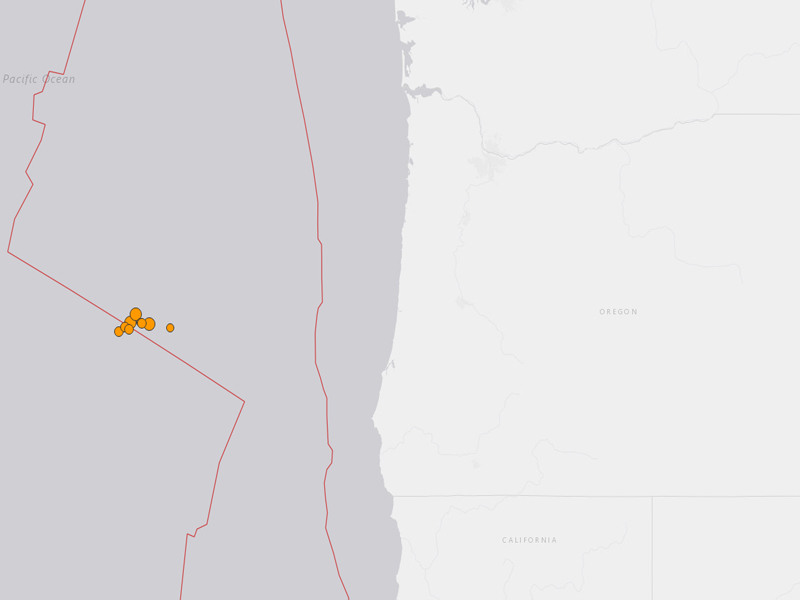 A series of Earthquakes registering 5.0, 5.3 and 5.4 and accompanying aftershocks were detected by the United States Geologic Survey 230 miles off the Oregon Coast Saturday.
"A number of smaller aftershocks from the larger quakes were also detected ranging from 3.5-4.7," USGS Geophysicist Robert Sanders said. "So it's a nice little swarm of shallow earthquakes in the spreading zone off the coast of Oregon."
"These are too small to have any tsunami generating effect," Sanders said. "There is no concerns currently for any sort of damaging waves. It's highly improbable these will cause any damage to coastal cities."
According to Sanders, a handful of people reported feeling the largest quake in North Bend.
"It was very lightly felt, so just minor shaking experienced, no damage, violent shaking or anything of that nature," he said.
"There is no way to predict any major earthquake. The area off the Oregon Coast has the ability to generate a large magnitude earthquake on both the subduction plate that runs along the Pacific Coast and the spreading zones that are on the Pacific side of the Juan De Fuca Plate, but this particular series of events is not a foreshadowing of things to come," Sanders said.
"There is no scientific backing saying these quakes are a precursor to a larger event."