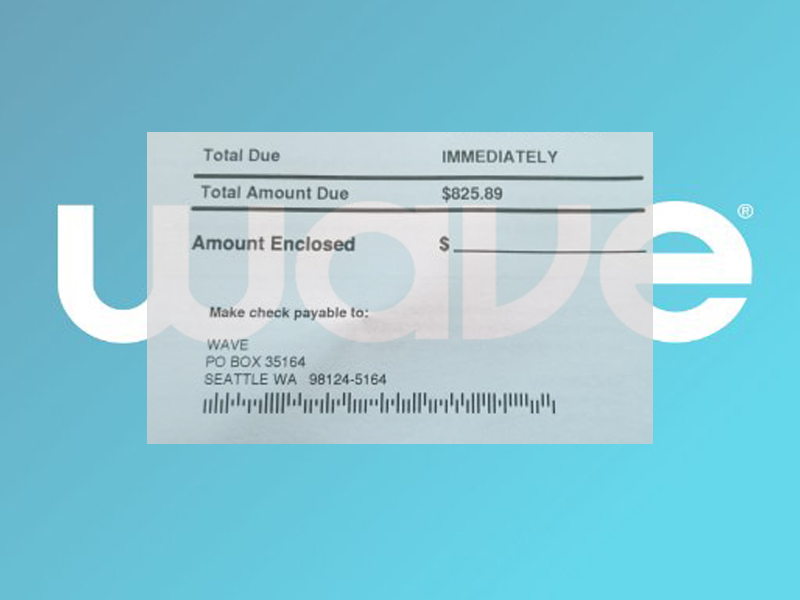 UPDATE: "We have become aware of an issue that impacted a limited number of customers resulting in incorrect billing for their data usage," Wave Broadband Executive Vice President of Operations Jared Sonne said Tuesday night. "The issue occurred due to an error in the processing of their monthly statements. The issue has been identified and corrected going forward and we have identified those impacted accounts and are issuing appropriate credits to those customers. We appreciate our customers patience."
Earlier coverage:
Residents of the Depoe Bay gated community Little Whale Cove are reacting to Wave Broadband billing statements showing data overages, causing them to closely examine their statements and seek remedy with the internet service provider.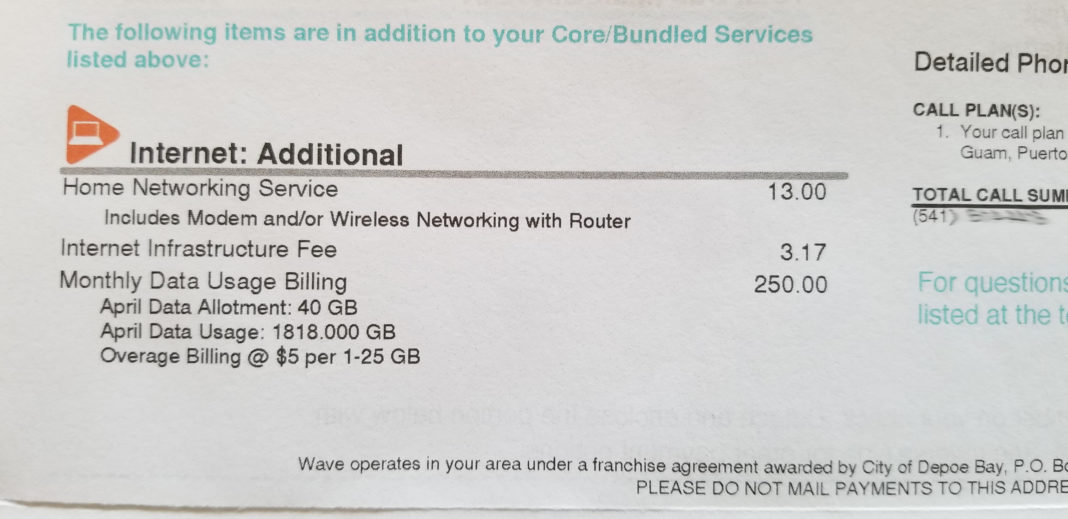 Wave Broadband printed a notice on customers statements alerting them to a change in billing systems but did not specify when the change would occur.
"My bill went from a monthly amount of $75 — no TV just internet and phone — to $309, with no change in use that I can think of," Little Whale Cove Wave customer Dennis White said. "Furthermore, the charges were retroactive to two prior months, not including the month covered by the bill."

White posted on the social network Nextdoor about the billing issues he was facing to gauge if the problem was widespread:
"Are you suddenly experiencing extraordinary charges from your WAVE internet or TV service? They are changing their billing system and I would like to know if my experience is widespread."
White received 20 responses within 24 hours, including one from Depoe Bay resident Jen Reed:
"Yes! We have a $950 charge! After calling, they person said they would reverse the charge, but our paper bill came and it is still that price. Seems like they're having issues all over."
Little Whale Cove homeowner Chris Grayson had this to say in response to White's Nextdoor post:
"Ours was up $400.00. Called and was told it was streaming charges. We had had no changes in our usage. They finally credited it but not without significant discussion."
"The number of responses to my Next Door inquiry leads me to believe that they are changing the rules without warning," White said. "perhaps calculating that some people will just pay the increase and many others will raise their arrangement to unlimited data for an additional $20 per month."
According to iGR Research, the average U.S. household uses 190 gigabytes per month. Some of the Wave Broadband bills had data usage over 2,000 gigabytes, which would take the average household close to a year to reach.
Wave has a data cap set to 400 gigabytes and charges $5 per 25 gigabytes for going over the limit. From their website:
If you exceed the included data transfer amount within the calendar month, you will be charged a data transfer fee of $5 for each 25 GB. Data plans: There are double data and unlimited data plans you can select to meet your needs each month that can help avoid monthly overage fees.
"We have folks researching right now. We're trying to figure this out," Wave Broadband Executive Vice President of Operations Jared Sonne told Homepage via telephone. "My first inclination is this is probably an error, and we would do a global cleanup of that by contacting any residents who were mischarged to let them know we fixed their bill."
The problem may be more widespread as one woman reported billing errors from Otis, 19 miles north of Depoe Bay.
"I used 473 GB last month, but the bill said I used almost 5,000 GB," Otis resident Melynda Small said. "They didn't say if it was a billing glitch or a new system glitch. I did get an email last week about an update to their billing system though."
"We are investigating," Sonne said. "We haven't determined anything one way or the other."
Homepage is awaiting additional comment from Sonne.
This article will be updated
Wave Broadband is an American provider of residential, business, and enterprise class cable TV, broadband Internet, and telephone services to around 455,000 customers in Washington, Oregon, and California. Wave provides services via their own fiber-optic network and has approximately 1,300+ employees.