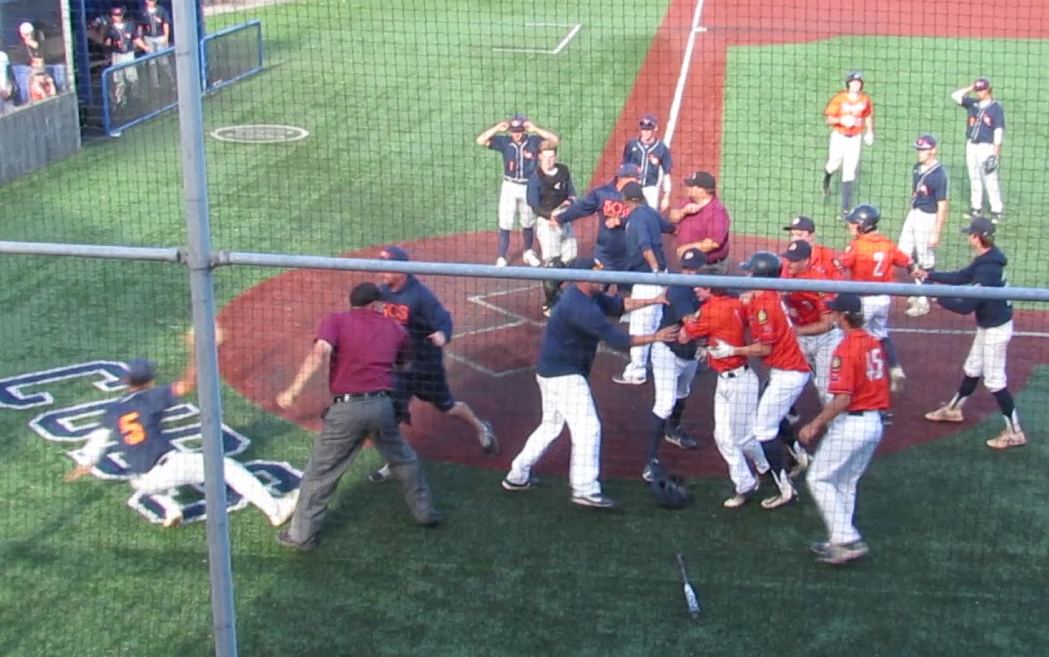 A bench-clearing physical altercation that erupted following a play at the plate Sunday forced the forfeiture of the championship game by the 503 Baseball Club to the tournament host Mid-Coast Dungies in Newport.
Previously undefeated 503 of Portland was trailing in the second inning at Frank Wade Field before Dungies' outfielder Joe Hixenbaugh of Blue Mountain Community College crashed into 503 catcher Brock McMullen on a throw from short to home. The home plate umpire then threw 503 third baseman Damian Avalos (No. 5) to the ground before calling the game in favor of the Dungies.
A coach said the brief fight was the result of one team's "scrappiest player" colliding at the plate with the other team's "player with the shortest fuse."
The Newport-based Dungies, founded in 2016 and sponsored by American Legion Post 116, feature several former and current Taft High baseball players such as catcher Eli DeMello, shortstop Josh Salsbery, pitcher/first baseman Jack Stempel, outfielder Tyee Fisher and third baseman Kam Kessler. Several former and current Newport, Nestucca and Neah-Kah-Nie high school players also compete for the Dungies.
Former Taft star pitcher/outfielder Caleb King and Tigers infielder Cody Knott play for 503.