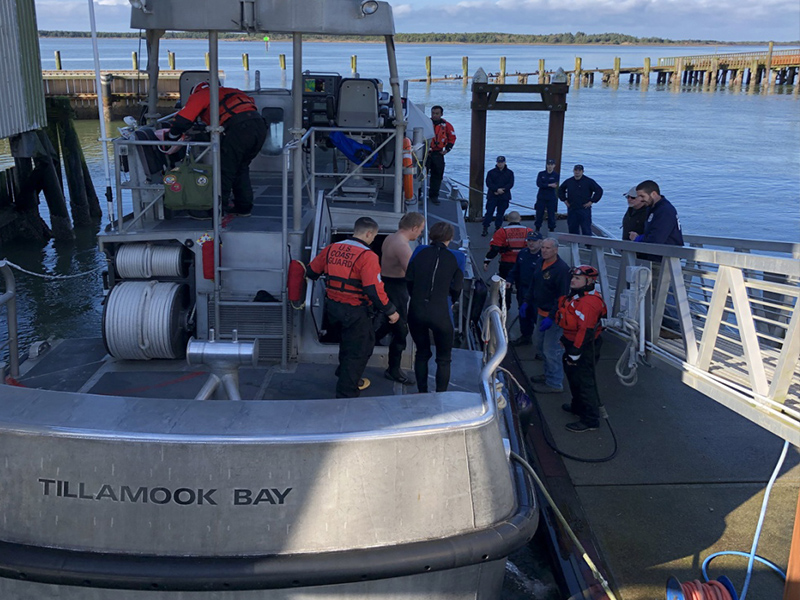 An emergency distress call and life-preservation equipment are to credit for saving the lives of two recreational boaters this morning near Netarts Bay, five miles southwest of Tillamook.
Mayday call:
"There wasn't anybody else out there today," said Petty Officer 3rd Class Bradley Larson, who assisted in the rescue of a man and woman in distress while fishing off a jet-propulsion personal watercraft. "If not for the life jackets, wet suits, and especially the radio, our chances of finding them, before they succumbed to hypothermia, would have been very slim."
According to a news release, a man and woman were pushed into the surf and flipped off their jet ski by a wave, causing them to fall overboard. The man had a small marine radio, which he used to make a Mayday call and help direct rescue crewmembers to their location.
Watch-standers at the Sector Columbia River Command Center received a Mayday call — the international distress signal used by boaters, ships and aircraft — from a handheld maritime radio at 8:45 a.m.
Two 47-foot Motor Life Boat crews from Station Tillamook Bay were immediately launched and a MH-60 Jayhawk helicopter aircrew lifted from Air Station Astoria in response to the incident.
A crew from Station Tillamook Bay found the couple shivering but responsive at 9:27 a.m. and transported them to Station Tillamook Bay in Garibaldi to await Emergency Medical Service technicians for further medical attention at 10:06 a.m.