LINCOLN CITY – Looking for a pre-holiday pick-me-up that will strengthen your community and spread the joy of the season? Come to the third annual Giving Tuesday Generosity Bazaar, open from 10 am to 5 pm Tuesday, Nov. 28, at the Lincoln City Cultural Center. It's our local, in-person celebration of Giving Tuesday, a day dedicated to charity in the holiday season, nationwide and right here at home.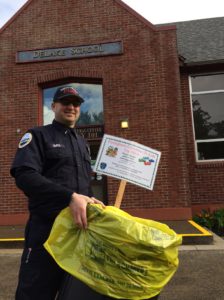 Giving Tuesday is a global day of giving fueled by the power of social media and collaboration. The LCCC, which is a nonprofit devoted to serving the central coast community through art and cultural opportunities, takes part in Giving Tuesday as part of its annual end-of-year fundraising campaign. The center also provides the venue for other nonprofits to secure donations during the giving season, through the #givingtuesday Generosity Bazaar.
"We've got a day just for shopping and discounts, that's Black Friday. We've also got a day where people buy gifts online, that's Cyber Monday. So, Giving Tuesday is about taking a break from buying, a day to remember that generosity and selflessness are what the season is truly about," said organizer Niki Price. "If you plan to donate to a local charity before the end of the year, we salute you because you are what makes this community so wonderful. Our Giving Tuesday event will make it even easier."
The bazaar will be open from 10 am to 5 pm on Nov. 28 at the LCCC, 540 NE Hwy. 101. There will be complimentary coffee and donuts, courtesy of Chinook Winds Casino Resort, and a $5 soup-and-bread lunch provided by Judy Hardy of the LCCC. The St. James Santiago School students will perform on the LCCC Stage starting at 1 pm.
There will be plenty of fundraising items to buy, including baked goods, See's candies, pet calendars, fresh evergreen wreaths, art cards, fancy nuts, Mary Kay cosmetics, gallery t-shirts, jewelry, Kachina dolls and raffle tickets. All the organizations will have information, signup sheets and donation receipts, offering attendees the chance to get involved in a variety of ways. In addition, the LCCC will be collecting donations of new, unwrapped toys for the North Lincoln Fire & Rescue District drive, nonperishable food for the Lincoln City Food Pantry, and warm clothing for the Lincoln City Warming Shelter. In all, 23 nonprofit organizations will be represented at the Cultural Center on Giving Tuesday.
You're invited to take an "unselfie" with your phone at your chosen booth, and post it on your Facebook page, Twitter feed or Instagram account using #lincolncitygives and #givingtuesday. This will help to raise awareness of the day, and the bazaar. The idea is to get the word out among diverse social networks, raising awareness for charitable giving online as well as attendance at the Nov 28 Generosity Bazaar at the LCCC.
Here are some of the other ways you can give on Nov. 28 at the LCCC:
Buy a raffle ticket, and pick up more information about Relay for Life
Find out how you can help support the Lincoln County Foster Parents Association
Bring your boxed gifts to be wrapped, for a small donation, by a volunteer from the Driftwood Public Library Foundation
Help local students pay for college, by purchasing wreaths from Rotary or nuts from the PEO Sisterhood
Double the love by giving to the Lincoln City Cultural Center and the Oregon Cultural Trust, which supports arts, culture, heritage and humanities projects across the state.
Meet Vickie Meneses from Oceana Family Literacy Center, who offers bilingual support and literacy services to families in Lincoln City
Donate to My Sister's Place, our local shelter for abused women and children
For more information, or to donate or volunteer, call Niki at 541-994-9994.