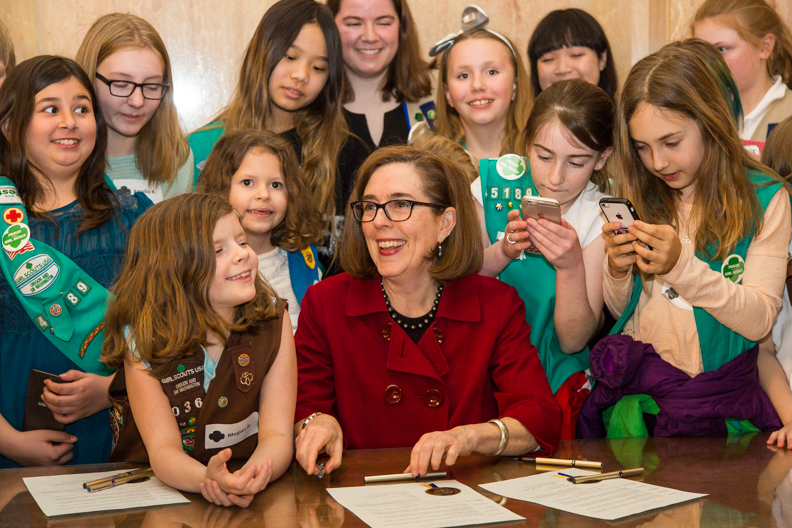 Lincoln City Troop 10143 will be among the honorees when Oregon Gov. Kate Brown proclaims Tuesday, March 12, as Girl Scout Leadership Day in Oregon.
The date marks the 107th anniversary of Girl Scouts of the USA, which began in 1912 when Juliette Gordon Low assembled 18 girls in Savannah, Ga.
"Girl Scouts empowers generations of girls and women, showing you are never too young to get involved, make a difference, and have your voice heard," said Brown, who was inducted as a lifetime Girl Scout last year. "By encouraging and mentoring girls at such a pivotal stage, we are showing them a pathway to pursue their dreams and grow into tomorrow's leaders. I am proud to welcome our Girl Scouts to the Capitol to celebrate their Leadership Day."
Girl Scout Leadership Day celebrates and recognizes Girl Scouts throughout Oregon and Southwest Washington who positively impact their communities and prepare for a lifetime of leadership, by taking civic action.
The advocacy day is part of Girl Scouts' "G.I.R.L. Agenda", a nonpartisan initiative to inspire, prepare, and mobilize girls to lead positive change through civic action.
Girl Scouts of Oregon and Southwest Washington will convene over 200 Girl Scouts and more than 100 adult members for their 2019 advocacy day.
"Girls benefit so much from connecting with women like Brown, Labor Commissioner Val Hoyle, Justice Adrienne Nelson and House Majority Leader Jennifer Williamson, women in the highest leadership positions in Oregon," Karen Hill, chief executive officer for Girl Scouts of Oregon and Southwest Washington (GSOSW), said. "Exposure to role models like these¾and understanding the importance of women in these roles¾enables girls to envision themselves in similar roles in the future."
Throughout the day, Girl Scouts will have the opportunity to meet the governor and Oregon legislators; attend and participate in activities and workshops to earn citizen-themed badges; learn about law-making; and be inspired by prominent women leaders including Oregon Supreme Court Justice Adrienne Nelson and Labor Commissioner Val Hoyle.
Girl Scout Leadership Day is co-sponsored by House Majority Leader Jennifer Williamson (District 36 – Portland) and Sen. Kathleen Taylor (District 21 – Milwaukie).
"As a Co-Sponsor for Girl Scout Leadership Day, I am excited to welcome more than 200 Girl Scouts to the Capitol during Women's History Month," Williamson said. "These girls indeed represent our state's future female legislators, business executives, and community leaders. We hope they leave the Capitol inspired and ready to take action."
"As a former Troop Leader, I can tell you first-hand that Girl Scouts play valuable roles in their communities," Taylor said. "Through their participation in community service projects, Girl Scout programming and experiences like Girl Scout Leadership Day, girls are developing important insights and skills that will help them succeed in life, while continuing to grow as leaders."