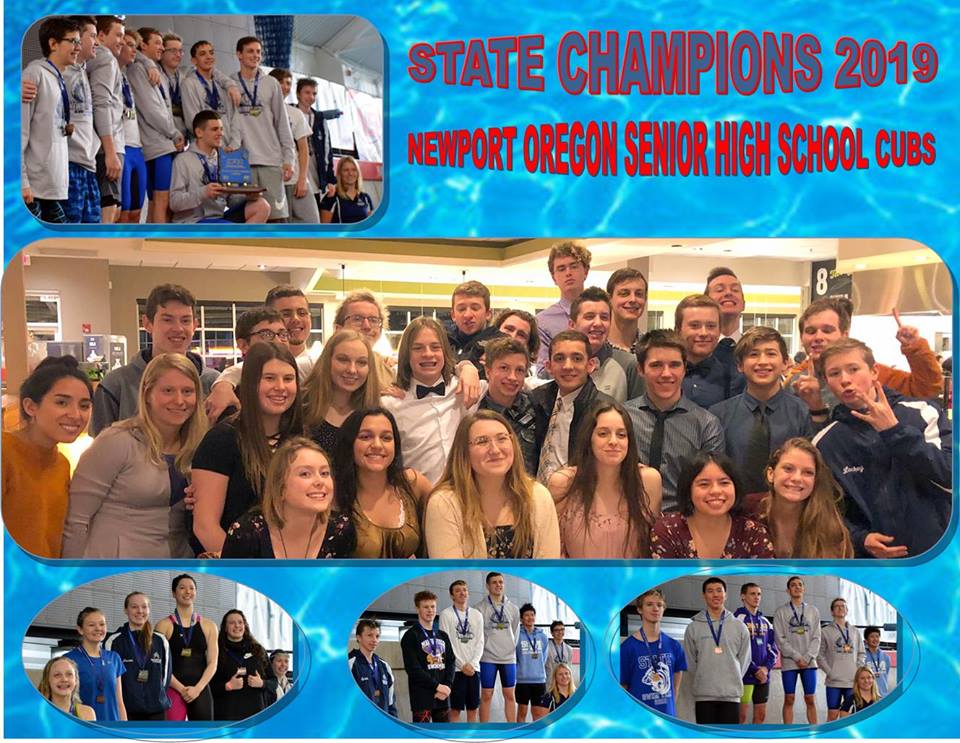 Lincoln City Homepage pays tribute to the Newport High boys swimming and cheerleading teams for winning Class 4A OSAA State championships on Saturday.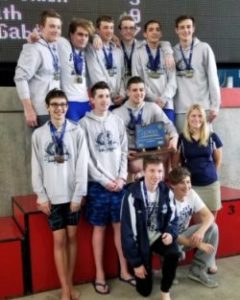 The Lincoln County School District member won the State boys swimming championship in a landslide, 90-46, over Marshfield in Beaverton for their second straight State title. Newport shares Class 4A/3A/2A/1A Special District 1 affiliation with Lincoln City's Taft High 7-12.
Newport senior Lucas Ellingson-Cosenza won the 200-yard individual medley and 500 freestyle titles, and junior Caden Shanks won the 100 backstroke in a record time of 52.82, breaking the previous mark of 53.13 set in 2014.
Newport's 200 free relay team of Cole Braxling, Brennen Wood, Kai Daniels and Luke Bachart; 200 medley relay team of Shanks, Nick Topar, Daniels and Ellingson; and 400 free relay team of Ellingson, Bachart, Topar and Shanks all won State titles.
Coach Angela Sremba's team won in record dominating fashion at Tualatin Hills Aquatic Center with athletes competing in 17 of 22 events during preliminaries Friday and 12 of 22 events in the finals Saturday. Sremba was assisted in coaching the Cubs boys and girls by Clayton Jacobson, Gavin Santiago, Kellen Wood, Rubi Arizmendi and Shawn Martin.
Ellingson-Cosenza, Bachart, Tristan Scarborough and Kolby Spink all made the finals in the 500-yard freestyle to make the Cubs the first team in Class 4A history to place four entries in an individual event.
The 500 free also saw the Cubs finish first (Ellingson-Cosenza) and second (Bachart), a first in 4A history, and the aforementioned 400 free relay team set a record in 3:18.05, breaking the 3:19.46 mark in last year's State championships.
Meanwhile, coach Jessica Arnsdorf's cheerleading squad won the OSAA State competitive cheer title over Sweet Home 189.8-182.6 at Veterans Memorial Coliseum in Portland.
Newport won the building skills portion of the event and was third in tumbling and jumps and second in overall routine to garner first place.
Photo Illustrations by Robert W. Smith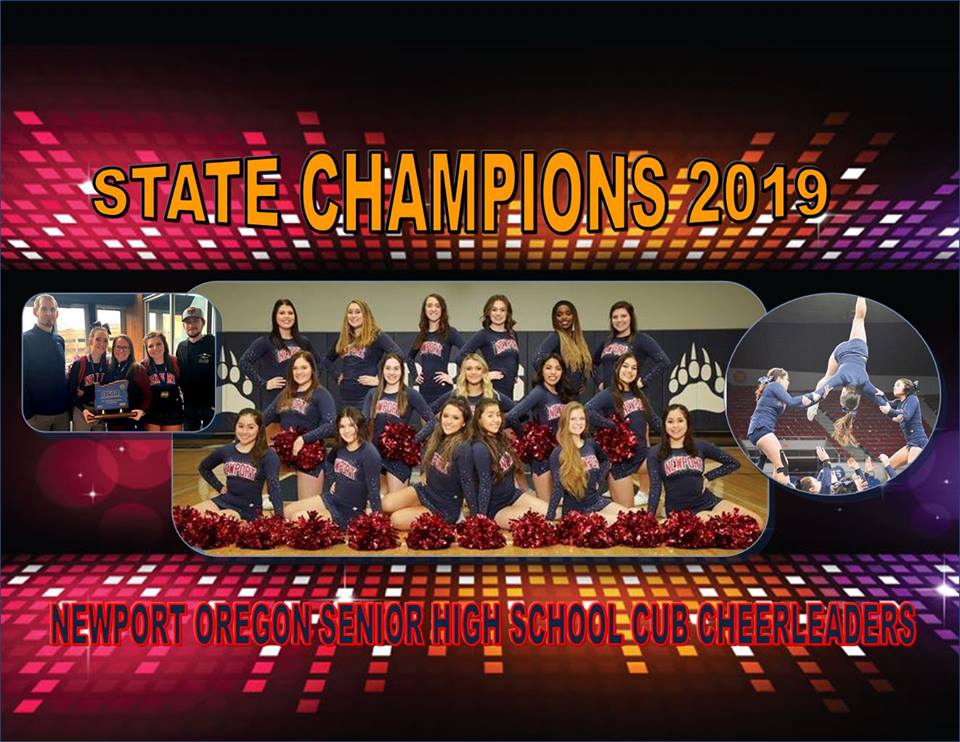 Newport Cheer
Head coach: Jessica Arnsdorf
Assistant Coaches: Karissa Marshall, Taylor Hayner
| | | | | | |
| --- | --- | --- | --- | --- | --- |
| | | Name | | Grade | |
| | | Ania Sacket | | 12 | |
| | | Annabelle Arnsdorf | | 12 | |
| | | Autum Hernandez | | 12 | |
| | | Bella Kahman | | 10 | |
| | | Emma Anderson | | 10 | |
| | | Erin Watanabe | | 11 | |
| | | Jadyn Weston | | 12 | |
| | | Jayla Fletcher | | 11 | |
| | | Kaiya Watanabe | |  9 | |
| | | Kristal Landa | | 10 | |
| | | Kylie Rock | | 11 | |
| | | Marcela Acosta | | 12 | |
| | | Samantha Ferguson | | 12 | |
| | | Sydney Tucker | | 10 | |
| | | Tatiyana Shroyer | | 10 | |
| | | Zalie Garcia | |  9 | |