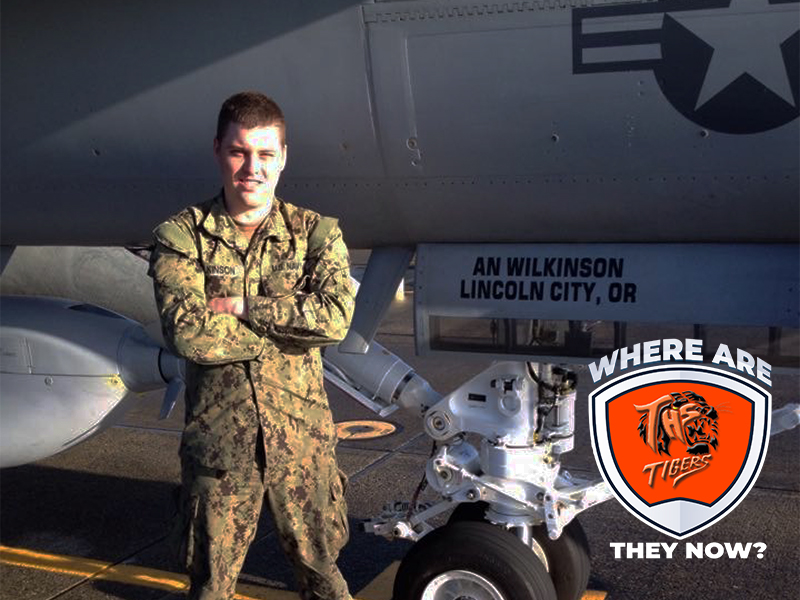 EDITOR'S NOTE: The following "Where Are They Now?" feature appears periodically on Homepage and highlights Tigers of yesteryear who excelled academically or athletically at Taft High 7-12. Today's post features highly decorated 2010 grad John Wilkinson, who went from launching footballs as a local sports star to an American soldier launching jets.
To call John Wilkinson by his moniker of "Johnny Wilk" is a slight to his passion for football. He was, after all, "Johnny Football" long before Johnny Manziel.
Son of retired longtime Taft High teachers Jack and Kristin Wilkinson, the 27-year-old "Johnny Wilk," as he is best known by his friends, was born in Lincoln City on Sept. 25, 1991, and lived here his entire life until he left to spend four years in the Navy.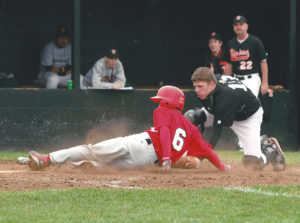 A 2010 Taft graduate, "Wilk" played football, basketball and baseball for the Tigers, earning 11 varsity letters. He claimed All-League honors in all three sports and two All-State selections as a centerfielder in baseball after playing catcher as a freshman and his knees advised him not to.
Playing quarterback, linebacker and defensive back in a small-school community at Taft allowed Wilk to compete with and against most of the same close friends from the time he was 5 all the way through high school. He keeps in contact with many of those friends, and several were members of his wedding party in late summer 2017, where former center Michael Selvidge served as the minister.
"Everything has always been about sports for John, and coaching has always been a family thing," Kris said of her son, who lives in Molalla with his wife, Penny.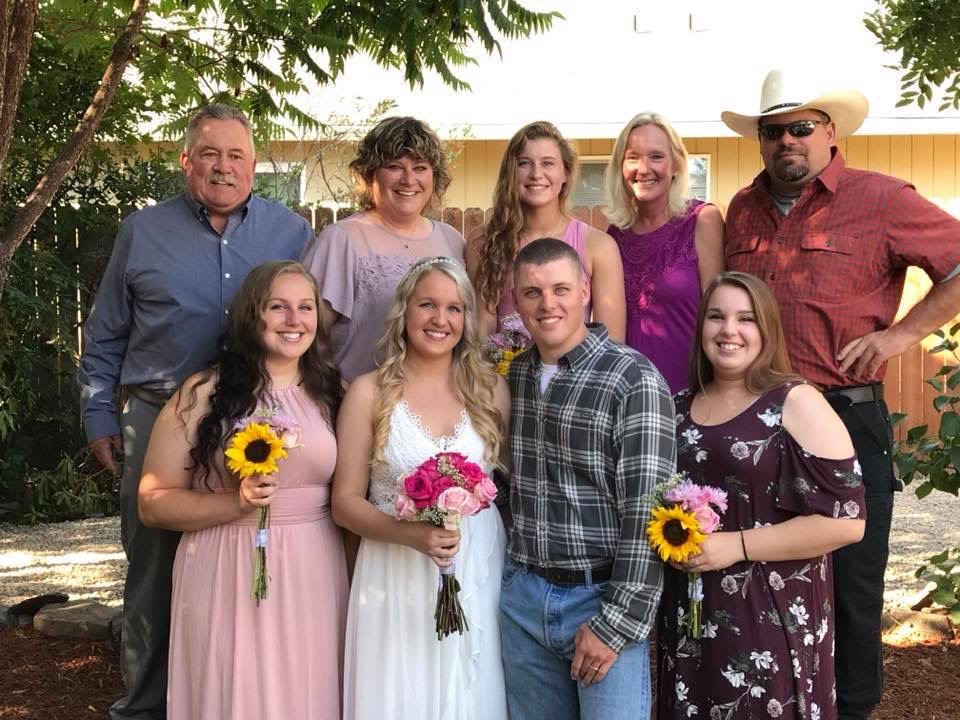 On Aug. 19, 2017, one month after completing four-years of military service, and the day before the Oregon Eclipse, Wilkinson married Penny, who works for the Clackamas County Sheriff's Department. The couple met just before John left for the Navy, and, according to lifelong childhood pal Selvidge, "the two people with the most beautiful eyes in the world began their lives together."
John's dad, Jack, was a fixture in Lincoln County athletics for most of his life and coached the Taft football team for 28 years. John's sister, Kelsey, also a former All-State athlete at Taft, is a junior at Linfield College in McMinnville and an outfielder on the Wildcats softball team.
According to their mother, Kelsey has called John "Brother" — never "John" — since she could talk, and John has always referred to her as "The Boss." She has looked up to "Brother" since she was little and wanted to grow up to be just like him. In turn, since growing out of the usual child sibling issues, they remain close, with John enjoying watching and rooting for his kid sis.
Wilk's grandfather, John, was a successful baseball coach at Medford High School, while his dad, Jack, not only ran the football program at Taft for nearly three decades, but coached John in basketball and baseball all through youth league.
Growing up as a coach's kid, Wilk had the opportunity as a youngster to hang out with and admire the older high school kids, "who treated him like a kid brother," Kris said.
"His buddies growing up all wanted to come with him to practice and play around. The favorite activity was building forts with the practice dummies," she said.
Once old enough, John became the Tigers' ball boy, went to all the games and even rode on the team bus.
"He lived for Fridays," Kris said. "All he wanted to do was grow up and be a Taft Tiger."
A special moment shared by father and son, coach and player, was Taft's final home football game of John's senior year. It was not only the younger Wilk's last as a graduating senior, but Jack's last as longtime coach. Both were featured in expansive stories in the local newspaper that week, Jack on the cover and John on the front page of the sports section. At the end of the night, they walked off the field together, gracious and appreciative to the end.
___
"Among the greatest remembrances of my sports writing career is of John standing by himself at midfield in uniform long after his last game at Taft; then, days later, going out of his way to chase me down, put out his hand and say, 'Mr. Fossum, I am so thankful to you for writing about me. I will remember that for the rest of my life.' Moments like that are why I still do what I do."
— Jim Fossum
___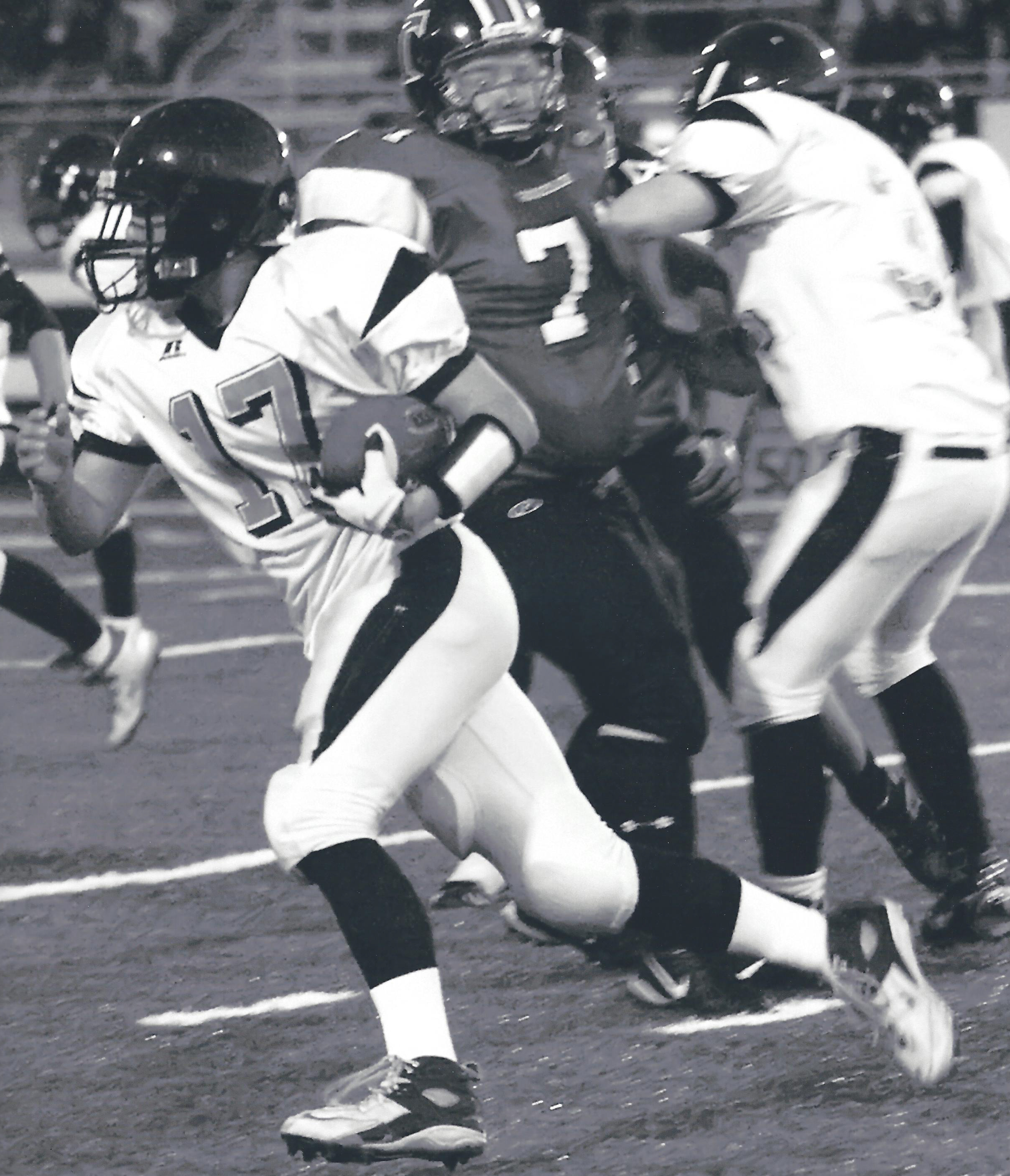 "John was all about football from the get-go. He was like a sponge for anything football-related," Kris said.
Mom recalls quizzing her son on Spanish vocabulary one night for a test the next day and John being distracted and goofing around.
"So, I said, 'OK, give me the order of the NFL Draft and was a little shocked that he could list off the 32 teams in order, but couldn't remember his verb list," she said.
Wilk owns hundreds of footballs and sports memorabilia, and has spent thousands of hours watching game tape following his beloved Oregon Ducks, Carolina Panthers and Green Bay Packers.
"John isn't a huge conversationalist," Kris said. "Penny and I tease him about being the 'Great Communicator,' so whenever we talk on the phone, and the conversation starts to get one-sided, I just ask him about the Ducks, Panthers or Packers, and the floodgates of stats and strategies, game analysis and insights just open wide up and he'll talk nonstop."
After graduating from Taft and dabbling in the construction business for a couple years, John enlisted in the Navy and departed for boot camp at Great Lakes Naval Training Center in Illinois.
"We dropped him off in Salem, where he would catch a bus to PDX with a couple of other boys for a flight to Illinois," Kris said. "If you can imagine a bunch of moms standing outside the recruiting center, all crying and embarrassing their boys — that was the scene.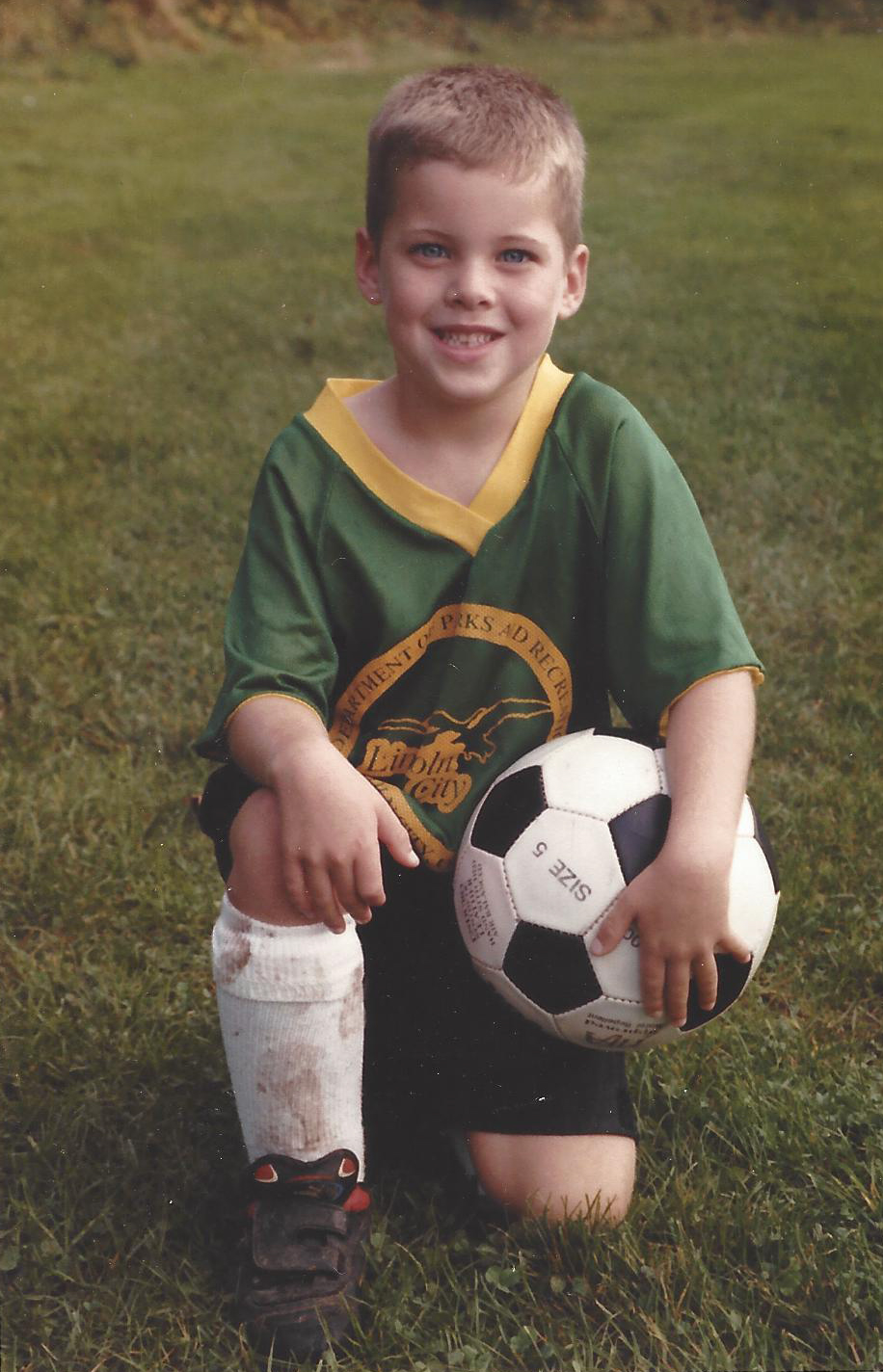 "The dads were there, too, all standing around trying to look like they all weren't about to cry. As Jack and I drove away, I looked back in the mirror, and there he was just standing there watching us drive off. I remember thinking this is the same face, just a grown-up version, of the little boy I dropped off to start kindergarten at Delake School. It was kind of a surreal experience for us as parents."
Now a young man, Wilk uwas told by Navy brass he wouldn't need to bring anything with him, so he left with nothing but the clothes on this back, his favorite Boston Red Sox cap and his phone.
"About three weeks later, we get what we called 'John-in-a-Box,' Kris said, "a box with those same clothes, shoes, ball cap and phone, as they make you send all your personal belongings back home and then issue you everything you need upon arrival."
After Illinois, Wilk went to Pensacola, Fla., and then was stationed in Naval Air Station Whidbey Island in Oak Harbor, Wash., where he was assigned to the Electronic Attack Squadron 132 Scorpions, with the qualification of "Plane Captain." His job was to inspect the jets to make sure they were ready for flight, and be responsible for launching and receiving EA-18G Growlers on maneuvers.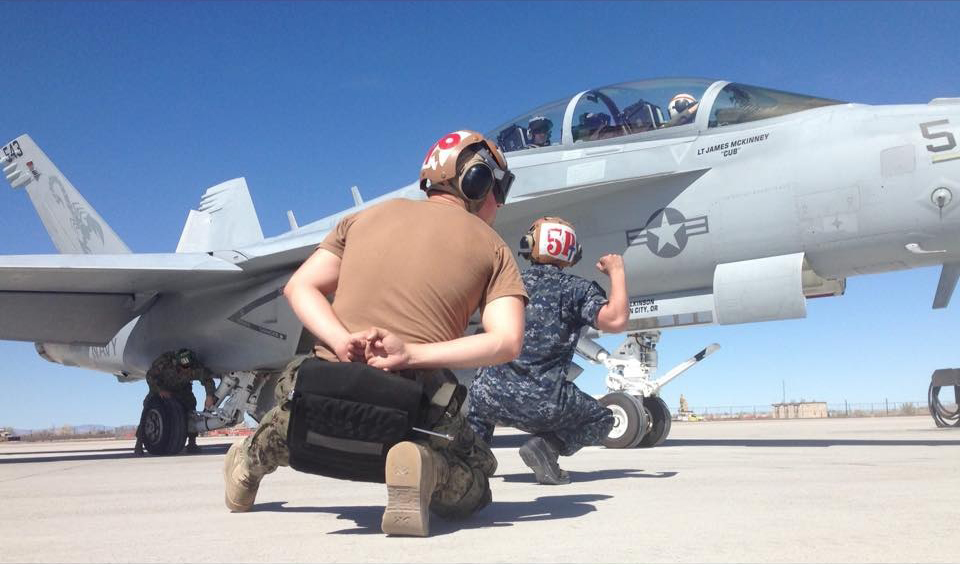 Wilk spent three years at Whidbey Island, and served several Western Pacific Deployments to Japan, South Korea, Okinawa and Guam. He earned the rank of Aviation Machinist's Mate, Petty Officer Third Class.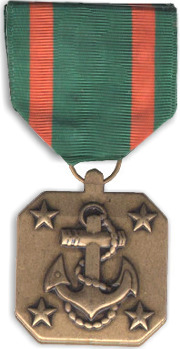 Wilk received several citations and commendations while in the service, including the Korean Defense Service Medal and Navy and Marine Corps Achievement Medal for meritorious actions in a dangerous situation. Putting other's lives before his own. After a jet exploded on the flight line, he ran underneath the aircraft to manually shut it down, preventing further damage to the plane and its pilots.
Wilk is currently back in school, taking classes to earn his degree. He enjoys spending time with his childhood buddies and the many new friends he made in the military.
A consummate outdoorsman, he loves to fish and bow and rifle hunt. Of course, when Wilk's not studying or pursuing deer or elk, you'll find the American patriot following football, the sport he was best known for while growing up in Lincoln City and at Taft.