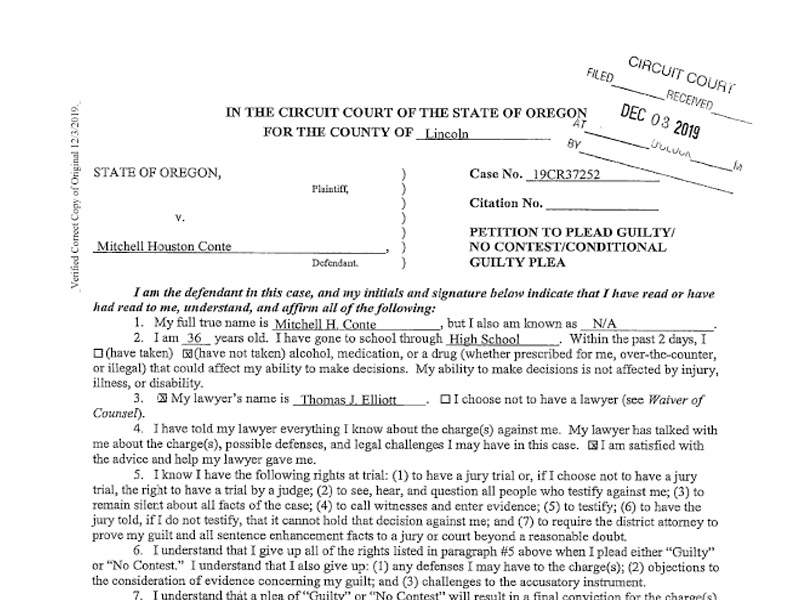 Lincoln City youth pastor Mitchell Conte pleaded guilty to six counts of sex-related charges Tuesday and received 60 months incarceration with no good time or alternative program eligibility.
Lincoln County Deputy District Attorney Christine Herrman recommended the 60-month sentence as part of a plea deal reached with Conte and his lawyer, Thomas J. Elliott. Circuit Court Judge Sheryl Bachart signed the deal and Conte will be transported to an Oregon Department of Corrections prison this week.
Conte, 36, pleaded guilty to second-degree sexual abuse, third-degree sodomy and contributing to the sexual delinquency of a minor. He must register as a sex offender within 10 days of release to report any changes to residence, school or employment for life.
A Lincoln County Grand Jury found sufficient evidence in June to indict Conte on nine counts of sex-related charges relating to the luring of a minor female to engage in sexual acts.
A pair of local teens were instrumental in alerting parents and authorities to the crimes, leading to Conte's arrest.
Previous Coverage:
Lincoln City youth pastor Conte indicted on nine sex charges
Lincoln City pastor arrested on charges of sex abuse of minor