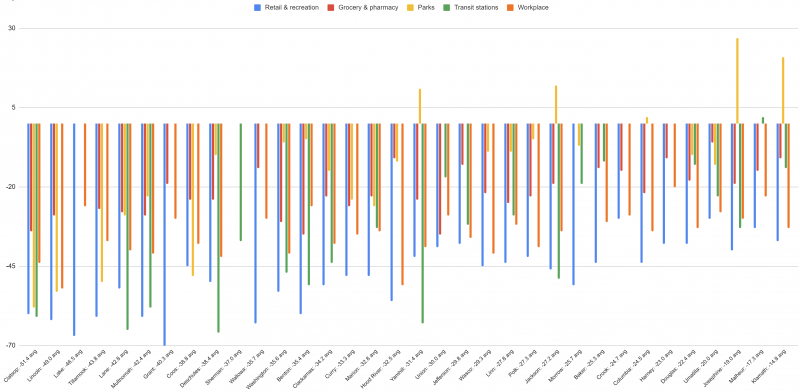 Today, Google announced the release of its COVID-19 Community Mobility Reports that use data from their user's smartphone location history, to compare how social distancing efforts are working.
Comparing all Oregon counties, Lincoln County (pop. 48,920) had the highest reduction (-59 percent) in user's movements related to the workplace. Lincoln ranked second in park-related movement (-53 percent), fourth in "retail and recreation" movement (-62 percent) and fifth in "grocery & pharmacy" movement (-29 percent). Averaging these five categories, Lincoln County scored second overall with a -49 percent reduction. Clatsop County (pop. 39,182) received the top score with an average reduction of -51 percent.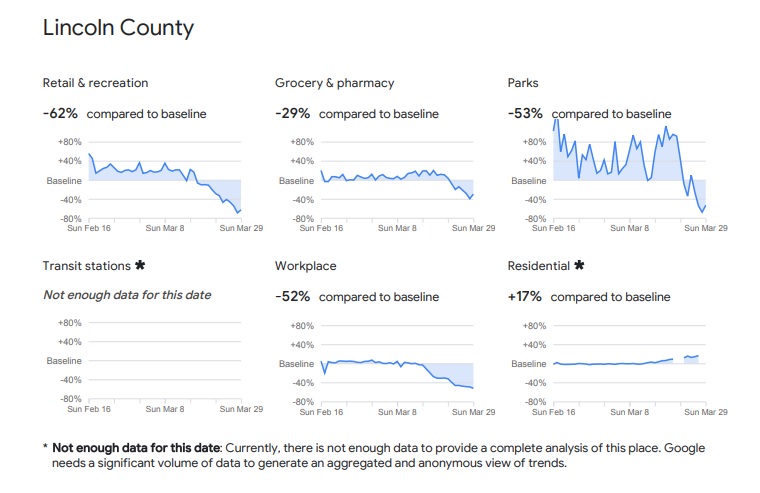 Google compared movement from the past 48 to 72 hours, against a baseline from late January. Google said they are only using anonymized data from users who have turned on the Location History setting, which is off by default.
Other data mining companies are finding similar results. On Tuesday, Unacast gave Lincoln County an "A" rating for its social distancing efforts. While the rating slipped to "B" on Wednesday, it's back to an "A" today. No other Oregon county currently has an "A" rating. Nationally, Unacast ranks Lincoln County 28th, beating out over 99 percent of the more than 3,000 counties in America.
"Data of this type has helped researchers look into predicting epidemics, plan urban and transit infrastructure, and understand people's mobility and responses to conflict and natural disasters," Google said.