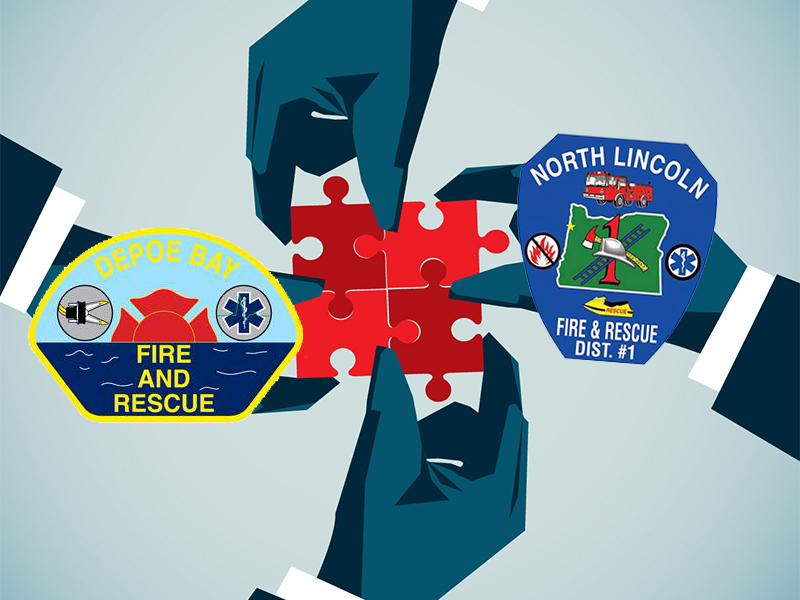 Exploratory action into the possibility of consolidating services between Lincoln City and Depoe Bay fire and rescue operations will be reignited at 5 o'clock tonight at Station 2200 at 6445 Gleneden Beach Loop.
"The two boards are looking at ideas in how they can work together," North Lincoln Fire Rescue (NLFR) Chief Doug Kerr said. "Sharing resources can be beneficial."
The long-proposed possibility of merging services, renewed by the 63-year-old Kerr's retirement this month, will be heard by Depoe Bay Fire Chief Bill Johnson and relayed at a subsequent NLFR meeting at 4 p.m. Wednesday, Feb. 13, at St. Clair Station, 4520 SE Highway 101.
"It's a dynamic situation with some people wanting to push it through and others who don't feel it's the right move," Patrick Ganz, president of Depoe Bay Firefighters Local 5154, said.  "Everyone believes a merger needs to happen, but it needs to be done with the right people in leadership positions."
Kerr said working together could help both agencies financially by combining services such as payroll, training and administrative duties.
"This is the direction the industry is taking," he said. "Other agencies are looking into or doing this."
The meetings to discuss the possibility of partnering to avoid duplication of services are open to the public.
"I'd say it could go either way," Ganz said. "We will know more after tonight, but North Lincoln is losing Chief Kerr this month, to my understanding, so there has been some urgency to this."