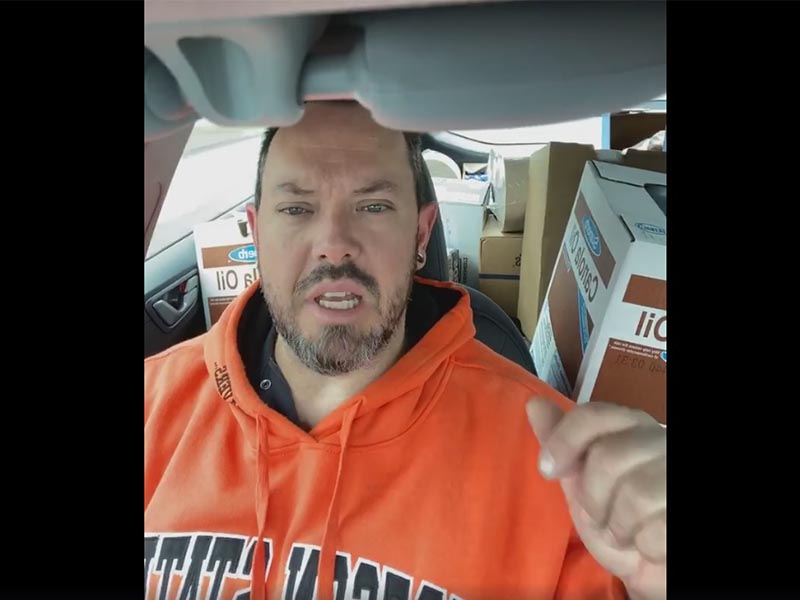 Update 3/14: Clanton is serving hot dogs with potato chips all day. Pepsi donated water and soft drinks after learning of students in need of a meal. Grill 1646 is open 11 a.m. – 9 p.m.
Update 3/14: Starting Monday, March 16th, LCSD and its partner Sodexo, will be offering meals at no charge to all children age 1 through 18 years of age. No income verification or household documentation is required to participate.
A communication was sent to parents Saturday, notifying them of the opportunity.
———————————————————————————————–
Grill 1646 owner Dan Clanton will be redirecting his resources to make hotdogs and "PB & J's" for homeless students who will be unable to get free meals due to a recent statewide K-12 school closure.
Clanton went live on Facebook Friday morning with a heartfelt message as he drove his truck to his restaurant located at 1646 NE Highway 101 in downtown Lincoln City. In the video, Clanton speaks about the "drastic moves" Governor Kate Brown made by closing all K-12 schools in Oregon Thursday night. He goes on to say the move will hurt students who depend on the school for meals and pledged to feed the underserved students. Clanton said 20 percent of students are homeless and called it a "staggering number."
Clanton said he was driving back from a vegetable run for his restaurant where he decided to buy hot dogs, peanut butter and jelly to feed the students and decided to go live on Facebook spontaneously.
"The reason that I'm coming to you right now is because that 20 percent plus more — for the next two to three weeks as schools are closed — don't know where their meals are coming from because they eat breakfast and lunch at school," Clanton said in the video. "With the school being closed, they don't have that resource."
Clanton said he's putting his Kickstarter crowdfunding project to put a food pod in Lincoln City on hold during the school closures. Kickstarter campaigns are timed and if a project is not funded within 60 days, all funds go back to the backers who pledged money. Clanton's campaign will most likely be "killed" by the redirection of time and resources.
Clanton is also putting plans to expand his restaurant on hold while schools are closed.
Clanton said kids can come see him at Grill 1646 for a meal and is seeking volunteers to help for a few hours a day. He also plans to put a food cart at Taft 7-12 for a few hours a day.
"There's not going to be any questions asked," Clanton said. "If you guys are hungry you come see me."
This is not the first time the entrepreneur has jumped at the chance to help people in need. Last Christmas Clanton and his family fed people in Portland, Lincoln City and Salem serving over 600 meals.