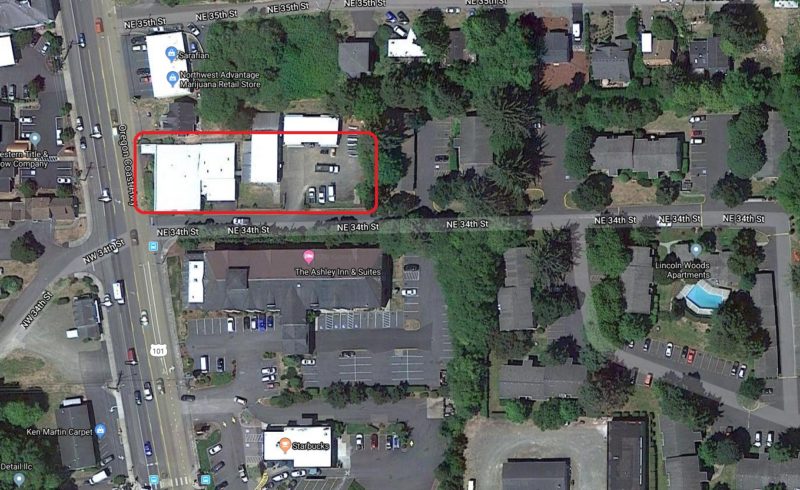 Lincoln Woods Apartments and Ashley Inn & Suites owners continue legal efforts to challenge a recent conditional use permit granted to the City of Lincoln City, allowing Helping Hands Reentry Outreach Centers to provide transitional housing for Lincoln City's homeless population.
In a letter addressed to City Manager Ron Chandler and City Attorney Richard Appicello, Byron Farley of Martinis & Hill, lawyer for the business owners, expressed "concerns and objections" to the conditional use permit (CUP) despite a recent ruling from the Land Use Board of Appeals (LUBA) who ruled in favor of Lincoln City due to an untimely appeal.
The business owners said they had no idea about a $750,000 deal between the City of Lincoln City and Helping Hands Reentry — a nonprofit serving the homeless — where the City purchased land and two vacant buildings at 3454 NE Highway 101 & 2201 NE 34th Street, for $400,000 and gifted it to the nonprofit. A $350,000 urban renewal rehabilitation loan will be given to Helping Hands to bring both buildings up to code and both the purchase of the property and the loan are secured with promissory notes and trust deeds. If Helping Hands does not use the property for transitional housing, the building reverts back to the City.
Farley says he conducted a thorough review of the CUP, Application and the Final Order from LUBA. He focuses on part of the Application, saying a "departure from standard operating protocol and procedures for Helping Hands Reentry Outreach Centers will be expected and diligently verified throughout the operation of the transitional housing facility."
Among the details included in the Application was the following statement:
There are strict guidelines for residents. They have to be clean and sober, actively employed, provide at least ten hours of volunteer service to the community, and attend self-improvement meetings and addiction meetings.
Because of the wording in the Application, Farley said his clients will expect strict enforcement to make sure people in the transitional housing facility are actively employed.
Farley's letter further states Chandler, speaking as the Applicant at the Dec. 3, 2019 public hearing, expressly stated that the residents were required to be actively employed.
Following Chandler's presentation, a concerned citizen, Robert Kilpatrick, testified somewhat in opposition to the CUP. Kilpatrick stated that his initial reaction when learning of the CUP was one of "panic." He stated, however, that upon hearing from Chandler that the residents would be employed, his concern regarding the risks and dangers associated with transitional housing was mitigated. Following Kilpatrick's comments, neither Chandler, nor anybody on behalf of Helping Hands, said anything in response to Kilpatrick's statement and understanding that the residents were required to be actively employed.
Farley said enforcement of the actively employed component of the application would inevitably result in considerable legal expense for all parties involved and said his clients intend to vigorously protect their property rights, including the right to the peaceful enjoyment and use of their property by guests and tenants. Farley said this type of facility causes unreasonable disturbances, including crime, noise, violence and other events that will significantly and unreasonably interfere with nearby residents and vacationing guests.
Farley threatened "aggressive legal action" for each incidence of interference of his client's property rights.
At the close of the letter, Farley points out Lincoln City is not immune to the current pandemic and said a considerable projected financial shortfall made it imprudent to give a $350,000 rehabilitation loan to Helping Hands and said the money would be better spent in areas of immediate need.
Farley said his clients would be willing to engage in dialogue with the City to avoid future legal challenges, alternate sites for transitional housing and other uses for the parcel that would benefit the City.
Previous coverage:
Apartment and hotel owners hire attorney over City's transitional housing deal
Transitional housing: Helping Hands meet-and-greet at City Hall
Special Report: City of Lincoln City to close deal for transitional housing
City Council discusses transitional housing deal; storing vehicles on street