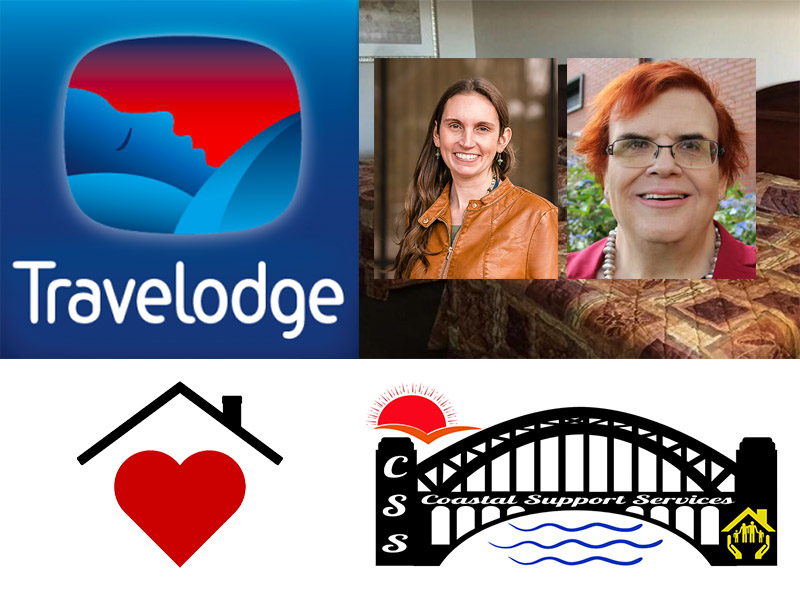 Lincoln County Commissioners working in concert with Coastal Support Services and Grace Wins Haven, have created the Emergency Motel Voucher Program to protect Newport and Lincoln City homeless populations from the COVID-19 outbreak.
The new program is expected to start Monday, March 16 and run until Tuesday, March 31.
Coastal Support Services' Amanda Suzanne Cherryholmes and Grace Wins Haven's Traci Flowers had a plan to house local homeless at Newport's Expo Center to provide a solution to the ongoing COVID-19 pandemic. The two warming shelter directors brought the idea to Lincoln County Commissioners Claire Hall and Kaety Jacobson. The commissioners came back with the Emergency Motel Voucher Program, finding $10,000 in funding to put homeless individuals who literally sleep outside, into motels.
Under the new program, $5,000 will be allocated to Lincoln City's Travelodge, where six rooms have been secured. The other $5,000 will fund Newport's Summer Wind Budget Motel, which has dedicated four rooms with the possibility of adding more as the program starts.
Coastal Support Services will run lead on the project, vetting local homeless by completing a basic intake form, obtaining a urine analysis test and securing a room via credit card.
The program criteria is as follows:
A person must identify as homeless, literally sleeping outside. People in RVs or vehicles do not qualify.
Persons cannot be showing any signs of respiratory issues.
Persons must provide a clean UA with marijuana being an exception if all other criteria has been met.
"We're doing our best to keep people off the street during this crisis," Cherryholmes said.
Lincoln City's Warming Shelter located at First Baptist Church will continue to remain open with some restrictions on who they allow to stay the night. Homeless individuals must be local and not show signs of respiratory sickness. Cherryholmes said 11 people were staying at the warming shelter Saturday night. The operation is taking precautions, such as keeping people six-feet apart while they sleep and providing hand sanitizer and wiping down surfaces.
It is currently 39 degrees in Lincoln City as of the publishing of this article.
Want to contact the people involved with this program?
For Emergency Motel Voucher Program in Lincoln City, contact Amanda Cherryholmes directly at 541-264-0457.
For Emergency Motel Voucher Program in Newport, contact Ken Wood directly at 541-270-8767.
Contact Lincoln City reporter Justin Werner at [email protected] or 541-992-0321.