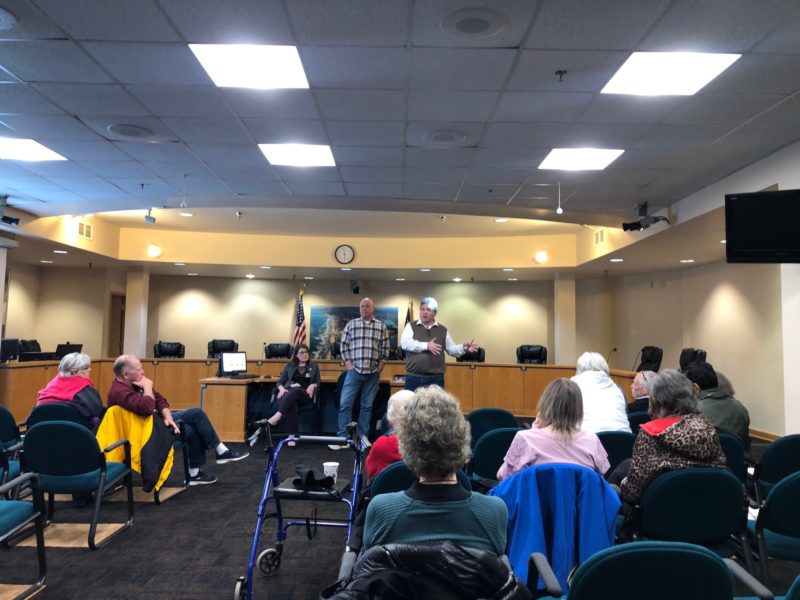 The City of Lincoln City hosted a meet-and-greet with the public for Helping Hands Reentry Thursday, Jan. 30, where CEO Alan Evans gave a presentation on the structure and functions of homeless outreach services and transitional housing.
"We live in a society that makes it hard to make ends meet," Evans said. "Everybody deserves a chance. Everybody has a story."
During the presentation, Evans covered the evaluation process that allows Helping Hands staff to pinpoint needs and roadmaps to success. He went over data the outreach center collects and how it helps the nonprofit get the homeless back on their feet with housing and breaking down barriers to employment.
Lincoln City citizen Jay Roelof said Helping Hands had a great opportunity to do some good work in Lincoln City and brought up the "unvetted" homeless population problem. 
Lincoln City Homeless Solutions President Lynne Rudstrom spoke in favor for the transitional housing venture.
Local business owner Randy Mallette asked pointed questions to Evans, drawing the City Manager's attention with a reminder to stay within the bounds of the meeting's purpose.
Evans fielded Mallette's question, "where people go after the program," but the question was ultimately redirected by City Manager Ron Chandler who wanted to keep the discussion geared towards "meeting Helping Hands."
"We've never failed to place a person in housing," Evans said. "We do the best we can."
Evans gave a tentative timeline for placement of homeless in permanent housing at around 6-8 months with a "cap" of 18 months, but cautioned everyone's needs are different and it was hard to give an exact date.
"I've got a million questions," Mallette said.
"And I've got a million answers," Chandler replied. "Grab a card from the back and contact me after the meeting."
Lincoln Woods Apartments and Ashley Inn & Suites owners were at the meeting but acting on advice from their lawyer, declined to ask questions or engage with Helping Hands, who reportedly hired an attorney in response to a legal challenge of the City and Helping Hands' transitional housing deal.
Mallette asked questions surrounding the deal and was told there would be no discussion about any legal issues.
City Council members were not in attendance.