EDITOR'S NOTE: This was written by Virginia "Jenny" Demaris, Emergency Manager,
Lincoln County Sheriff's Office. [email protected]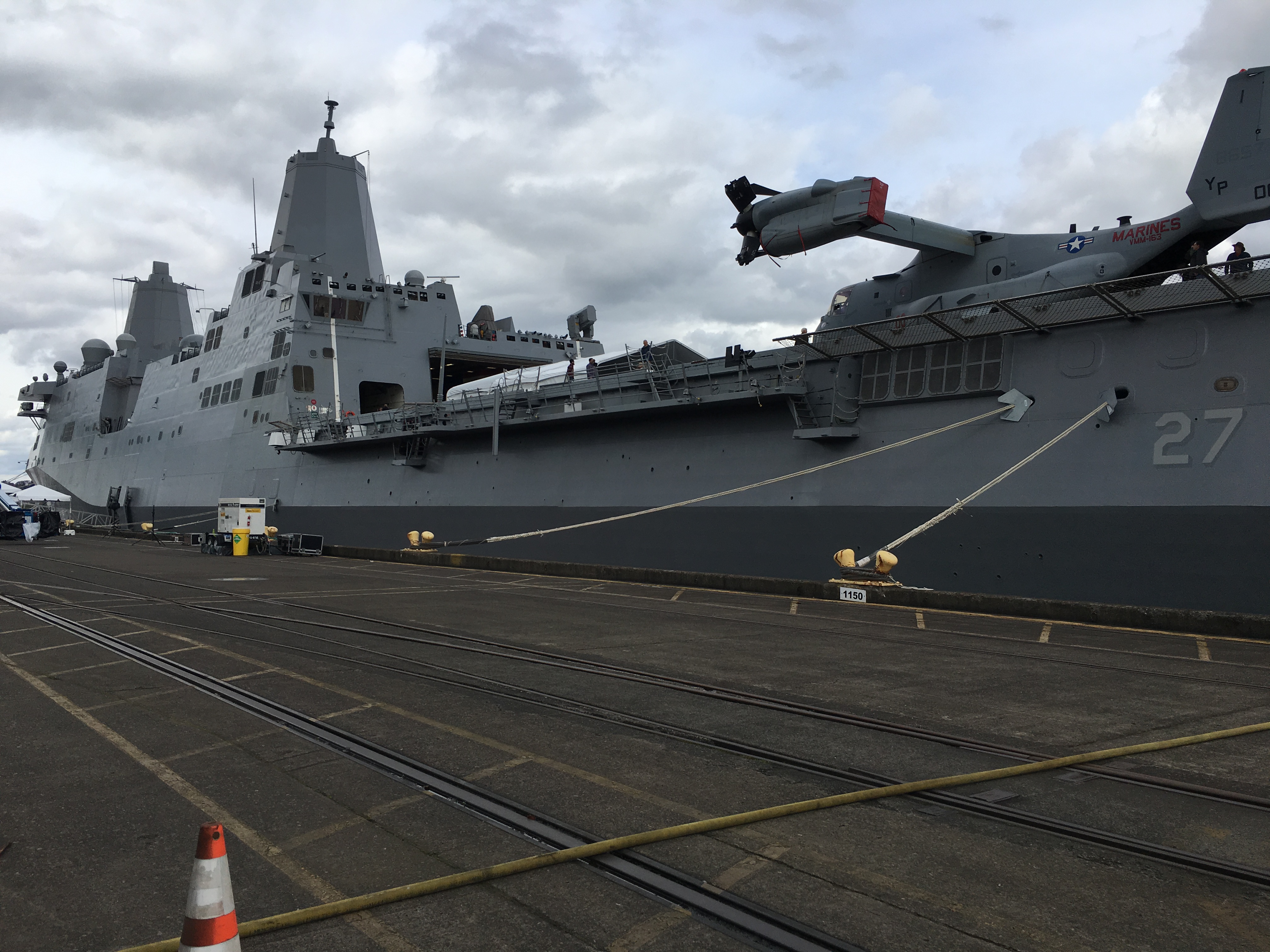 Lincoln County Emergency Managers participated in a VIP tour of the new USS Portland on Tuesday, April 17th. The invitation to Coastal Emergency Managers was an extension of the relationship building and continued planning efforts for a Cascadia earthquake and tsunami response with Federal Naval partners.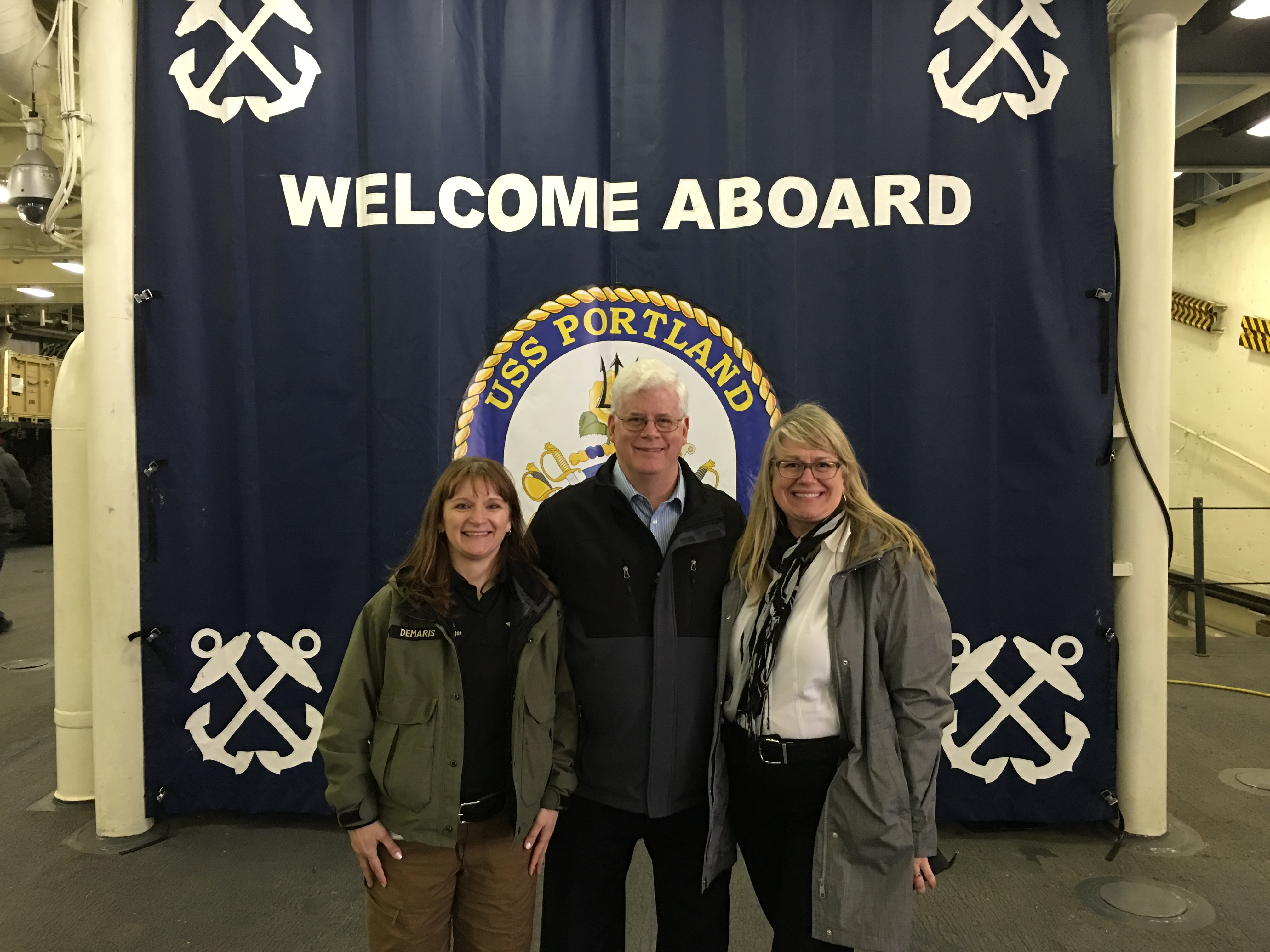 As part of the tour of the USS Portland, County Emergency Managers with representatives from the Port of Portland, Northwest Natural Gas, and Oregon Military Department and Naval dignitaries continued discussions on resource needs, capability assessments, communication strategies and ship-to-shore deployments of resources.
Lincoln County, Oregon:
"The ship-to-shore pre identified locations is one of the most valuable pieces of information for a local Emergency Manager and Planning Team" said Lincoln County Emergency Manager, Jenny Demaris. "Knowing in advance where marine or military assets may come ashore allows us to validate our pre staging locations and community points of distribution for supplies to local communities. Once we receive the preferred locations from our naval partners we will match up our on shore locations and map out routes to receive supplies and resources from marine assets. It is important to note these are planning assumptions; the devastating effects of the earthquake, tsunami and current weather conditions at the time of the event may change our original plans but we feel confident our overall strategy will decrease confusion and response time."
The next steps for planning partners will be to convene a local meeting of subject matter experts to vet the identified ship-to-shore locations (once received) with local US Coast Guard Officials, Oregon State Parks, Public Safety Officials and local Fishing Industry partners who provide valuable knowledge of our coastal waters and behavior.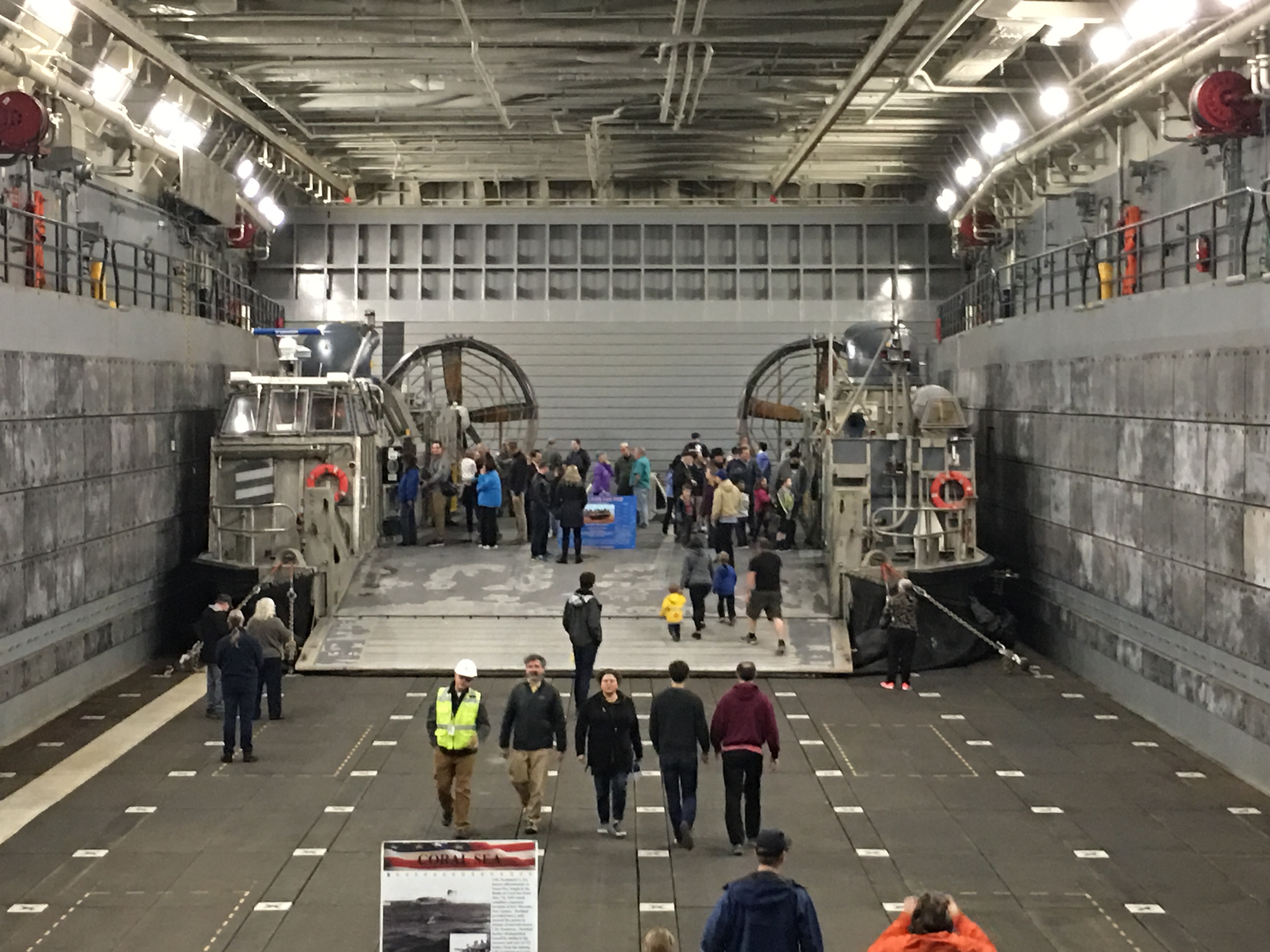 Clatsop County, Oregon:
Tiffany Brown, Clatsop County Emergency Manager also suggested the meeting was timely from a citizen perspective.  "Coastal communities are beginning to understand the vital role off-shore resources will play in the response to a Cascadia event and with their increased awareness and understanding are seeking more answers to the 'what if' questions.  Beyond the obvious benefit to those of us responsible for catastrophic planning, efforts like the VIP event and the Lincoln and Grays Harbor County demonstrations provide answers to some of those questions while sending an important message we aren't just talking—we're doing something about it."
"The prospect of the Cascadia earthquake/tsunami may be worrisome or even overwhelming for the general public, so understanding the military plans to make haste to assist local communities when it happens provides a degree of comfort for citizens and first responders alike.  Seeing the resources up close is helpful from a planning standpoint and tends to increase that sense of comfort for people, but the promise isn't made whole until we've managed to come together and plan extensively for that anticipated coordination."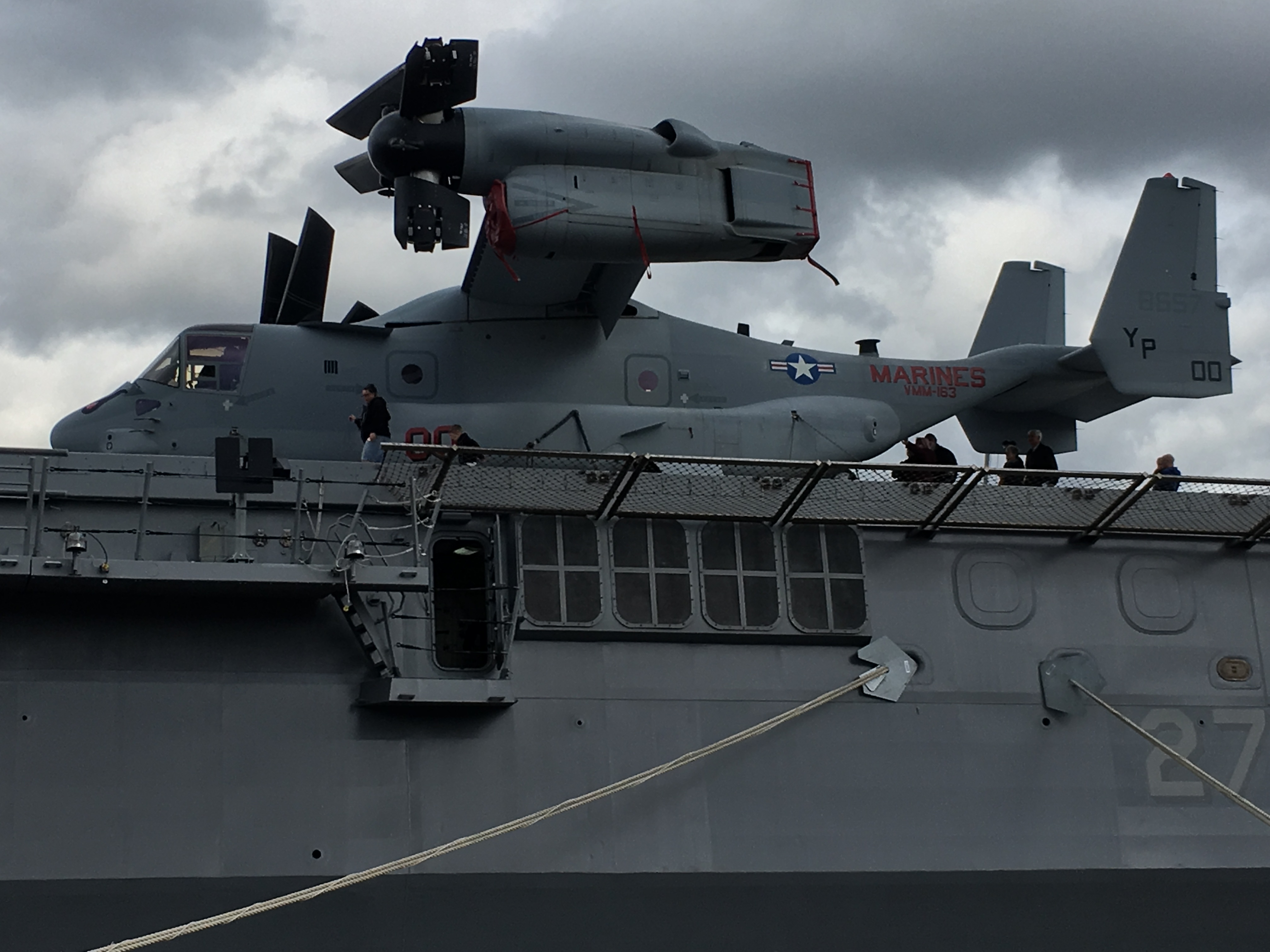 Grays Harbor County, Washington:
Chuck Wallace, Grays Harbor Deputy Director Emergency Management stated "The coordination, cooperation and alliance we have built with the Navy and all other military branches, continues to grow stronger, benefiting all coastal jurisdictions as well as disaster military operations. During times of disaster, we are all dependent upon the ability of the Navy and other military branches to arrive and assist affected communities who may be isolated or completely impacted by disaster. As potentially disaster impacted communities, we must continue to be forthcoming with our vulnerabilities, abilities, risk and hazard to all types of disaster to assist the Navy and other military branches in their abilities to assist our communities. A partnership between all coastal communities and the Navy and other military branches has been cultivated. Through our continued cooperation and communication, it will mature and flourish, reducing the impact of disaster upon our people and the communities we all live in."
More information about the newly commissioned USS Portland can be found at: https://ussportlandlpd27.org/
USS Portland History:
The USS Portland (LPD-27) is the third Navy ship to be named Portland, but the first to be named exclusively for the great maritime city Portland, Oregon.
She is a San Antonio class amphibious transport 684 feet long and displaces 25,000 tons.
USS Portland (LPD-27) will be commissioned in Portland, Oregon in the winter/spring 2018.
The first USS Portland was named for the city in Maine.
The USS Portland (CA-33) was a Portland-class heavy cruiser.
This famous WWII ship was launched in 1932 and decommissioned in 1946.
She was 613 feet long and displaced 9,800 tons.
During her extensive service she accrued 16 battle stars, making her one of the most decorated ships in WWII.
The second USS Portland (LSD-37) was named after both the Maine and Oregon cities.
The USS Portland (LSD-37) was an Anchorage-class landing ship dock in service from 1970 to 2003 and was an east coast-based ship 553 feet long and displaced 14,000 tons.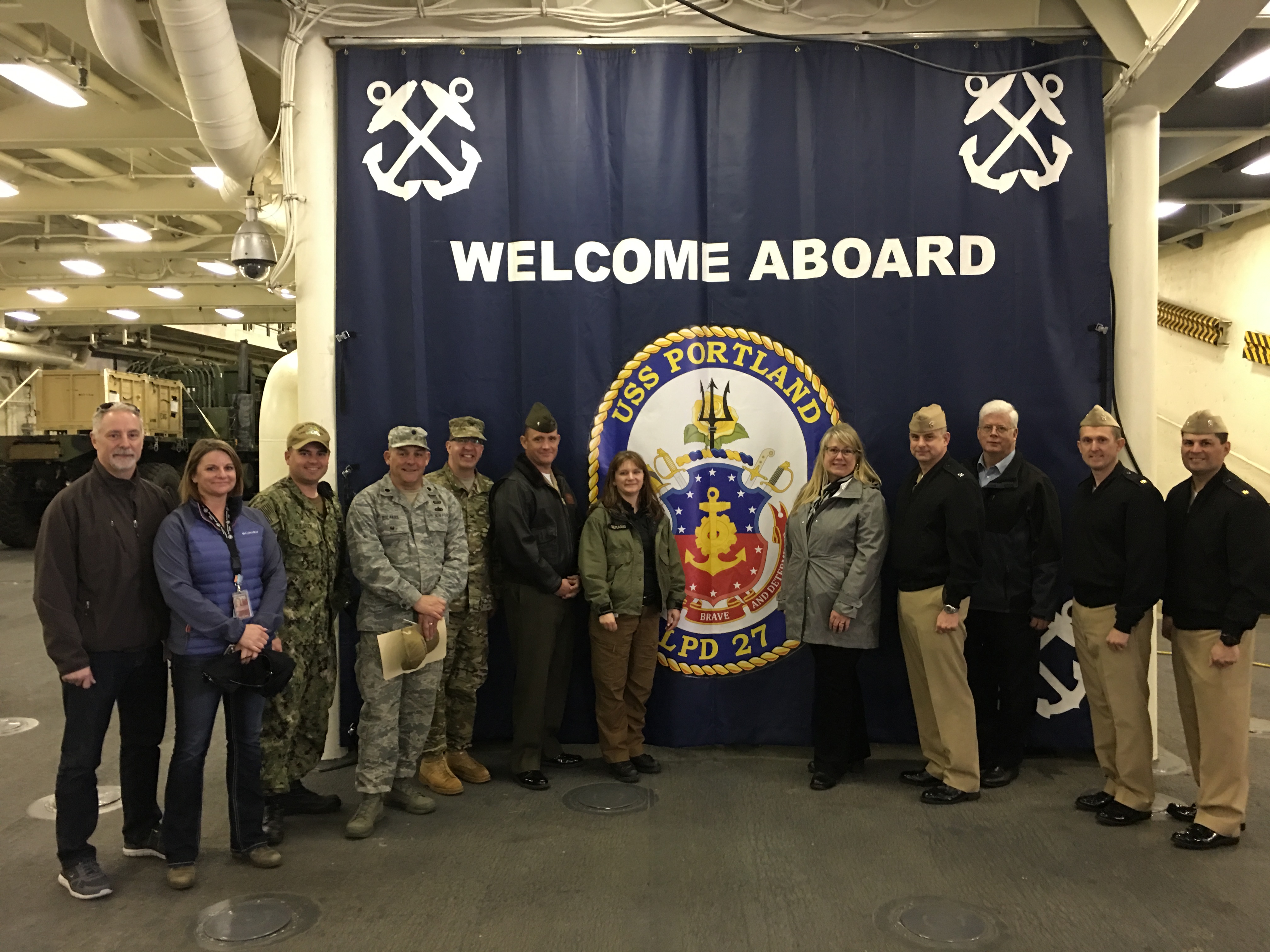 Additional photos can be found on the Lincoln County Sheriff's Office website at: http://www.co.lincoln.or.us/emergencymanagement/page/uss-portland-county-emergency-managers-continue-cascadia-planning-efforts