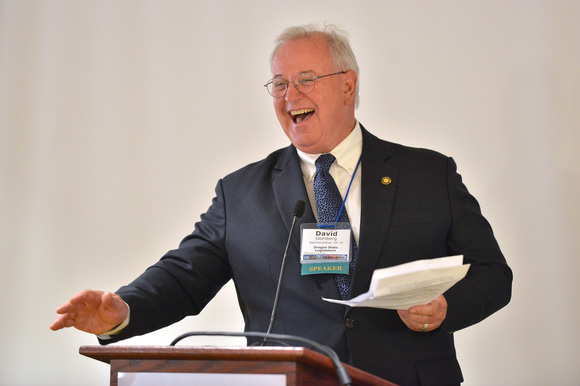 EDITOR'S NOTE: House District 10 Rep. David Gomberg shares his thoughts on the voting process and five measures that will be up for vote in the following excerpt from his periodical newsletter, his last before the Nov. 13 General Election.
Hello Friends,
One of the highlights of the recent Coastal Caucus Summit was a conversation I moderated with Congressman Kurt Schrader.
Topics included forestry and fisheries, housing, salmon recovery, health care, offshore drilling, and the general state of affairs in our nation's capital. If you'd like to hear the interview, click here.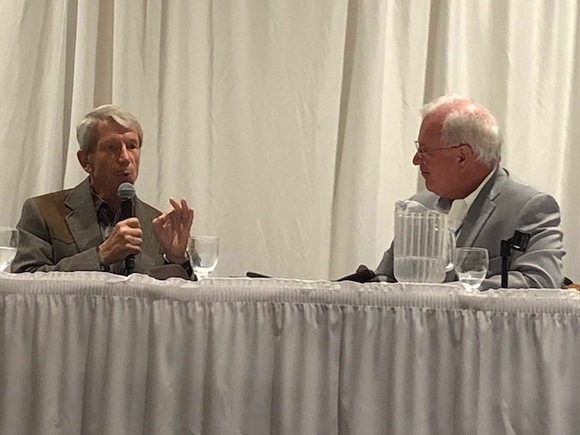 In less than 60 days, you will receive your General Election Ballot. We will all be voting on candidates for state and local positions, and a series of policy proposals.
Proposals come to voters in one of two ways. Either they are referred by the legislature (usually because they amend the constitution and require voter approval), or because petitions were circulated and signatures collected (often paid for by interest groups). This year there is one legislative referral. Several dozen petitions were circulated but only four collected enough signatures to qualify for your vote.
Five total measures is an unusually light load. Over the last two decades, we have been asked to consider an average of 14 such proposals. But the measures we do have are serious and consequential. Two of them touch on controversial questions — immigration and abortion. Two of them propose tax amendments to the state constitution. And the fifth measure, referred to voters by legislators, deals with affordable housing.
I will not use this newsletter to advocate for or against any of these questions. But I will try to outline the proposals and encourage you to study and engage on them as November draws closer.
Measure 102: A referral from the legislature which was overwhelmingly approved by both Democrats and Republicans. It helps ease Oregon's statewide housing crisis by allowing jurisdictions who pass affordable housing bonds to build more homes by working together with developers rather than separate from them. The idea is to create more housing with the same money by combining funds and stretching them further.
Measure 103: A ballot initiative that bans taxes on "groceries". This is a constitutional amendment that covers most store-bought food and non-alcoholic beverages, as well as transporting foodstuff, restaurants and possibly bottle deposits. It would apply to taxes and fees and prevent new state and local taxes in the future.
Measure 104: Current law requires new taxes approved by the legislature to pass by a 3/5th "super majority". This constitutional amendment would expand that requirement to any bills that modify, eliminate, or change the eligibility for taxes, tax deductions or credits, and fees like park passes and vehicle registration.
Measure 105: Repeals Oregon's 1987 "sanctuary" law which says state and local resources cannot be used to enforce federal immigration law. The current laws prohibit police agencies from profiling, seeking, or apprehending individuals whose only offense might be a violation of those national immigration laws.
Measure 106: A constitutional amendment to eliminate public funding of otherwise legal abortions. It applies to any woman who receives health care through Oregon's Medicaid program or public employees' health insurance. This includes an estimated 250,000 low-income women and 75,000 teachers, firefighters, and other public employees.
When I review my own ballot, here are some of the questions I ask:
Should a measure to amend the state constitution meet a higher standard than a statutory measure? Certainly constitutional amendments are harder to adjust in the future. Does this proposal absolutely need to be embedded in the constitution?
What is the potential financial impact of the proposed measure? Voters sometimes approve costly measures that seem good ideas without worrying about how to pay for them.
Should the measure be taken up by the Legislature instead? Oregon voters love their ballot measures. And special interests love bringing questions directly to voters. But some topics are complicated enough that they deserve compromise, amendment, and detailed scrutiny from legislators — with ample opportunity for public input.
Elections have consequences. I urge you to inform yourselves about candidates and measures in the coming weeks. Please pay particular attention to local questions and people running for local offices that will be on the ballot. They often get less media attention but have a daily effect on your community and quality of life.
Warm Regards,
Rep. David Gomberg
House District 10
________________________________________
email: [email protected]
phone: 503-986-1410
address: 900 Court St NE, H-471, Salem, OR, 97301