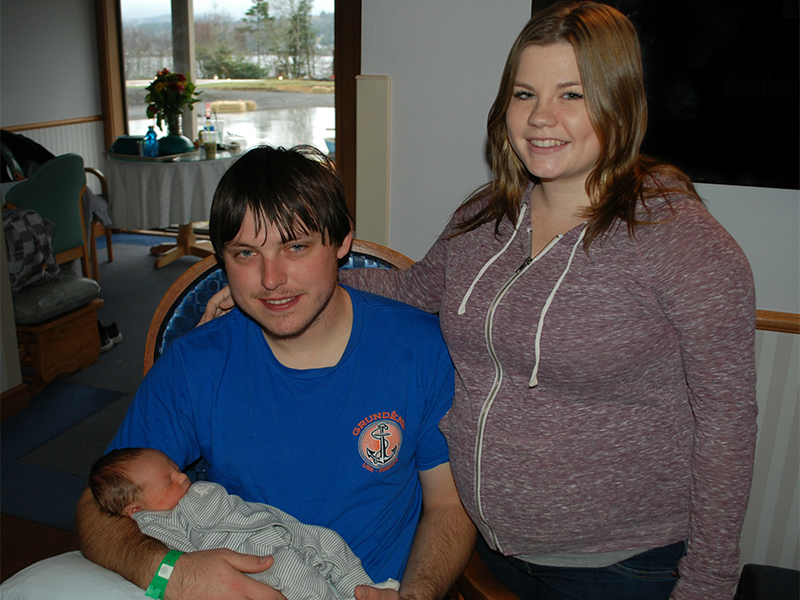 The first baby of the new year born at Samaritan North Lincoln Hospital waited a day to meet his fisherman father, who was at sea for the start of the commercial crab season — but the new mother had plenty of family support to help her through.
Fynnley Lee Lynch was born Tuesday, Jan. 1, at 10:31 p.m. to Maegan Jones and Zackery Lynch, of Siletz. He weighed 6 pounds, 7 ounces and was 19-1/2 inches long. He was delivered at the hospital's Family Birthing Center by Michael Cheek, MD.
Upon his return to port the next day, Zack headed to Lincoln City to meet his son and to join in the hospital's traditional New Year Baby celebration, which includes a special meal for the new parents and presents for the baby. This is the first child for the couple.
A large gift basket was presented by Leslie James, development specialist for the North Lincoln Hospital Foundation. It included a Welcome Home gift set, two stuffed animals, quilt, baby blanket, clothing hamper, baby comb and brush, Binky Buddy, piggy bank, baby book and three-pack of burp cloths.
Another gift, presented by Sherri Nordyke on behalf of her non-profit organization, Clara's Closet, was a "baby shower in a box" –diapers, wipes, infant development toy, book, pacifiers, Lovey animal blanket, hygiene kit (baby shampoo, body wash and lotion), hand-knit sweater and hat, hand-knit blanket, blanket, receiving blankets, bibs, burp cloths, Halo SleepSack, newborn clothing, thermometer and infant safety kit.
Baby Fynnley is welcomed by maternal grandparents Misti Arnold and Tony Jones, of Eddyville; and paternal grandparents Kimberly Lynch and Mike Lynch, of Siletz.