PHOTOS BY ERIC DEMELLO
History — and sheer common sense — said it wasn't supposed to be like this Thursday afternoon at The Pit in a showdown of highly regarded Class 3A high school baseball teams.
First baseman Jack Stempel drove home three runs, including one in the bottom of the first inning behind winner Caleb King, to get No. 1-ranked Taft off and running to its 11th straight victory — 11-1 over fifth-rated Horizon Christian/Tualatin.
"We came out with lots of energy, hit the ball and Caleb pitched a heck of a game," shortstop Josh Salsbery said of Taft's eighth West Valley League win without a loss. "It was a great game all around for everybody."
Taft flexed its muscle on Senior Night by tallying eight more runs in the third inning and two in the bottom of the fifth in their eighth straight game abbreviated by the state's 10-run mercy rule.
"Mercy, mercy, me . . . things ain't what they used to be . . ."
Apologies to Marvin Gaye and his 1971 classic, but the Tigers, who reached the second round of the State playoffs last season for the first time in 49 years, have now outscored their league opponents 105-3 — or by better than 13 runs per game.
"It's always more comforting when you're at the plate knowing you can relax, know your defense is going to show up no matter what, and know the guys behind you are going to have your back," Salsbery said.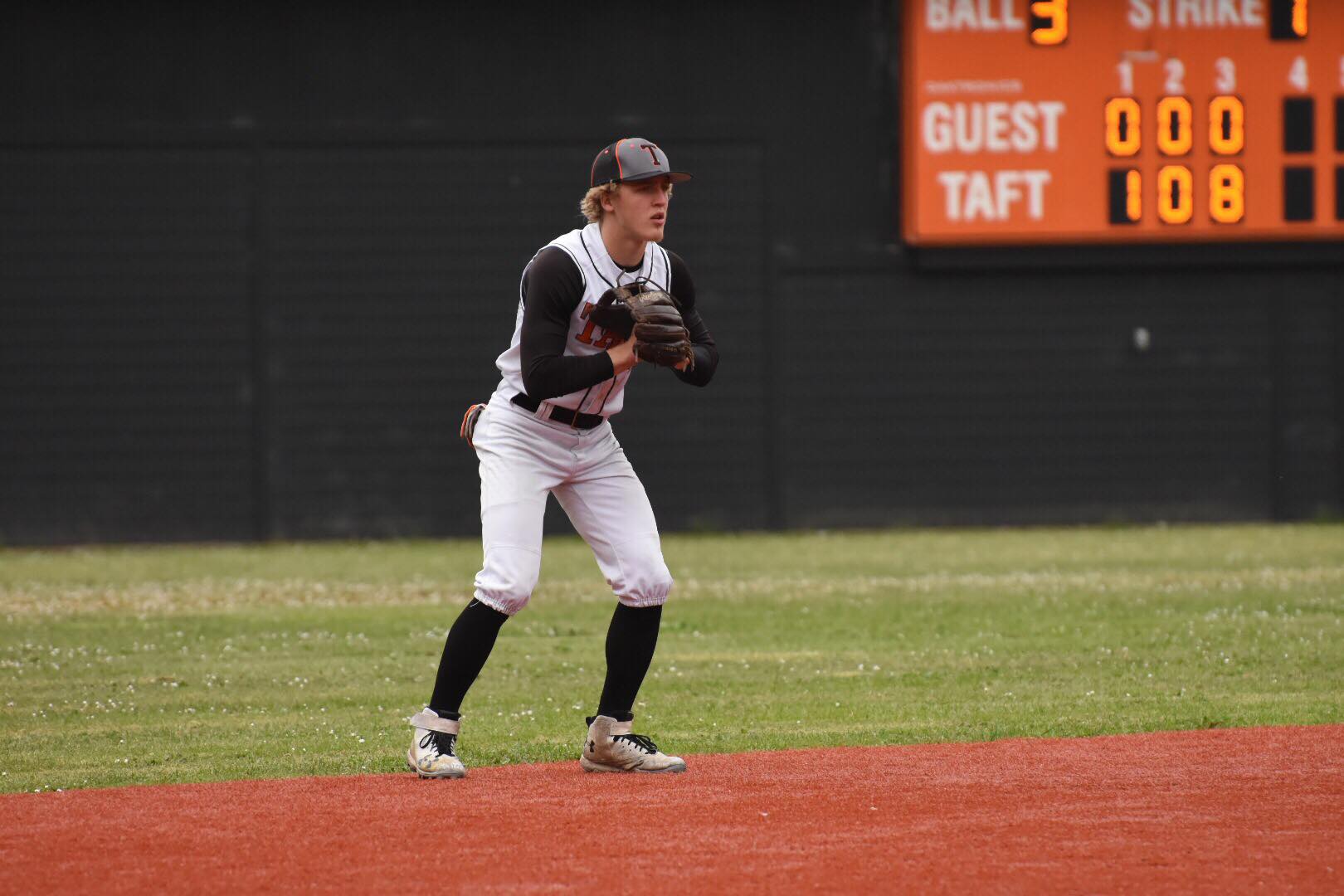 The Hawks (10-4, 4-2) entered Thursday's game as the last team to hold Taft under 10 runs, which they accomplished more than three weeks ago in a 4-1 home loss on April 3. Taft, which swept its first tour through conference play, stayed unbeaten in the second half of its home-and-home series with league opposition by limiting Horizon Christian to three hits and a lone run in the top of the fifth.
"Our defense showed up and made some outstanding plays in the field to back me up on the mound," King said of layout and sliding circus catches by sophomore Caleb Jones and junior Tyee Fisher, respectively. "On the offensive side, we did what we always do and put pressure on them. We took care of business today."
Even the Lincoln City Fire Department, there to cheer on the Tigers, couldn't cool off the graduating senior triumvirate of tri-captains Salsbery, Stempel and King. They accounted for five of Taft's RBIs and four of the Tigers' runs.
"We came out and hit the ball really well and our defense was on lockdown," Stempel said.
Eli DeMello, Fisher and Jones had two hits each, while DeMello scored three runs and Salsbery two for the Tigers. Eight different Tigers touched home plate, while DeMello, a sophomore catcher, had four of Taft's six stolen bases.
"This was another big win tonight. It's nice to get a win on Senior Night," Taft Coach Matt Hilgers said. "We have been a tough team to beat at home, and tonight was another example of us playing some of our better baseball at home."
King struck out four and surrendered just three hits in notching the win on the hill for the Tigers.
"Caleb threw great tonight, just like he always does," Stempel said. "It is nice to have a guy on the mound that pounds the strike zone and is so reliable."
Taft concludes its season with five straight road games, beginning Tuesday at 4:30 p.m. against Amity (5-6, 3-4).
"This was a huge game for us," said Stempel, whose Tigers built a two-game league cushion over Santiam Christian (12-6, 6-2), which was idle.
"We will be on the road for the next couple of weeks and that is going to challenge us," Hilgers said. "We are focused on the next game and its importance."
Taft 11, Horizon Christian 1
HORIZON CHRISTIAN AB R H BI
Luke Klein 3 0 2 1
Greyson Pihas 1 0 0 0
Brannon Macfarlane 2 0 0 0
Sam Romero 1 0 0 0
Cole Armstrong 2 0 0 0
Nathan Murrell 2 0 0 0
Nathan Brucker 1 1 0 0
Cade Tillema 2 0 1 0
Matt Brennan 0 0 0 0
Anthony Petit 1 0 0 0
TOTALS 15 1 3 1
TAFT AB R H BI
Josh Salsbery 4 2 2 1
Eli DeMello 2 3 2 0
Caleb King 0 1 0 1
Jack Stempel 2 1 2 3
Cody Knott 2 1 0 0
Kam Kessler 3 1 0 0
Tyee Fisher 3 1 2 2
Caleb Jones 3 1 2 0
Trenton Fisher 3 0 0 0
TOTALS 22 11 10 7
HORIZON CHRISTIAN 000 01 — 1
TAFT 108 02 — 11
LOB–HORIZON CHRISTIAN 3, TAFT 7. ERR—Nathan Brucker, Nathan Murrell. 2B–Luke Klein, Josh Salsbery, Eli DeMello, Caleb Jones. HBP–Caleb King, Eli DeMello, Cody Knott. SACF–Caleb King. SB--Caleb King, Eli DeMello (4), Jack Stempel.
HORIZON CHRISTIAN IP H R ER BB SO HR
Matt Brennan (L) 3.33 7 9 9 5 1 0
Brannon Macfarlane 1.00 3 2 2 0 0 0
TAFT
Caleb King (W) 5.00 3 1 1 4 4 0
PB–Nathan Brucker (2). BB–Sam Romero, Nathan Brucker, Greyson Pihas, Matt Brennan, Caleb King (2), Eli DeMello, Jack Stempel (2).
Taft roster/schedule
Class 3A West Valley League standings
Class 3A OSAA rankings