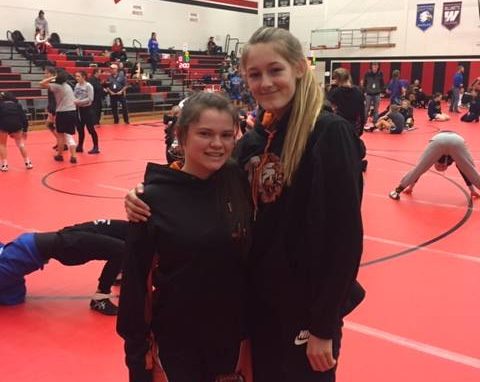 Taft High senior Autumn Barela and freshman Kadence James made their presence felt against formidable odds Friday at Thurston High School in Springfield before being eliminated at a qualifying meet to advance to the girls State wrestling championships.
"While both girls got eliminated by losing for a second time right at the end of the first day, they went and fought hard," Taft coach Robb Ellis said. "Kadence pinned a 6A girl wrestler in her first match and Autumn lasted three rounds in her final match in a close one."
Ellis said the boys will only face fellow Class 3A wrestlers at Districts and the top three in their weight class go to State, while the girls took on wrestlers from the 1A to 6A classification and only the top two advance.
"In a lot of areas of life, girls do have it harder than guys," he said. "They looked like they belonged there even though it is their first true season of wrestling. I wish we had Autumn back for another round, but no doubt Kadence will show up to Districts every year a lot better than the year before."
Ellis said the duo might wrestle again for Taft on Thursday when the Tigers host Special District 1 dual matches against Amity, Dayton and Rainier.
"Thankfully, their season may not be over yet," he said. "There is no doubt that these two may be the pioneers of a growing girls wrestling movement at Taft High School."
The SD1 meet to determine State boys qualifiers is scheduled Friday, Feb. 15, at Warrenton High School. The OSAA wrestling championships are set the following weekend, Feb. 22-23, at Veterans Memorial Coliseum in Portland.