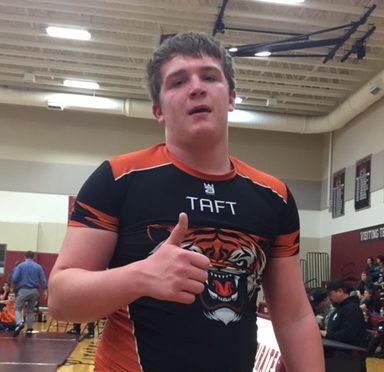 Taft High won one match and lost another Thursday, but Coach Robb Ellis said his team performed like champions in both competitions in the absence of four top wrestlers and the aftermath of a punishing defeat.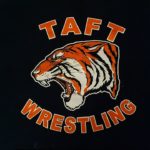 "Great bounce back tonight in our league duals," the second-year coach said after his Tigers defeated Warrenton 53-41 but lost to host Dayton 48-24 after falling at powerhouse Harrisburg 48-18 the previous day.
"With our full lineup, we could have pulled off the win against Dayton," he said. "We have been looking forward to seeing Warrenton because they have some wrestlers some of our guys might see in key third- and fourth-place matches that they need to win at Districts to go to State."
Seniors Biz Byrum, Gio Salazar and David Jin got solid wins to improve their seeding in the District bracket, while younger wrestlers Kevin Acosta Lopez and Riley Ellis also performed well, Ellis said.
Bigger 220-pound juniors Jace Phippen and Alec Bosworth "recorded a couple of nice pins," he said.
"And our lovely ladies, Kadence James and Autumn Barela, both won their matches with a pin," he said before announcing the addition of a third girl, Lucy Reyes, to the team.
"She jumped right in with only a couple of practices with no fear," he said of Reyes' debut. "Now, we get to rest this weekend, regroup and pick up the intensity in practice."
The Class 3A Tigers return to the mat Tuesday at Tillamook, the state's top-ranked 4A team.
"We will be looking to just get some top competition as we head into Districts and State," he said, "and Tillamook will give us all we need and more."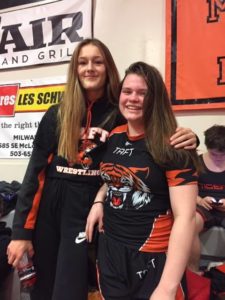 Barela, a senior, and James, a freshman, will wrestle at the girls District tournament Friday and Saturday at Thurston High School in Springfield, where wrestlers from Class 6A to 1A schools will compete against each other due to a lack of girls in a growing sport.
"Our girls will face some tough competition from girls who wrestle at programs like Elmira, Hood River, Forest Grove and big 6A schools, where girls wrestling has been established for a number of years," Ellis said.
"Often those programs have separate girls teams at their schools of 20 or more," he said. "While it is unlikely either of our girls will get in a position to qualify for the girls State tournament, they are both ready to go there and fight and see if they can win a match or two."
Ellis said he plans to continue building the women's program and try to hold separate practices with a dedicated girls coach.
"We may only be two or three years away from that," he said. "We are also upping the intensity as teams who are shooting to finish strong when heading into Districts."
Ellis said the Tigers would have optional Saturday morning practices and optional 30-minute Cross Fit workouts Mondays, Wednesdays and Fridays before school for the remainder of the season in preparation for the State tournament, Feb. 22-23, at Veterans Memorial Coliseum in Portland.
The Special District 1 tournament is scheduled Friday, Feb. 15, at Warrenton. Taft is set to host dual matches Thursday, Feb. 7, against Amity, Dayton and Rainer.