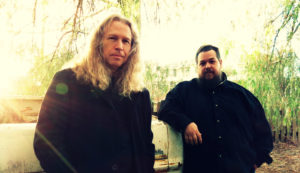 LINCOLN CITY – Berkley Hart have found something that works. The combination of Kerrville New Folk Songwriter Award winner, Jeff Berkley, and stand-out wordsmith, Calman Hart, creates a pairing that has become one of the premier acoustic duos touring the country. Every Berkley Hart show is packed with entertainment as the duo combines their natural down-home humor with poignant, delicate, masterfully crafted lyrics delivered with stunning harmony and musicianship.
Local audiences will see this chemistry for themselves on Sunday, June 4, when Berkley Hart will perform at the Lincoln City Cultural Center. Doors in the LCCC will open at 6:30 pm, with a curtain set for 7 pm.
Both Berkley and Hart emerged from the Southern California coffeehouse circuit, each building sizeable followings of their own before joining forces. As a duo for 18 years now, they have become fixtures on the folk circuit, making appearances at the Kerrville Folk Festival, as well as playing some of folk's most prestigious venues including The Birchmere and The Bluebird Café.
Between songs, the obvious camaraderie between these two top songwriters shines as they effortlessly play off each other, make jokes and improve. Add in virtuoso playing from both Jeff Berkley (guitar) and Calman Hart (guitar, harmonica) and it's easy to see why the two have become live favorites.
With their most recent studio album, "Crow," the duo explored the ups and downs of life in song. Much like how the crow symbolizes despair and darkness in some cultures, while in others it is a harbinger of hope and light, this contrast fits the yin and yang of the songs on "Crow" both musically and lyrically, and thus inspired the title. "Crow" was nominated for Best Americana Album for the 2011 San Diego Music Awards.
Tickets for the June 4 concert at the LCCC are $20 in advance and $22 at the door, on sale at the LCCC box office, 541-994-9994 or lincolncity-culturalcenter.org. The center accepts VISA, Mastercard and American Express, as well as checks and cash. The Lincoln City Cultural Center is located inside the historic brick Delake School building at NE Sixth St. and Hwy. 101.
A selection of Northwest beers and wines, and Mountain Man savory snacks will be sold before the show, and during intermission. Youth ages 12 and under will be admitted free.
The Lincoln City Cultural Center is a non-profit center for community and creativity, inside the historic Delake School building, at the corner of NE Sixth St. and Hwy. 101. The center, which is also home to the official Lincoln City Visitor Information Center, is open from 10 am to 4 pm every day except Tuesday. For details, head to www.lincolncity-culturalcenter.org, or call 541-994-9994.
MORE ABOUT BERKLEY HART
Their debut album, 2000's "Wreck 'n' Sow," was a critical success out of the box that won that year's SDMA prize for Best Local Recording, and took home the coveted Best New Artist trophy to boot. SLAMM magazine said, "Sometimes an album surfaces that is so emotionally and musically authentic that it crumbles resistance to its genre."
In 2002, the duo released "Something To Fall Back On," which received that year's SDMA for Best Adult Alternative Album. For that album, Relix Magazine proclaimed, "The band infuses its rich, harmony-laden songs with strains of bluegrass, folk, country and rock…while…their solid and finely-crafted songs are a good melding of yesterday and today."
Prior to that, their third album, "Twelve," released in 2004, was self-produced and recorded entirely in a home studio. The album received an SDMA for Best Americana Album. The All Music Guide noted, "'Twelve'… reveals that [Berkley Hart] know how to create appealing, harmony-rich country-rock songs. In fact, this disc…feels like an excellent calling card for Nashville."
Their previous album, 2006's "Pocket Change," was dubbed by the San Diego Troubadour as finding the duo "at its best, combining poignant lyrics with masterfully crafted melodies and harmonies. It captures their live sound in its purest form: two guys, two guitars, and an occasional harmonica or banjo."
In their 2009 effort, "Las Vegas," Berkley Hart explored the sonic landscape as it relates to absence, love, loss, religion, redemption, and the power of rock and roll wrapped around the duo's unique twists of observation. The North County Times said the record was "A throwback celebration of the glories of harmonized vocals, San Diego's Jeff Berkley and Calman Hart are such gifted performers that they instantly elevate any song they touch. Soaring vocals in the model of Seals and Crofts or Loggins and Messina combine with virtuosic playing on guitar to create that elusive sense of magic that most bands never manage."
In 2005, they staged the first "O Berkley, Where Hart Thou?" a multi-artist extravaganza that features music from the film "O Brother Where Art Thou?" and other 'old-timey' tunes. The duo presented this show three more times, featuring different performers. Additionally, the duo continues the "Berkley Hart House Concert Revolution." They ask fans to host an annual Berkley Hart show in their own homes and invite the people they know. They've played hundreds of house concerts not just in San Diego, but around the country, and have helped establish some now well-known series.