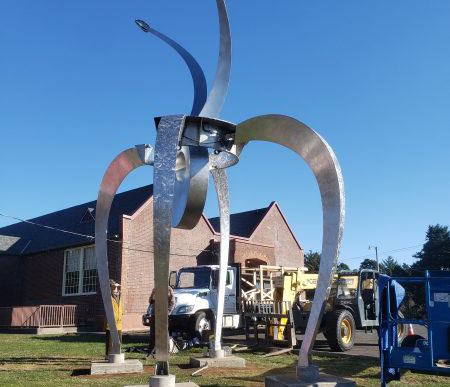 *Editors corrections*  There was an error concerning what some children called the sculpture.  In fact, the students in last summer's art camp wrote a book, which contains an origin story for the sculpture. The book's title is "The Adventures of the Bug from Planet Donut." 
-and- The committee did not in fact get the item at a reduced price because it was turned down by another buyer, it is in fact a totally new commission and work of art.  Homepage regrets any confusion this may have caused.
The Lincoln City Cultural Center welcomed a new member this week; a towering piece of public art.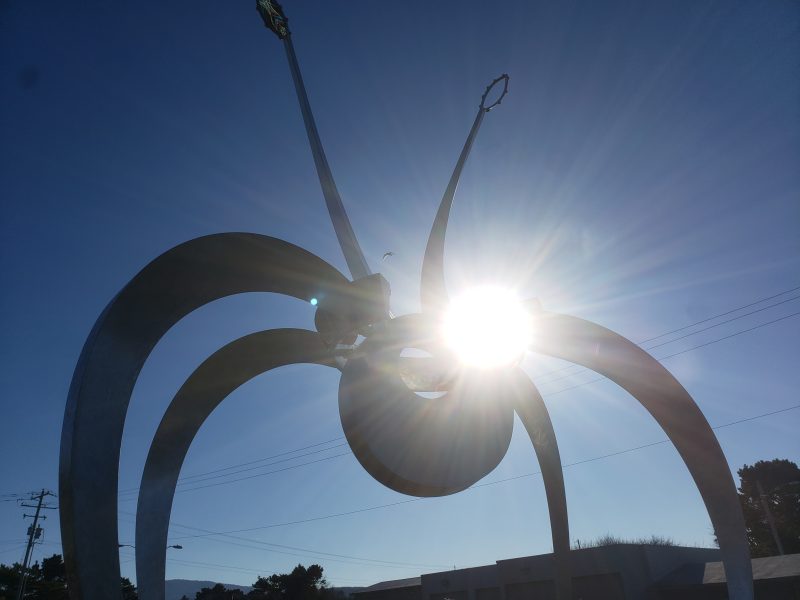 The metallic colossus is firmly mounted to four blocks of concrete and features long antennae shaped pieces jutting from the top and a swinging body that visitors are encouraged to interact with.    
"The kids have called it the "Bug from Planet Donut."  ," said Niki Price, executive director of the Lincoln City Cultural Center.  The display comes to the city through the efforts of Lincoln City's Public Arts Committee.   "We chose… to recommend a brand new commission, and the result is now at the Cultural Center."
Reactions on Facebook range from joy to bewilderment. 
Daniel M. writes: "Maybe it's me but I like it a (sic) interesting piece of moving art." 
Hannah V. commented: "It's cool, but what is it?" 
Others questioned the cost versus other needs in the town. 
Marcella J. asked: "And how much did that piece of art cost when there are homeless people out there…?"
When completed, the base of the sculpture will meet a new patio which Price points out "Will allow someone of average height to touch the round part in the center…it is designed to be touched and swing back and forth."  Inside the horizontal ring are large rubber bumpers along with large springs to absorb the movement.  When asked how the structure will hold up under winter winds Price said, "It was engineered by the artist to withstand high winds and gusts."
Kelly Howard of the Jennifer Sears Gallery oversaw the installation of two fused glass inserts that she created specifically for the piece.