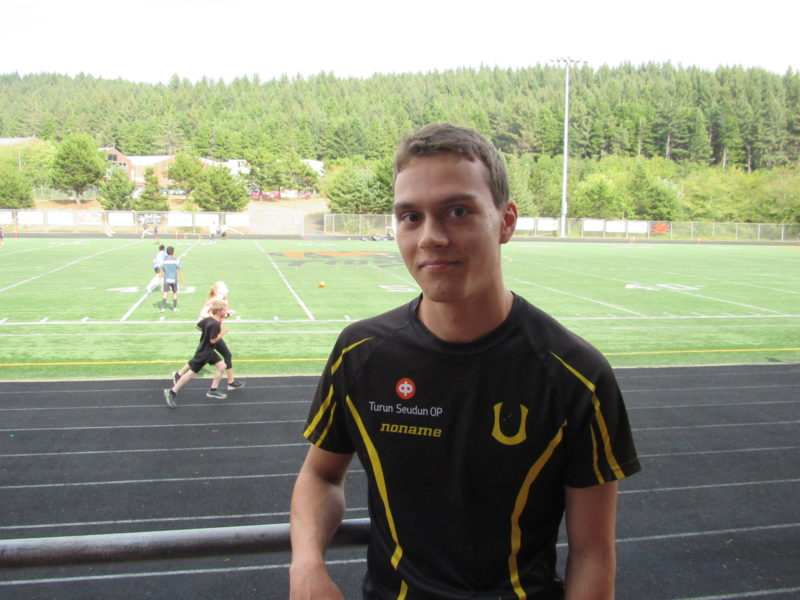 Finnish foreign exchange student Matias Vesma led the Taft High varsity boys with a fourth-place finish in 17:29, and Zander Hryczyk, Eli Jones, Angelo Cruz Garcia, Cooper Fitch and Brayan Mateo posted personal-best times Saturday in the Toledo XC Challenge.
Newcomer Joseph Cruz ran 23:15 in the boys JV race.
"Times today have situated our team in a great spot for Districts with Athletic.net giving our team a hypothetical first placing," said Taft coach Eva Ahumada, whose Tigers placed third in the boys varsity 5,000-meter race.
 Boys
11
Jace Barrett
18:30.95

Philomath

10
Sam Cordova
18:31.94

Philomath

11
Adam Hernandez
18:46.87

Philomath

11
Jayden Kelley
18:50.89

Philomath

9
Ben Hernandez
19:14.14

Philomath

9
Alex Aronhalt
20:31.80

Tillamook

10
Simon Oien
20:32.44

Jefferson

9
Montel Taylor
20:42.09

Tillamook

11
Isaac Denzer
20:48.27

Philomath

9
Micah Matthews
21:36.89

Philomath

9
Luke Pullen
22:01.09

Tillamook

9
Aden Rios
22:07.30

Tillamook

10
Nathaniel Hall
22:10.80

Jefferson

9
Ashton Hathaway
22:13.90

Tillamook

9
Tyler Moade
22:18.96

Philomath

9
Bowen Weeks
22:21.37

Tillamook

9
Taylor Reynolds
22:29.43

Tillamook

11
Eli Reade
22:56.20

Jefferson

9
Hunter Mersch
23:07.87

Jefferson

9
Eli Jones
23:11.87

Taft

11
Joseph Cruz
23:15.61

Taft

10
Zander Hryczyk
24:37.69

Taft

9
Bryce Hameri
24:38.93

Tillamook

10
Richard Ebel
25:07.09

Tillamook

9
Franklin Weeks
25:48.14

Tillamook

10
Edgar Mendoza
26:12.70

Jefferson

9
Aiden Summerlin
26:23.77

Tillamook

10
Joseph McCormick
26:30.45

Taft

12
Ethan Price
28:10.65

Taft

9
Oliver Gorman
28:29.33

Jefferson

9
Aidan Keen
29:15.52

Tillamook

10
Jeremiah Reade
29:16.18

Jefferson

1.
11
Marshall Bush
16:48.70

Tillamook

2.
9
Brody Bushnell
17:00.54

Philomath

3.
11
Grant Hellesto
17:27.22

Philomath

4.
12
Matias Vesma
17:29.32

Taft

5.
11
Levi Knutson
17:31.46

Philomath

6.
11
Sean Cummings
17:31.96

Philomath

7.
11
Justin Enghauser
17:32.41

Philomath

8.
9
Mateo Candanoza
17:33.59

Philomath

9.
12
Noah King
17:39.14

Philomath

10.
10
Johnathan Ginyrich
18:07.20

Tillamook

11.
11
Hayden Glenn
18:21.86

Central Linn

12.
9
Ryan Rowland
18:22.97

Central Linn

13.
10
Devon Franske
18:38.19

Tillamook

14.
12
Lucas Hindman
18:46.50

Taft

15.
12
Ernie Chacon
19:21.34

Tillamook

16.
12
Hunter Lunstedt
19:38.33

Taft

17.
12
Wyatt Smith
19:38.60

Oakland

18.
11
Toben Mast
19:47.50

Central Linn

19.
10
Rei Yamazaki
19:50.05

Delphian

20.
10
Brayan Mateo
20:05.74

Taft

21.
11
Gavin Davis
20:09.68

Tillamook

22.
11
Lucas Forshee
20:23.35

Waldport

23.
10
Payton Rockmore
20:54.54

Eddyville

24.
10
Daniel Cox
20:56.62

Delphian

25.
11
Daniil Bunchuk
21:00.25

Delphian

26.
9
Cooper Fitch
21:23.99

Taft

27.
12
Ethan Ferris
21:28.72

Toledo

28.
11
Zander Thomas
21:36.43

Tillamook

29.
12
Ricardo Ruiz
21:38.78

Delphian

30.
11
Owen Rappoport
21:39.43

Delphian

31.
9
Luke Olson
21:40.74

Central Linn

32.
12
Austin VanHouten
21:57.18

Oakland

33.
10
Richard Gentile
22:05.31

Delphian

34.
11
Jesse Mast
22:24.33

Central Linn

35.
11
Brycen Terrell
22:48.62

Oakland

36.
9
Angelo Cruz Garcia
22:49.32

Taft

37.
12
Wahia Mita
23:09.96

Delphian

38.
11
Minghan Cui
23:11.53

Delphian

39.
9
Mujahed Abulohoum
24:02.78

Delphian

40.
9
Keller Beauregard
24:06.65

Toledo

41.
11
Graham Jones
24:19.84

Waldport

42.
11
Matthew Yates
24:22.66

Oakland

43.
11
Jacoby Simonds
24:47.31

Toledo

44.
12
Isaac Kinion
25:38.52

Eddyville

45.
9
Matthew Harting
26:09.94

Oakland

46.
10
Boaz Simonds
26:13.41

Toledo

47.
11
Cheyden Gutierrez
35:12.18

Eddyville

 Girls

5,000 Meters Varsity

12
Hannah Hernandez
18:59.49

Philomath

11
Sarah Pullen
19:43.20

Tillamook

12
Solace Bergeron
20:34.16

Tillamook

12
Whitney Averill
20:56.99

Tillamook

11
Nina Zweifel
21:27.72

Tillamook

12
Rivers Nuno
21:28.90

Philomath

12
Madison Bushnell
21:36.30

Philomath

10
Kaeleigh Houchin
21:45.12

Philomath

9
Gemma Rowland
22:09.97

Central Linn

11
Paige Ross
22:19.99

Tillamook

10
Jazz Choi
22:22.00

Philomath

9
Iris Donovan
22:32.44

Waldport

10
Audrey Gerding
22:34.34

Philomath

10
Lily Prince
22:37.00

Tillamook

10
Autumn Patching
22:37.00

Tillamook

9
Ingrid Hellesto
23:23.88

Philomath

11
Jenna Neal
23:29.47

Central Linn

9
Claire Cothern
24:15.48

Philomath

9
Maya Rowland
24:40.39

Central Linn

10
Cameron Fortmeyer
25:41.53

Waldport

9
Berniece Harris
27:12.29

Tillamook

10
Shellia Brandt
27:31.41

Toledo

10
Tegan Running
27:32.59

Central Linn

10
Rhyan Turner
27:34.16

Eddyville

9
Sophia Widmer
27:35.73

Tillamook

12
Ally Crowell
27:49.31

Central Linn

9
Ally Todd
27:57.28

Philomath

11
Lillian Simon
30:23.67

Waldport

12
Brooke Edmonson
30:45.80

Oakland

10
Ashley Edholm
30:48.44

Toledo

11
Mackenzie Beddingf…
31:59.72

Philomath

12
Alani Cabal
33:31.10

Taft

9
Audrey VanHouten
34:19.08

Oakland

9
Julia Anderson
35:26.38

Oakland

12
Janella Fleser
40:14.77

Toledo

Provided by Athletic.net