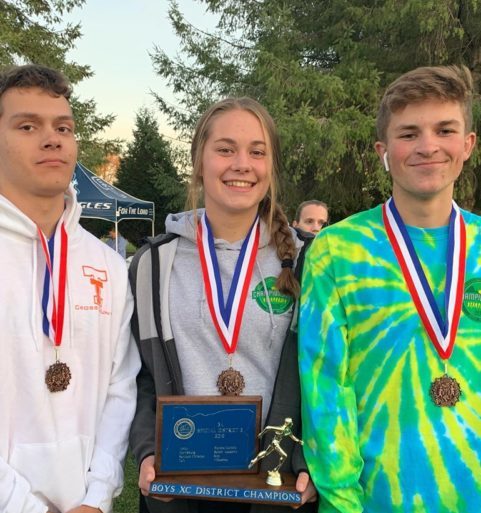 Seniors Matias Vesma and Lucas Hindman placed fifth and sixth, respectively, Thursday at Cheadle Lake Park in Lebanon to lead the Taft High boys cross country team into next week's State finals as Class 3A Special District 2 champions.
Senior Autumn Ellis placed fifth in 21:06.70 to qualify individually for State and pace the Taft High girls to 10th place behind champion Central Linn.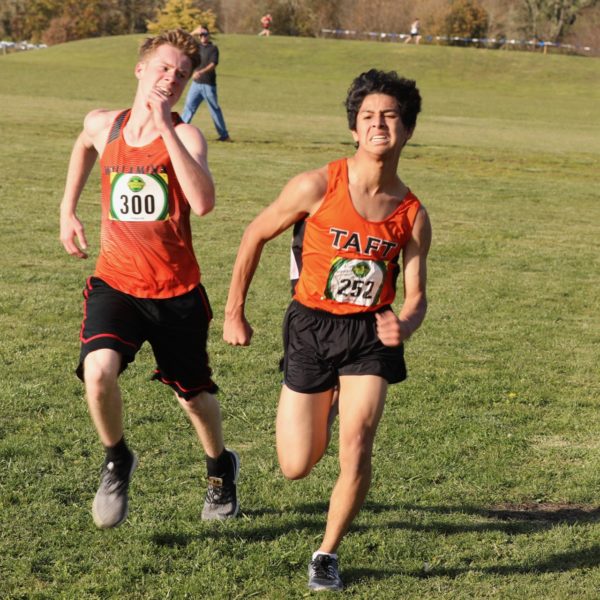 Matias, a Finnish foreign exchange student, ran 18:10.90 and Hindman 18:19.10 to spook the field on Halloween behind winner Benjamin Bourne, a freshman from Santiam Christian who finished in 17:26.60.
Taft won the boys title 43-51 over Santiam Christian in preparation for next week's OSAA State Cross Country Championships at Lane Community College in Eugene, which are scheduled to begin Saturday, Nov. 9, at 10 a.m. for the women and 11:10 a.m. for the men.
"The varsity boys team taking the District title and proceeding to State is a huge achievement considering at the beginning of the season we did not even have enough athletes to make a team," said Taft coach Eva Ahumada, who was named Coach of the Year.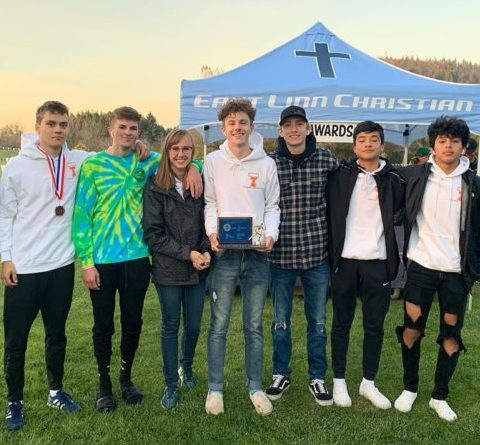 Junior Rafael Perez Del Valle was 13th, sophomore Brayan Mateo was 15th, senior Hunter Lunstedt was 19th and freshman Cooper Fitch was 27th for the Taft boys.
Sophomore Jordan White of Neah-Kah-Nie ran 19:23.70 to win the girls 5,000-meter crown.
Senior Brooke Orendorff placed 38th, with junior Claira Tolan, sophomore Kaydince Beach and senior Alani Cabal also contributing for the Taft girls.
"The athletes ran their hardest and gave it their all," Ahmadad said. "I could not be more proud of this team and the gains they have made this season."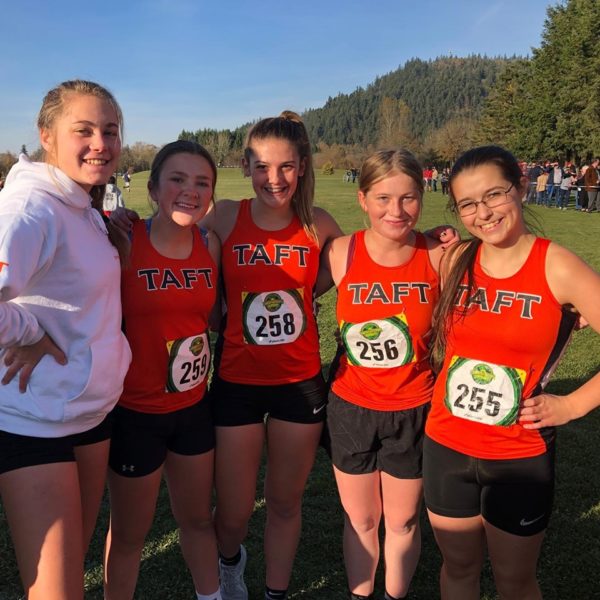 Boys
5,000 Meters 3A Varsity

Individual Results
1.
9
Benjamin Bourne
17:26.60

Santiam Christian

2.
12
Andrew Hill
17:39.00

Blanchet Catholic

3.
12
Drew McMullen
17:53.70

Amity

4.
11
Kaleb Floyd
17:57.60

Willamina

5.
12
Matias Vesma
18:10.90

Taft

6.
12
Lucas Hindman
18:19.10

Taft

7.
9
Colin Longballa
18:23.70

Santiam Christian

8.
12
Austin Bradford
18:25.80

Santiam Christian

9.
12
Luke Jones
18:39.20

Scio

10.
9
Matthew Ilg
18:47.70

Blanchet Catholic

11.
11
Ray Bennett
18:58.20

Scio

12.
11
Korban Lang
19:24.60

Harrisburg

13.
11
Rafael Perez Del V…
19:25.00

Taft

14.
12
Konrad Alexander
19:34.80

Blanchet Catholic

15.
10
Brayan Mateo
19:40.50

Taft

16.
10
Michael Fox
19:41.10

Willamina

17.
10
Josh Andersen
19:44.70

Willamina

18.
9
Zavi Crisostomo
19:45.90

Santiam Christian

19.
12
Hunter Lundstedt
19:50.70

Taft

20.
10
Duane Geary
20:07.30

Willamina

21.
12
Tad Christansen
20:09.00

Harrisburg

22.
9
Levi Forson
20:09.40

Scio

23.
12
Chris Vaccarezza
20:09.50

Willamina

24.
11
Antonio Hernandez
20:25.60

Willamina

25.
12
Dylan Hendrickson
20:39.40

Willamina

26.
12
Brigham Forson
20:56.80

Scio

27.
9
Cooper Fitch
21:00.70

Taft

28.
9
Curtis Talmage
21:14.90

Harrisburg

29.
9
Caiden Hohensee
21:25.80

Santiam Christian

30.
12
Joon Ryu
21:38.30

Harrisburg

31.
9
Kyle Slinger
21:51.30

Scio

32.
9
Jacob DeWilde
22:05.20

Scio

33.
11
Shiloh Gallaher
22:23.20

Santiam Christian

34.
11
Elijah Smith
22:39.80

Harrisburg

35.
11
Noah Geoghegan
22:53.80

Harrisburg

36.
11
Ishmael Karci
22:54.20

Amity

37.
11
Joshua Espalin
22:55.70

Amity

38.
11
Raul Diaz
22:57.40

Harrisburg

39.
12
Brendan Mcune
23:38.70

Scio

1.
10
Pierre Atole
22:23.30

Chemawa

2.
10
Finn Sanders
22:52.40

Veritas

3.
9
Jacob Whittles
23:12.80

Nestucca

4.
9
Joshua Wassei
24:31.80

Veritas

5.
10
Jeremiah Reade
25:16.50

Jefferson

6.
12
Michael Laun
25:18.00

Neah-Kah-Nie

7.
11
Noah Coleman
25:20.80

Nestucca

8.
9
Malakie Cartwright
26:15.90

Oregon School for th…

9.
9
Jonah Rever
26:21.40

Chemawa

10.
12
James Sauer
28:29.30

Oregon School for th…

11.
10
Adam Rapp
28:34.90

Veritas

12.
9
Reece Campbell
29:20.60

Regis

13.
12
Justin Jackson
33:13.70

Chemawa
Girls
1.
10
Tegan Running
25:22.00

Central Linn

2.
12
Gisell Juarez
25:54.10

Kennedy

3.
9
Yesenia Salazar
26:48.80

Kennedy

4.
11
Rylie Newton
32:44.20

Kennedy

5,000 Meters 3A/2A/1A Varsity

Individual Results
1.
10
Jordan White
19:23.70

Neah-Kah-Nie

2.
9
Athena Lau
20:41.80

Scio

3.
10
Breanna Schmitt
21:00.80

Veritas

4.
9
Gemma Rowland
21:03.30

Central Linn

5.
12
Autumn Ellis
21:06.70

Taft

6.
11
Jenna Neal
21:10.00

Central Linn

7.
11
Cassie Traeger
21:38.00

Kennedy

8.
10
Emma Lutz
21:45.80

Blanchet Catholic

9.
9
Iris Donovan
22:01.90

Waldport

10.
10
Sydney Olander
22:08.80

Veritas

11.
11
Dinah Schultz
22:10.20

Neah-Kah-Nie

12.
10
Kylee Rodriguez
22:24.10

Kennedy

13.
10
Yarabett White
22:32.80

Central Linn

14.
10
Aleksandra Eyles
22:33.10

Kennedy

15.
12
Whitney Lopez
22:49.70

Kennedy

16.
9
Maya Rowland
22:52.50

Central Linn

17.
11
Ann Livingston
22:54.50

Santiam Christian

18.
9
Lexi Geoghegan
22:57.20

Harrisburg

19.
11
Anna Eby
23:01.80

Santiam Christian

20.
12
Audrey Murray
23:03.00

East Linn Christian

21.
12
Karissa Hadermann
23:15.10

Neah-Kah-Nie

22.
10
Sidney Lane
23:22.60

East Linn Christian

23.
12
Rheanne Bryant
23:25.10

Neah-Kah-Nie

24.
11
Seliah Greene
23:28.50

Santiam Christian

25.
11
Hannah Sutherland
23:40.30

Salem Academy

26.
10
Natalie Olander
23:42.00

Veritas

27.
9
Bethany Pool
23:51.40

East Linn Christian

28.
10
Sanjana Garlapati
23:55.00

Delphian

29.
10
Cosette Fowler
23:55.90

Triangle Lake

30.
12
Mikayla Schaecher
24:02.30

Kennedy

31.
9
Brinley Beam
24:02.80

Santiam Christian

32.
11
Lauryn Dunn
24:03.50

Nestucca

33.
10
Judith Williamson
24:06.40

Blanchet Catholic

34.
12
Maureen Duncan
24:08.40

Regis

35.
10
Grace Wassei
24:15.10

Veritas

36.
11
Abigail Hair
24:16.90

Central Linn

37.
11
Gracey Cheek
24:21.90

Harrisburg

38.
12
Brooke Orendorff
24:26.80

Taft

39.
9
Olivia Hooley
24:33.90

Neah-Kah-Nie

40.
10
Bridget Raffensper…
24:39.00

Blanchet Catholic

41.
11
Alicia Gordon
24:43.30

Waldport

42.
11
Emma Murphy
24:45.00

Neah-Kah-Nie

43.
12
Erykah Rideshorse
25:00.20

Chemawa

44.
10
Kassidy Schumacher
25:04.60

Scio

45.
10
Shellia Brandt
25:08.50

Toledo

46.
10
Calliope Whitworth
25:11.30

Delphian

47.
10
Kirsten Crofoot
25:12.60

Santiam

48.
10
Abigail Dulley
25:16.70

Santiam Christian

49.
10
Victoria Ferrioli
25:18.70

East Linn Christian

50.
11
Lauren Kennedy
25:19.00

Blanchet Catholic

51.
10
Cameron Fortmeyer
25:24.70

Waldport

52.
12
Jackie Diaz
25:25.00

St Paul

53.
12
Ally Crowell
25:35.00

Central Linn

54.
9
Lilly Hucek-Marteeny
25:39.70

Neah-Kah-Nie

55.
11
Annie Winikka
25:40.10

Veritas

56.
9
Haley Kline
25:44.20

Kennedy

57.
9
Keira Carstensen
25:48.90

Sheridan

58.
9
Shai Molthan
25:50.10

Harrisburg

59.
12
Cailee Johnson
25:55.00

Blanchet Catholic

60.
11
Diana Escamilla
25:59.20

Jefferson

61.
12
Anna Hair
26:09.00

Central Linn

62.
12
Catherine Butsch
26:11.90

Kennedy

63.
11
Ronticia Martinez
26:19.40

Chemawa

64.
10
Madison Forste
26:25.70

Santiam

65.
11
Claira Tolan
26:34.10

Taft

66.
10
Jayda Johnson
26:44.70

Harrisburg

67.
12
Kiana Webb
26:46.20

Culver

68.
10
Jasmine Doughtery
27:05.10

Culver

69.
10
Taylor Baurer
27:05.70

Colton

70.
11
Kira Rankin
27:08.70

Willamina

71.
11
Hadar Ezra
27:09.00

Delphian

72.
9
Lily Zehr
27:12.80

Santiam Christian

73.
12
Reagan Hauke
27:14.20

Harrisburg

74.
9
Isabella Keeney
27:14.40

East Linn Christian

75.
10
Kaydince Beach
27:34.10

Taft

76.
11
Dani Gainer
27:56.80

Waldport

77.
10
Bethany Ziegler
28:09.60

Nestucca

78.
12
Alani Cabal
28:22.00

Taft

79.
10
Ashley Edholm
28:26.20

Toledo

80.
10
Esmeralda Tapia-Br…
28:27.30

Willamina

81.
9
Kena Rankin
28:55.80

Willamina

82.
10
Sarah McOmber
28:58.60

Scio

83.
11
Lillian Simon
29:12.90

Waldport

84.
9
Bailey Diehl
29:24.80

Sheridan

85.
10
Jaidan Cagle
29:45.60

Harrisburg

86.
12
Teresa Figueroa
29:49.60

Veritas

87.
11
Geneva Paje-Smith
29:53.50

Waldport

88.
12
Amy Jarvie
29:55.90

Oregon School for th…

89.
12
Kaitlyn Schumacher
30:12.60

Scio

90.
12
Abby Gonzalez
30:28.60

St Paul

91.
11
Rachel McOmber
30:38.20

Scio

92.
9
Eve Storm
30:45.20

Santiam

93.
10
Kassandra Davis-Mi…
30:55.00

Santiam

94.
12
Jillian Urban
31:08.40

Santiam

95.
10
Aubrey Baller
31:09.80

Willamina

96.
9
Ryann Slegers
31:10.10

Santiam Christian

97.
10
Aika Yamada
31:36.60

Santiam

98.
10
Madeleine Kennedy
32:20.50

Regis

99.
12
Ariana Garcia
34:10.40

Sheridan

100.
9
Savannah Michaelson
34:41.50

Sheridan

101.
12
Janella Fleser
37:30.30

Toledo

102.
10
Lilliana BearCrane
37:40.00

Chemawa

Provided by Athletic.net