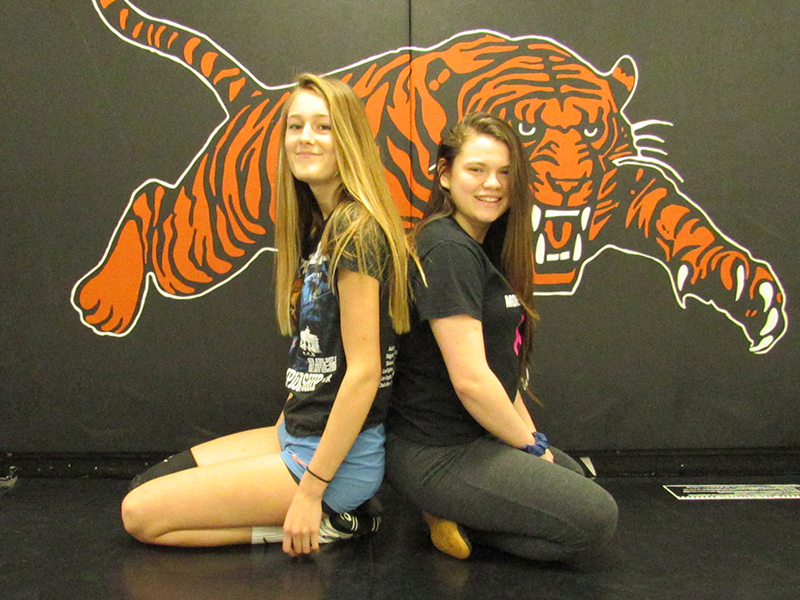 School days for Taft High students Kadence James and Autumn Barela don't end with a bus ride home or a gathering with friends. Rather, find them confined to a tightly quartered cushioned room filled with grunting boys who reek of sweat.
"It's great to have girls on the team," Taft wrestling Coach Robb Ellis said of having James, a 14-year-old freshman, and Barela, a 17-year-old senior, trade moves and maneuvers with the boys on weekdays in T-shirts and sweats before donning compression suits for organized competition on weekends.
"For years, it was always a touchy subject — guys wrestling girls," Ellis said. "There were times, even, when a guy would refuse to wrestle a girl and purposely forfeit the match. Now that more girls wrestle, and it has become an Olympic sport for girls, many more girls wrestle."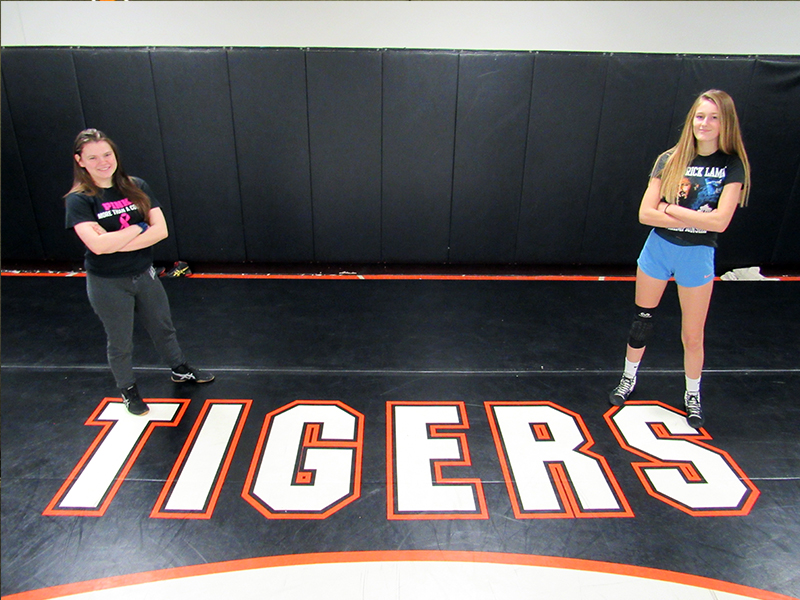 James, a lifelong Lincoln City resident, and Barela, who moved here from Arizona as a high school junior, have helped turn the Taft wrestling program into a place where diversity and teamwork take a back seat to winning matches.
"My goal is to just build us up and make us competitive so we are known as an above-average team," Ellis said, "but also a place where kids who haven't succeeded in other sports can come and find a team that cares about them and wants to work hard together."
Wrestling boys in practice — and often in organized matches – has made the sisters-in-arms better wrestlers, Ellis said.
"Having to wrestle boys in practice has helped them wrestle better when they wrestle girls, mostly because guys are often stronger physically," he said. "So, when they wrestle girls at tournaments, they are wrestling against opponents in competition who are usually not as strong as the opponents they wrestle in practice. While technique is still probably the most important part of wrestling, strength is also a big factor."
_ _ _
Kadence James
James is well-known as an athlete in and around Lincoln City, having competed in softball, soccer, track and wrestling. Her father, Justin, is supervisor of the Newport and Lincoln City division of Franz Bakery. Her mother, Nicole, works at Groth Gates Heating & Air Conditioning. She has an 11-year-old brother, Ezra, who attends Taft Elementary.
"My parents have coached me all the way up to high school, so they help a lot," she said. "They always cheer me on and make sure they can make it to both my brother's and my sports events no matter how busy they are."
James placed first in the high jump at middle-school districts and her recreation league soccer team went undefeated. A two-time Lincoln City Youth League Home Run Derby winner, her team placed first in the Farm Division in 2012, then won every tournament and lost just one game on the All-Star team her dad coached. Lest we forget she cooks off the field, too – literally. She won the Sodexo Future Chefs Competition in 2015.
"I have done soccer my whole life and I've always enjoyed it," said James, whose mom and dad are former varsity coaches for Taft High boys soccer. "I've only done wrestling for two years, but I've loved every second on the mat."
James caught the wrestling bug last year in middle school, where she enjoyed it so much she decided to make it part of her athletic repertoire in high school. She has wrestled in some USA tournaments with former Taft star wrestler Joe Salsbery as her coach.
"She has showed she is an up-and-comer," Ellis said.
"I think more girls from our school should come out and try wrestling," James said. "This year, going to some meets, I realized that there are lots of girl wrestlers and the girls wrestling platform is definitely growing. I think wrestling against boys is no different than wrestling against girls. As my coach says, 'Treat every match the same.'"
_ _ _
Autumn Barela
Barela moved to Lincoln City about a year and a half ago from Bullhead City, Ariz., on the Colorado River across from the Nevada gambling mecca of Laughlin, about 90 miles south of Las Vegas.
"Autumn decided to try wrestling as a senior and is a brave and tough gal at 138 pounds," Ellis said. "She is aggressive and has a good athletic sense."
"I just had a lot of friends convince me to do it my senior year. As time progressed, I really started to enjoy wrestling," said Barela who also plays volleyball. "Wrestling is now my favorite sport because I have a lot of fun with it and you get to learn a lot of new stuff. To me, it's just a very unique sport."
Autumn's dad, Roger Sneed, and mom, Melissa, work at the Ester Lee Motel in Lincoln City. She has two younger brothers — Roger, 14, who attends Taft High, and Mason, 11, who goes to Taft Elementary.
"My parents would have to be the most influential people in my life because they push me to keep going and always encourage me to do my best," Barela said. "They even support me when they might not agree with me doing something because wrestling was really iffy with them at first. But they still were there and they encouraged me and said that I can do it.
"I'm grateful for everyone who convinced me to wrestle because it's become something I love. With our amazing coaches, I hope to improve and continue to have a good season. A lot of us are just aiming to do well at Districts, and for some of us to go to State. A goal for the team is just to see us all improve and do better."
Barela, who enjoys math and reading and plans to go to college to become a veterinarian, said she doesn't mind sharing mat time with boys.
"Wrestling with guys isn't much different, at least to me," she said. "It is a bit of a challenge with most of them being a little, or a lot, stronger than me, but in the long run, when I get girl matches, I feel I'm more prepared because I have gone against guys.
"Wrestling with guys is a lot of fun because they're so helpful and willing to teach you and help you along the way that you know you're improving. Personally, I love that women are willing to wrestle — to do something different from what other people would think, to get out there and show that women can wrestle."
_ _ _
Ellis, who learned the sport in the wrestling community of Tillamook, is using his interactions with James and Barela to help build a more diverse and opportunistic program. He cited the state of Washington as a venue where the sport has grown for women.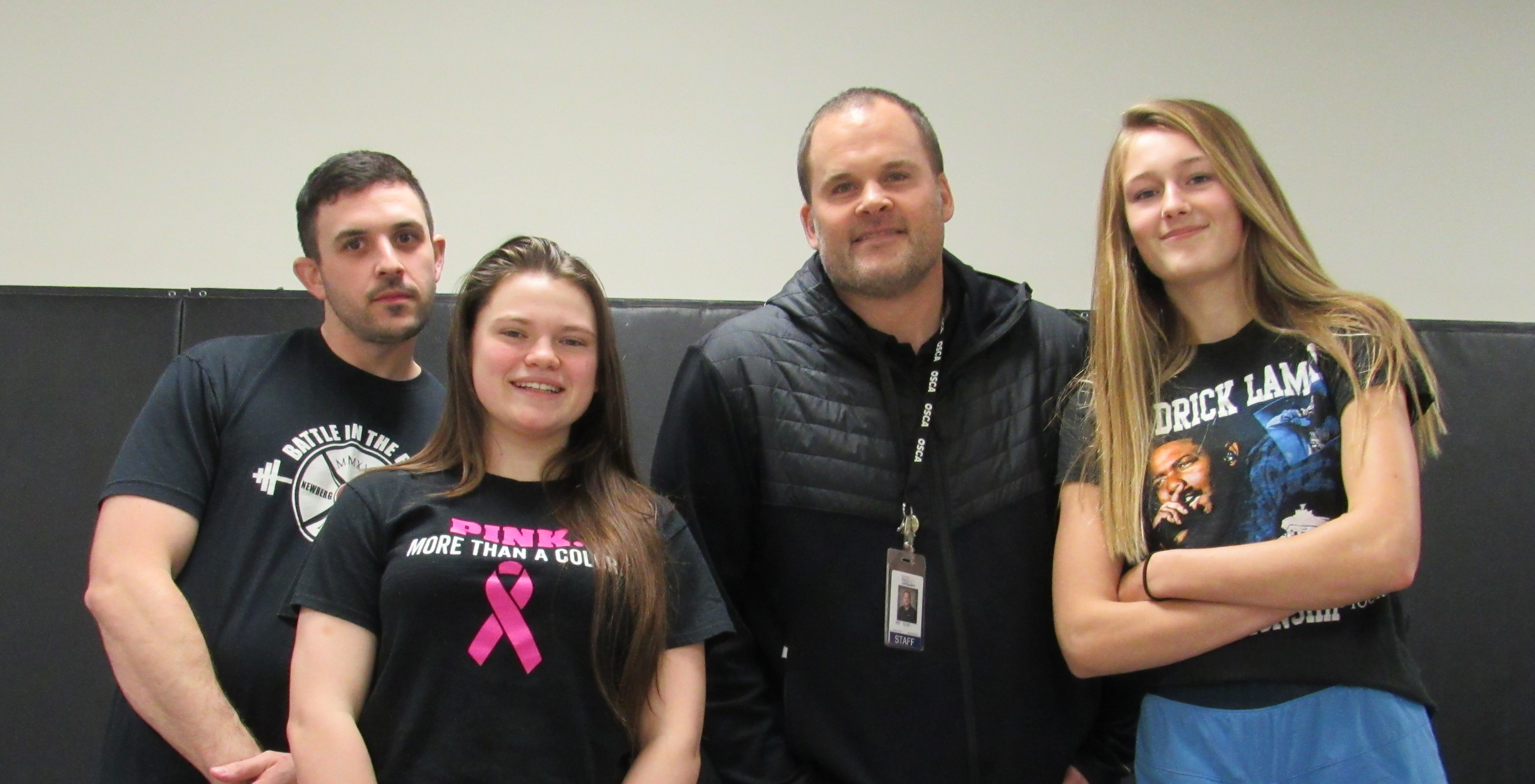 "It's common to find separate girls teams with rosters of 15 or 20 girls per team," he said. "With women's wrestling being an Olympic and college sport, we are moving closer to a time in wrestling when girls and guys will have mostly separate competitions like basketball or any other sport."
Some of the bigger schools and certain programs such as Hood River, Elmira and Warrenton have helped pioneer girls wrestling in Oregon, he said. Colleges such as Warner Pacific and Eastern Oregon have also helped expand interest.
Taft, meanwhile, hopes to send James and Barela to the girls District tournament Feb. 1-2 at Liberty High School in Hillsboro in an attempt to qualify for the State meet in Portland in mid-February.
"More than winning, I care about my program being known as a place where students can come and find a family and feel connected," Ellis said. "When you focus on making that kind of environment, the wins will come as well. We are slowly building that type of vibe in our program. I think our program can be known as a place for students who need to find a place to fit in."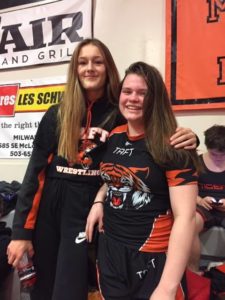 Taft's girl wrestlers are evidence of that.
"It has been nice to go to tournaments now and both girls are able to have all girl opponents," Ellis said. "It would be cool to see girls wrestling get more numbers at Taft and we can move toward having a separate girls and guys team.
"I would have a hard choice knowing which group I would want to coach because it has been really fun coaching Autumn and Kadence. These girls stick through the grind with the guys every day in practice without complaining. We are proud to call them Taft wrestlers."