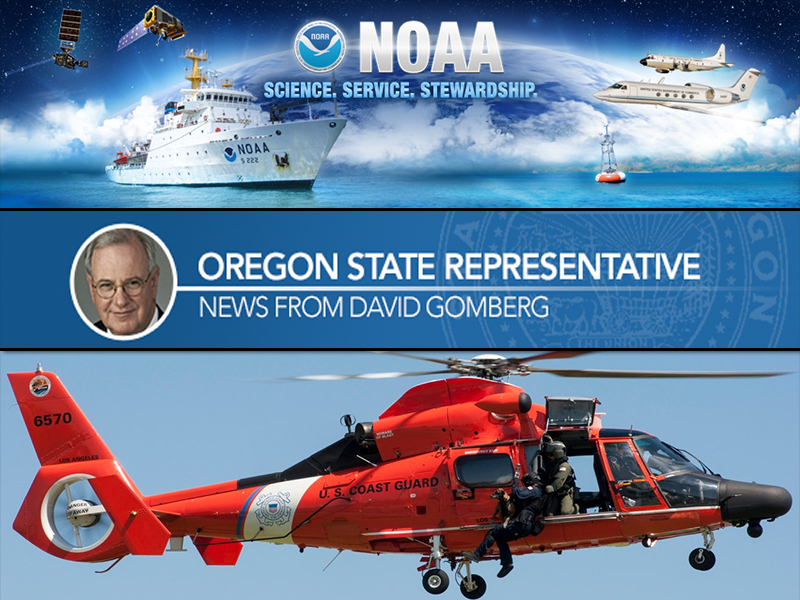 As the Federal shutdown enters a fourth week, 1,135 active duty Coast Guard members and 138 Coast Guard reservists on the Oregon coast remain on the job, but unpaid. Essential employees at the federal prison in Sheridan have been unpaid for nearly a month. NOAA and its vital weather services are closed, affecting marine safety.
State Representative David Gomberg (D-Central Coast) spent much of the week in Salem looking for support options. "These men and women are risking their lives each and every day. That they show up to work without compensation is a credit to their bravery and professional commitment. But it is also a shocking reflection of how our Federal Government has let them down. We need to do better than GoFundMe accounts and garage sales."
With the support and encouragement of the Governor's office and coastal legislators, local banks and credit unions are now working together to provide short term relief and financial support. This can include:
Zero interest or low interest short term emergency loans;
Loan modifications;
Deferred loan payments or Skip-a-Payment programs;
Work stoppage loans to fill unemployment gaps; and
Financial counseling to determine where members might be able to save money.
"It's important that furloughed and unpaid Federal Government workers contact their bank or credit unions to let them know they're impacted by the shutdown," Gomberg explained. "Our financial institutions are taking special steps and often have infrastructure already in place to quickly help clients through situations such as natural disasters, government shutdowns, plant closings, and personal emergencies."
Coast Guard and NOAA members are the only uniformed services not getting paid during the closure. Coast Guard is on duty but unfunded under the direction of the Department of Homeland Security. Other military branches are under the Department of Defense and have funding approved.
This month already, Coast Guard crews stationed on the Central Coast have assisted five disabled boats, escorted in numerous vessels when seas have turned dangerously rough and risked their own lives trying to save the crew of the Mary B II.
Across Oregon, nearly 10,000 federal employees are missing their paychecks and struggling to make everyday payments. That includes the US Forest Service, Bureau of Land Management, National Parks, US Fish and Wildlife, IRS, and airport TSA.
More than 2,700 federal workers living in Oregon have filed for unemployment benefits through the state since the partial government shutdown began. Last year that number was only 561.
But not all federal workers qualify. Those deemed important enough to work without pay are not eligible. Under state and federal law, if you are working full time, even if you're not being paid, you're not considered unemployed.
"I'm encouraged by the news of these zero-interest loans being offered," said Gomberg. "Now more than ever, our financial institutions should be assisting our friends and neighbors in the federal workforce as they weather the longest government shutdown in US history."