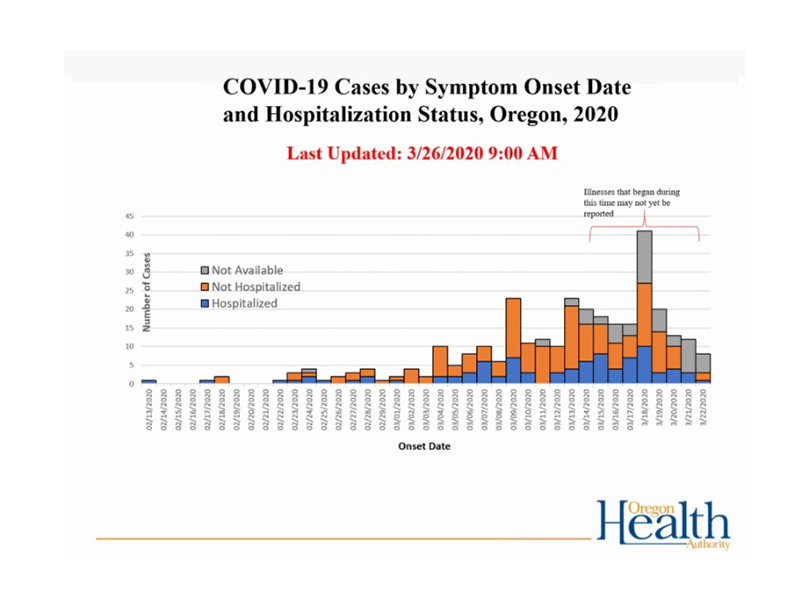 Oregon Health Authority held a webinar Thursday, March 26 outlining the Governor's Joint Task Force for Health Care Systems Response to COVID-19 action plan and addressed problems that could be presented by a COVID-19 surge.
A PowerPoint presentation showed COVID-19 projections and steps being taken to prepare for a possible "coming surge" that is expected by state medical professionals.
Oregon Health Authority's Dr. Dean Sidelinger covered the latest projections for Oregon. He said COVID-19 cases being seen now is the "tip of the iceberg" and showed projections of what could happen in the future based on action taken now.
"We all need to work together to stay home and save lives," Sidelinger said. "We can't afford to drop our guard."
Health officials repeated they are expecting a COVID-19 surge and said medical supplies, personal protective equipment (PPE) and testing kits were "already constrained" and "negatively impacting the healthcare system's ability to respond to this crisis."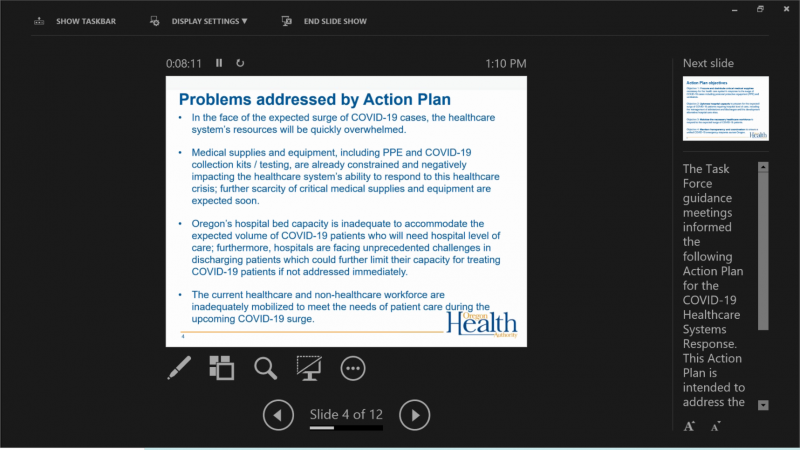 Oregon Health Authority's Dr. Dana Hargunani said hospitals were preparing for the surge using guidance from the joint task force action plan. She said hospitals could be overwhelmed by this crisis and medical supplies and PPE could become even more scarce.
Hargunani said donations of PPE supplies are coming in and is working to secure additional supplies. She said PPE is being collected at the Emergency Coordinating Center in Salem and 500,000 surgical masks are on the way.
"Hospital leaders and health officials are doing their part to find beds, secure supplies and protect health care workers," she said. "Oregonians continue make the difference to stay home and save lives."
Oregon Association of Hospitals and Health Systems CEO Becky Hultberg said hospitals are adding beds, managing critical supplies, building staffing models, deferring elective procedures and converting existing beds to ICU beds.
"Hospitals are going to extraordinary measures to prepare for the coming surge," Hultberg said. "We are committed to working with the State and local partners to implement the task force's recommendations. This was necessary and essential work that will shape how we will collaborate statewide."
Hultberg thanked state partners and member hospitals and called this an "unprecedented time" and said, "Staying home is the best way to protect yourself and your family and also to protect the caregivers who are out on the front lines."
Action Plan objectives:
1. Procure & distribute critical medical supplies
Necessary for the health care system's response to the surge of COVID-19 cases including personal protective equipment and ventilators.
2. Optimize hospital capacity
To prepare for the expected surge of COVID-19 patients requiring hospital level of care, including the management of admissions and discharges and the development of alternative hospital care sites.
3. Mobilize necessary healthcare workforce
To respond to the expected surge of COVID-19 patients.
4. Maintain transparency and coordination
To ensure a unified COVID-19 emergency response across Oregon.