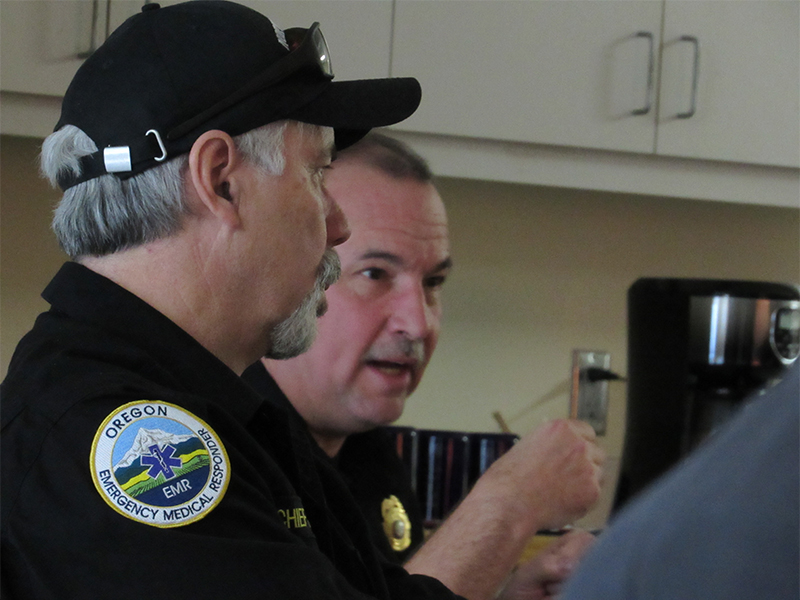 North Lincoln Fire & Rescue (NLFR) interim Fire Chief Rob Dahlman has extinguished his public endorsement of three Board of Directors seeking reelection on the May 21 ballot.
Dahlman, who is under a one-year contract with NLFR, offered his support of the current directors while making disparaging remarks about their opponents in a recent Facebook post, then modified the post Wednesday before both posts were taken down.
"Our current Fire District Board has three up for re-election," Dahlman said in the post. "The current entire Board of Directors is a good team. We need to keep them in place. All three positions are being contested by negative people who want to wreck all the good things that have been accomplished over the last few years. All three of them have no business in Public Office, at any level. Vote to keep Tim Beatty, Alan Lee and Ron Woodard in place as North Lincoln Fire & Rescue Board members. A large group of both paid and volunteer fire fighters are chipping in money and time to get the vote out in favor of this."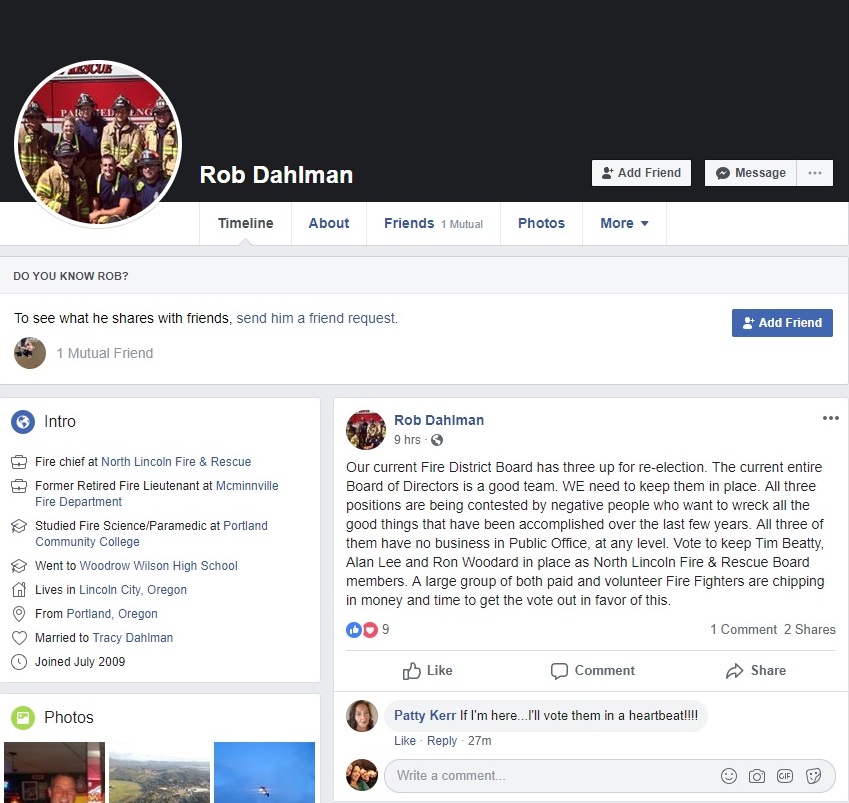 The second post, softening the language of the first post, also no longer appears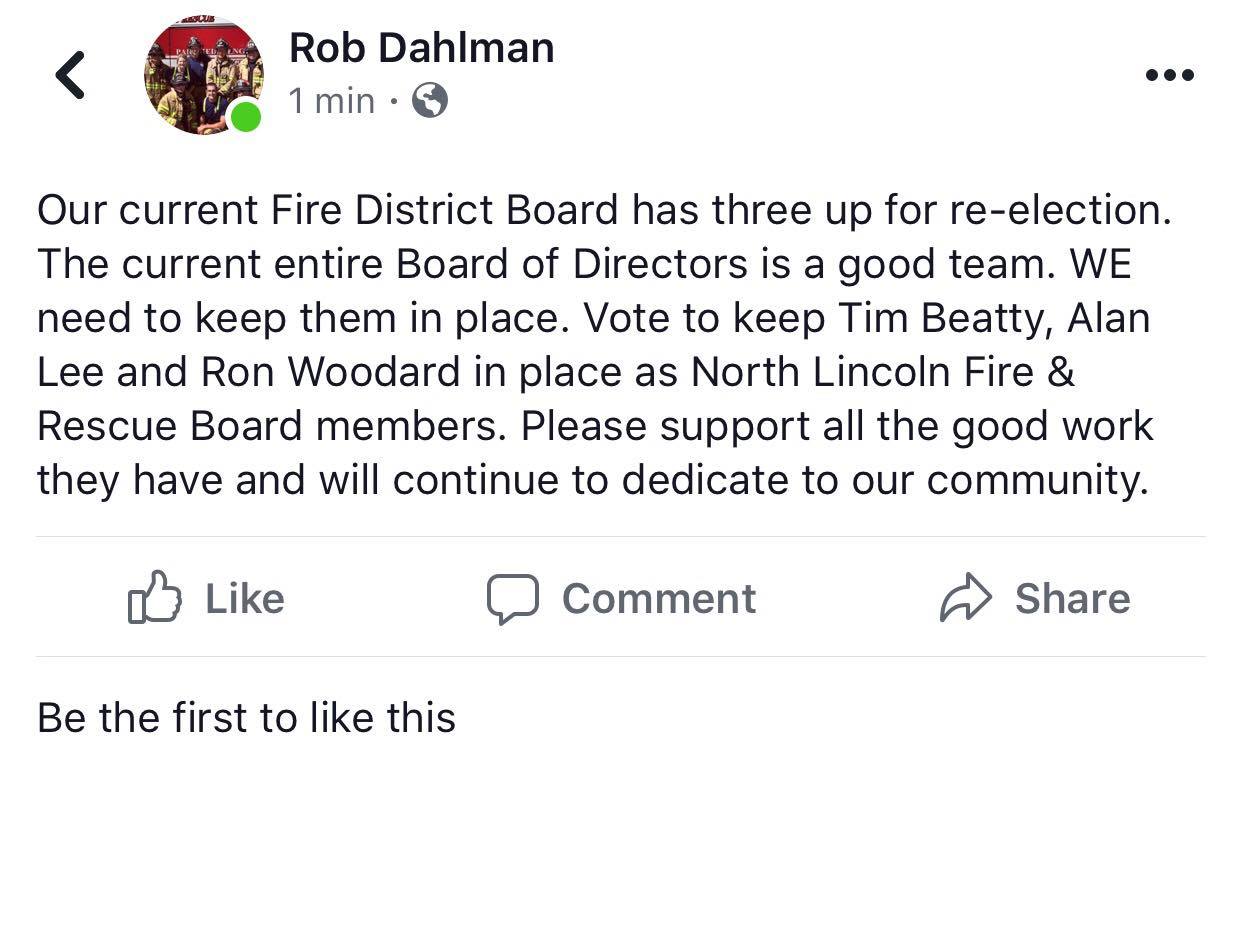 The Board seats of long-serving Lincoln City residents Alan Lee and Ron W. Woodard II, and Tim J. Beatty of Neotsu, will be up for election on the May ballot. Otis residents Roy Cabal, George Blacketer and Dan Stuebgen have filed to contest the three incumbents for four-year terms.
Woodard will be opposed by Blacketer in Position 1, Beatty by Cabal in Position 2, and Lee by Stuebgen in Position 3. Jamie Wright in Position 4 and Danny Curler in Position 5 will continue serving their terms.
In a telephone conversation Wednesday, Dahlman volunteered:
"Our current Board of Directors has done an outstanding job. They are a good team. The fire district appreciates everything they are doing, have done and are continuing to do. I have no doubt they would continue to do a good job whether they are elected or not. I know if they are not elected they will continue to support the fire department.
"Usually in these things, you struggle to find people who want to be a Board member. If you go to these other fire districts and they are out trying to find anybody who will throw their hat in the ring.
"If you saw any Facebook posts I put up, somebody hacked my account, just so you know. That's my story, I don't know. I was a little frustrated and didn't like how this thing is coming about. I deleted whatever post was on there, but I'll say it was hacked. I'll say my wife hacked my account.
"I had something on there on my personal account saying, 'Hey, I support our current board of directors and these guys are good guys, and anybody who's trying to take their place need to think about why they're doing it.' That's kind of what the post was about.
"I deleted the post because people were saying, 'Why are you saying that? 'And I said, 'Well, I got a First Amendment right to say what I want to.' People were upset I had an opinion.
"Anyway, it's not on there anymore. Rather than get into the fray or anything, I deleted it."
Dahlman said he only meant to offer a strong endorsement for the directors seeking reelection.
"The current board is a great group of guys," he said. "Even the guys who aren't up for reelection. They work really well as a team. We've got a lot of good things happening in the department, and we have had for the last few years. Our professionalism level has increased across the board.
"The board members are the ones who get 100 percent credit for all of that because they're the ones who set the policy and the tone for what needs to happen."
Among the opposing candidates, Cabal, who works as a security guard at Chinook Winds Casino Resort and is a former emergency medical technician and NLFR lieutenant who helps with the local Boy Scouts, said, "I hope to make a difference. I want to make things better."
"I was a volunteer firefighter and I'm open-minded" said Stuebgen, who owns businesses in Lincoln City and Pacific City. "I want to hear what everybody has to say."
Efforts to reach Blacketer, who is past president and current vice president of the NLFR Volunteer Association and a volunteer lieutenant at Otis Station 1300, were not immediately returned. Beatty and Lee, who work for NW Natural, also have yet to respond. Woodard could not be reached.