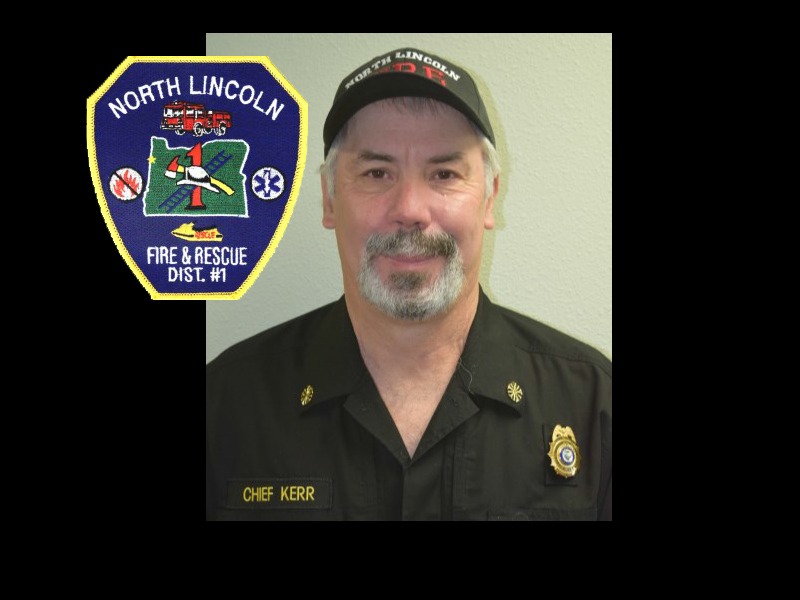 North Lincoln Fire & Rescue (NLFR) Chief Doug Kerr will be retiring Feb. 28 after giving 90-day notice to the North Lincoln Fire & Rescue Board of Directors in November.
"I've known Doug Kerr from almost my entire time I've lived on the coast," NLFR District Captain Jim Kusz said. "For the 24 years I've known him, Chief Kerr has proven to a loyal, dedicated and big hearted man."
"Message from the Chief" from the nlfr.org website:
Most of you have heard by now, but just in case you haven't, at our Board Meeting on November 14th, I gave my 90-day notice of retirement as the Fire Chief. My last day is scheduled for February 28, 2019.
This decision was one of the most difficult of my life but I feel it is the right one for my family and me. I didn't make this decision as quickly as it might appear, as I have been looking into my financial status since early 2018. The information I was able to collect back in March showed I could retire and live comfortably. I really didn't think much about it at first, thinking I would work until I was 65 or older, but the more I thought about it the more attractive it looked.
I will be 63 years old in March; I've lived in Lincoln City for over 56 years and have been involved with the fire service for just under 35 years. I was a Volunteer Firefighter with
Devils Lake for 13 years and have been currently employed by North Lincoln Fire & Rescue since 1997 – 9 years as a Division Chief, about 11 years as the Assistant Chief, and just under 2 years as your Fire Chief.
None of us know how much longer we have, and in our line of work we see that reality every day. Before making my decision, I thought a lot about all the changes we've been
through, the projects we have in progress, and the plans for the future. How could I possibly leave now? But I know the projects will get done and plans we've made will be followed through to completion.
The District has great people and resources, and will go on and continue to improve. The timing is right for me. I want you all to know that I retire with the utmost respect for our agency and everything WE have accomplished over the last 22 years. It has been my honor to work with each of you as our agency has grown and it has truly been my privilege and pleasure to serve as your Chief.
I really want to thank our Board of Directors for all their support and direction. The Staff is an outstanding group who will continue to get the job done at the highest level. I am very proud of our new career firefighters. They've done a great job of putting NLFR in the public eye while providing great emergency service response.
And a very special Thank You to our Volunteer Firefighters who continue to amaze and impress me with their dedication, work ethic, and commitment. We cannot provide the service we do without them. As we get close to the Christmas holiday, I wish you the
Happiest of Holiday Seasons and a great 2019!
Thank you for all you do!
Chief Kerr
"I'm proud to call him my friend and hope his next chapter with his wife Patti is full of fun and adventure!" Kusz said.