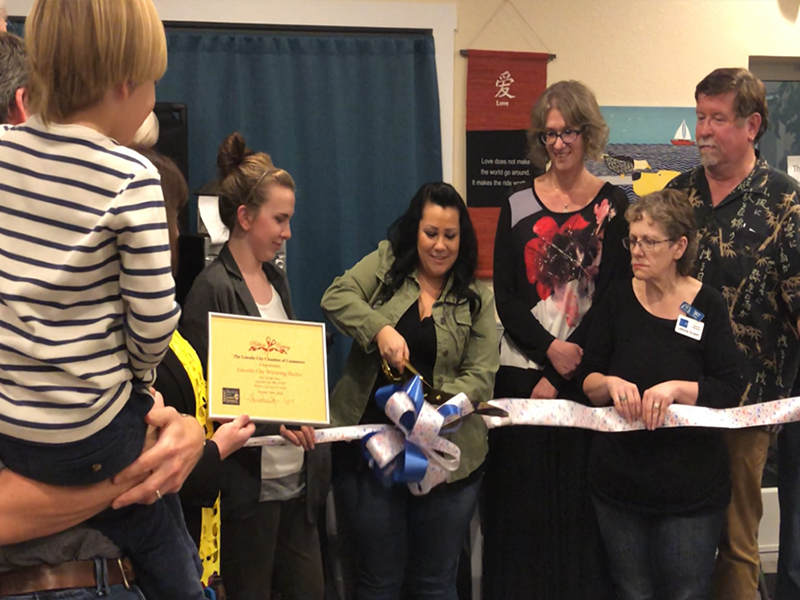 The Lincoln City Resource Center celebrated its one-year anniversary and the birthdays of President Patrick Alexander and Director Amanda Suzanne-Cherryholmes on Thursday with a Lincoln City Chamber of Commerce ribbon-cutting ceremony.
Cherryholmes gave Homepage a tour of the Resource Center, complete with statistics over the first year of operation.
Employment, housing or both were found for 51 of 65 clients, an 80 percent success rate.
30 birth certificates, 36 photo identification cards and two Social Security cards were obtained for clients.
7,081 meals were served.
409 men, 207 women, 31 children, 40 Veterans, 48 Native Americans, 266 locals, 40 working people and 380 transients walked through Resource Center doors.
1,532 showers were taken.
1,242 loads of laundry were done.
Chamber of Commerce Executive Director Lori Arce-Torres presented Resource Center staff with a signed congratulatory award and Cherryholmes cut the ribbon.
Birthday cake was provided and new restaurant D Dogs catered a taco bar to the event.