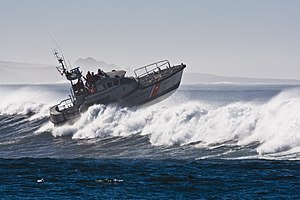 North Lincoln Fire and Rescue (NLFR) was dispatched Wednesday, Nov. 7 around 2:30 p.m. to a person calling for help in the surf on a log or raft, near the breakers of the Salmon River north of Lincoln City.  The United States Coast Guard (USCG) was also notified, and immediately responded with their 47 foot Motor Lifeboat that was preparing to get underway at USCG Station Depoe Bay for training maneuvers when the call arrived, according to USCG Senior Chief Christopher Hinote.
NLFR and water rescue crews arrived on-scene and with the assistance of the caller on the bluff at Cascade Head were able to quickly locate an overturned 12′ Zodiac about 300 yards south of the mouth of the Salmon in the surf with one male occupant clinging to the small craft.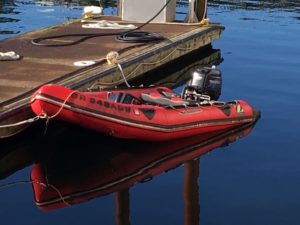 William Platt, 29 and Marissa Littleton, 30 both from Portland, Oregon went out crabbing in the small vessel when a line became entangled in the prop of the motor.  Platt managed to maneuver the Zodiac to the sand spit to let Littleton off on-shore; he then drifted back out to attempt to cut the line from around the propeller when a wave flipped the boat, leaving Platt adrift and Middleton with no safe means to get back to their vehicle across the river parked at Knight's Park.
Water rescue members quickly brought Platt back on their Kawasaki Personal Watercraft (PWC) through the breakers, and shortly after that water rescue members brought Littleton across the river to awaiting Pacific West Ambulance for evaluation. Both where in good health and released after a brief examination.
Conditions were too rough at the mouth of the Salmon river to consider retrieving the Zodiac still afloat in the ocean and bring it back with the North Lincoln Fire & Rescue's PWC's, so water rescue members towed the 12' craft to the USCG 47' Motor Lifeboat waiting beyond breakers; the USCG took custody of craft and towed it back to USCG Station Depoe Bay for safe keeping.
"United States Coast Guard and North Lincoln Fire & Rescue often work together, they are our Guardians whenever our surf rescue team deploy our PWC's," Said NLFR Captain Jim Kusz.
Both the USCG and surf rescue teams want to prompt boaters to always wear life jackets, know that surf conditions can change quickly and be aware of the limitations of your vessel.
Jim Kusz / District Captain
Public Information, Education & Safety Officer
North Lincoln Fire & Rescue