Gabe just won his first collegiate outdoor race! Tough race against the young man who finished ahead of him during the indoor conference championship! The kid loves to RACE!

Posted by Joey Arce-Torres on Saturday, March 23, 2019
Considering he was among the state's fastest high school sprinters, excuse Western Oregon University freshman Gabe Arce-Torres for winning the 400-meter dash Saturday in his first outdoor meet of the collegiate season.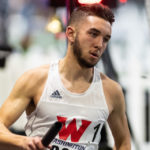 The 18-year-old 2018 Taft High graduate, who was among the favorites for three Class 3A State sprint titles before being injured at the West Valley League District championships last spring, ran a personal-best 49.07 to win his debut event at the Willamette Invitational in Salem.
Arce-Torres defeated sophomore Adam Brown of Concordia College by .13 seconds.
Arce-Torres became the youngest athlete in Western Oregon University history to compete in the NCAA Division II Indoor Track & Field Championships in early March when he ran in the distance medley relay for the Wolves in Pittsburg, Kansas.