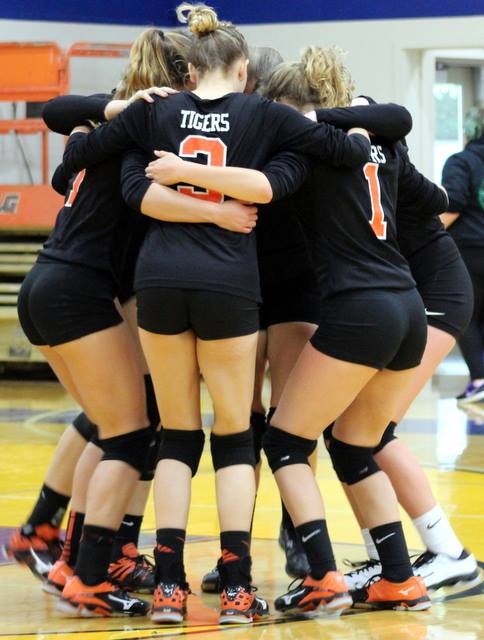 Taft High's underclassmen helped overcome the absence of several team members Saturday to help the Tigers launch the 2018 volleyball season with mixed success in a six-team preseason tournament in Warrenton.
"I am very proud of how the girls did," Coach Kelsey Hart said, "We struggled a bit, and definitely identified some areas and skills to work on, but there were flashes of greatness. We were playing with only two-thirds of our team, so everyone got a ton of great game experience."
Freshmen Lily Hatton, Shelline Nerup and Logan Jack joined sophomore Jordyn Ramsey to "really step up and got a feel for what it will be like on the varsity squad," Hart said.
Hatton had the most service aces for the Tigers, while senior middle blocker Maleah Smith "had an amazing day, and was one of our most consistent, aggressive servers, and put up some monster blocks," Hart said.
The second-year Taft coach said senior outside hitter Savannah Russo was "a hitting powerhouse," and senior setter Lilly Salsbery and junior libero Corey Van Damme "did a great job running the court in tough situations."
"Both had very consistent serving days," she said.
"The competition at the Warrenton Tournament is always great, and pushes us to play our best," said Hart, whose Tigers earned victories over Knappa and Clatskanie and challenged Nestucca, Culver and Warrenton. "We are looking forward to rematches this season with several of the teams we played yesterday. They were tough competition, and I can't wait to see how we improve against them as we move forward."
Roster
| | | | | | |
| --- | --- | --- | --- | --- | --- |
| No | | Name | Position | Grade | |
| 1 | | Lilly Salsbery | S | 12 | |
| 3 | | Caitlyn Rundstrom | OH/RS | 12 | |
| 4 | | Logan Jack | RS/OH | 9 | |
| 5 | | Charlotte Huppert | RS/MB | 12 | |
| 7 | | Savannah Russo | OH | 12 | |
| 8 | | Shelline Nerup | MB/OH | 9 | |
| 9 | | Makena Cole | RS/OH | 10 | |
| 11 | | Lily Hatton | S | 9 | |
| 12 | | Jordyn Ramsey | DS/RS | 10 | |
| 14 | | Maleah Smith | MB | 12 | |
| 16 | | Corey Van Damme | L | 11 | |
| 17 | | Jazmyn Reyes-Cornejo | DS | 12 | |