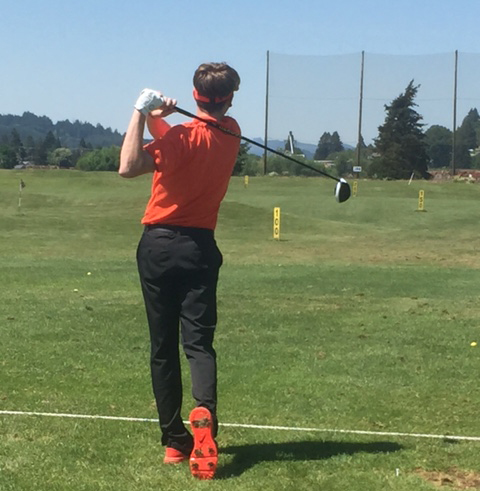 Leave it to Taft High boys golf coach Andy Morgan to put it best:
"There is virtually no breeze on the course — except the swinging that we have done too much of in our pursuit of our goals," he said Monday following first-round play in the OSAA Class 3A/2A/1A Boys Golf Championships in Banks.
Taft struggled to a 12th-place standing behind first-place Bandon in the 13-team event at 6,346-yard, par-72 Quail Valley Golf Course entering Tuesday's final round.
The Tigers, who shot 403 — 95 shots behind first-place Bandon's 20-over-par 308 — will tee off for final-round play in the 36-hole event at 8:15 a.m. Class 2A Bandon leads 3A Rogue River by four strokes.
"As a first year coach, my idea of a complete, team-best performance was very optimistic," Morgan said. "The Tigers play to win, and our attitude has not changed — though our team was given a reality check."
Bandon freshman Scotty Keenan shot 7-under 65 to lead the chase for medalist honors by four shots over Special District 2 champion Kyle Humphreys of Regis.
"There are some really good golfers here this week, and it is exciting to play alongside these fine young men," Morgan said. "We know we belong here, and we are going to represent our community and school with poise and confidence."
Taft junior Logan Merry, the team's leading player all season, stands in 18th place in the two-day tournament following an opening 86. Senior Bonny Patel is tied for 35th at 97; junior William Brooks 47th at 109; senior Dawson Wood tied for 48th at 111; and senior Ean Wood 56th at 124.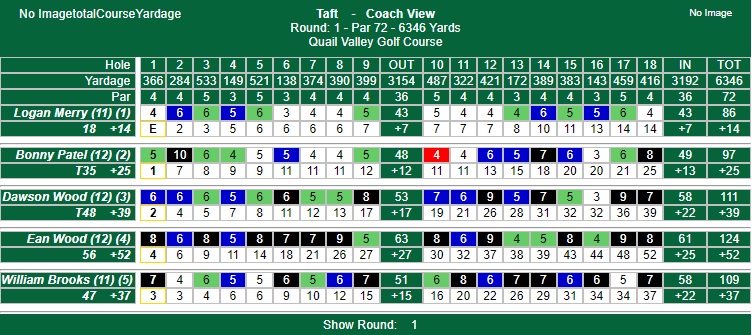 "Taft played around its averages, though we know, collectively, that we are capable of so much more," Morgan said. "The team is happy, yet hungry, and we are not going be satisfied with anything less than our best effort."
Determined to improve his standing, Merry headed straight to the practice range following his round.
"Logan has his sights on a higher finish," Morgan said. "He is within striking distance and will make a move tomorrow."
Patel said he believes his contact was strong, but made some poor decisions regarding game management. He putted well to save some shots.
Brooks said he missed several putts and rushed some shots. He considers the miscues correctable, and said he will work hard tomorrow to slow the game down.
Dawson Wood was disappointed after a decent front nine, but had a rough experience on the back side.
"He will work to maintain a more a positive attitude for a full 18 tomorrow," Morgan said.
Ean Wood said his driving and putting were solid, but his chipping cost him.
"His inconsistent iron play didn't disrupt his positive attitude," Morgan said.
Morgan said post-round advice from assistant coaches Dean Konecny and Kenny Morgan has his squad prepared for a strong finish.
"We have broken the game down, setting some goals for each individual player," he said. "We definitely need to stay hydrated, and get quality rest.
"The team is in a good mental place. Everyone has remained positive about the experience, and excited to improve. We are talking about having fun — No. 1 goal — and keeping our sights on the possibility of placing higher tomorrow."
Taft scorecard