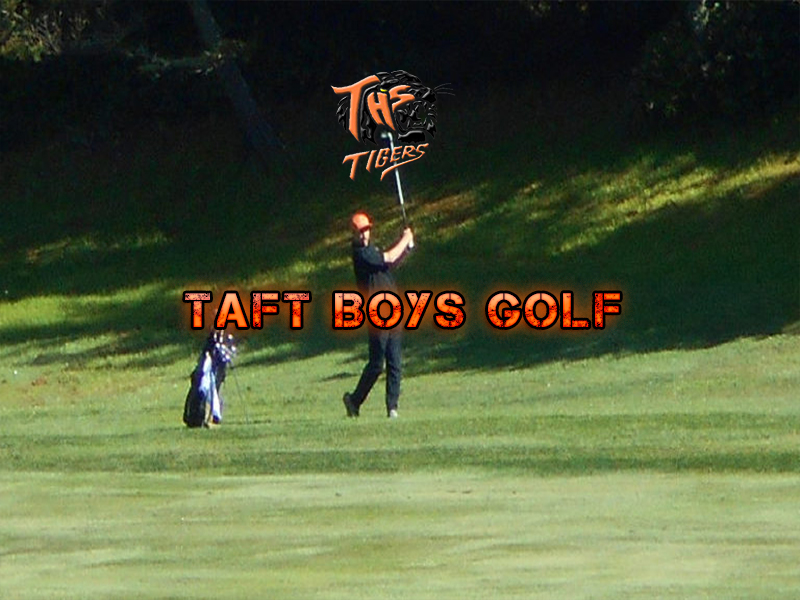 Unlike the grocery stores he owns in Lincoln City, the shelf's in need of stocking on Taft High boys golf coach Andy Morgan's roster.
With just one returning player with varsity experience, the Class 3A Tigers open the season Monday with orientation to tournament play in the nine-hole Salem Area Youth tournament against several teams in various leagues and classifications.
"Our team goals are to improve, have fun and return Taft Tigers golf to excellence," Morgan said. "Competitively speaking, we would love to compete for a spot in the State championships, but we must be realistic."
Also Taft's head boys basketball coach, Morgan and assistants Dean Konecny and Kenny Morgan will rely on senior William Brooks to be the team's No. 1 player, with junior Jonathan Freilinger and freshmen Zac Wil, Julian Maiden, Ethan Unruh and Eston Whistler vying for the other spots.
"Coach Konecny and William have changed some swing mechanics this year, and are conditioning William to make a run at competing in the State championships," Morgan said. "William is not yet in the top tier of golfers in our division, but his game will be competitive."
La Pine, with returning star player Tommy Rohde, is expected to be Special District 2's top team, Morgan said. He said Brooks possesses the work ethic, commitment and ability to compete with the conference's best golfers in trying to book a tee time in the State tournament at Emerald Valley Golf Club near Eugene in early May.
"William will provide insight for the younger golfers," he said. "As for the youth, there is an enormous opportunity over the next four years to play elite golf. If the team stays committed and competes as a team, we should have a very bright future."
Wil has demonstrated a strong game, good fundamentals and "coachability," Morgan said.
"We are looking for him to push both his talent and William's into the season," he said. "They will likely be very competitive throughout the year. Where William shares experience and practice, Zac has a cool head and seems to control his emotion like golfers more advanced in age."
While Wil is the most polished of the four freshmen, "Ethan, Julian, and Eston will all make huge gains this season," Morgan said.
"These young boys are great listeners and eager to compete as a Taft championship golfers," he said. "And, Jonathan has looked improved this year and we look forward to his steady personality and composure.
"At this point, William and Zac are the only two golfers who look ready this year. As a team, we will need to learn some fundamentals and course management techniques."
While an appearance at State looks like an unreachable green on a 600-yard par-5, Morgan isn't ruling out holing out on his team's quest to get there.
"I would not say it's impossible to reach the State tournament; in fact, I am optimistic that we will not be overlooked," he said. "However, we need to be focused on our process of the next four years and building a sustainable program for the future. We need more golfers, more interest."
Morgan said the continued support of Salishan Spa & Golf Resort has been a major factor in his program's sustainability and success.
"We have had the wonderful opportunity to play on one of the finest courses on the Oregon Coast, in the entire Northwest," he said. "The driving range and the freedom to play as many holes as we can, and to use the facility as a tool for learning the game, are so valuable. The folks at Salishan are so supportive. What an incredible relationship. We couldn't ask for anything else."
Taft has won 27 District championships and seven State titles during the years Salishan has supported the boys team, Morgan said.
"This team needs experience," he said. "The more we play and compete, the better we will become. Golf as a competition is new to most of these athletes. It is a brutal game if you don't know how to manage the emotional aspects.
"I love to have team-sport athletes, like basketball, baseball and football, try golf. It exposes you like no other sport. Though we are competing for a team victory, it is like no other sport. You are so exposed by your strengths and weaknesses. If you run — you need to be fast. If you wrestle, you may face a more able opponent. In golf, it's how well you manage your skill, your mind and the elements. It can be humiliating."
Morgan, who is in discussion with the men's club at Chinook Winds Golf Resort on developing a junior program, said applying the team concept to an individual sport will be key for Taft this season.
"The future of Taft Tiger golf is bright," he said.