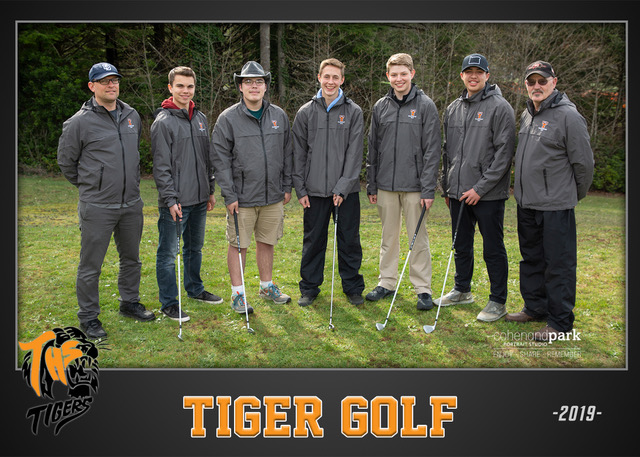 The Taft High boys golf team tuned up for next weekend's annual trip to Central Oregon for the Special District 2 season finale by winning an 18-hole league match Monday in Dallas.
Three Tigers posted their best scores in overcast but dry conditions for a team-winning 404 at Cross Creek Golf Course just days after placing last in their own tournament under gray skies and wet weather at Salishan Golf Resort.
Senior William Brooks fell shy of carding a personal-best score, but shot a season-best 94 to lead a trio of Tigers under 100 in a field that included Blanchet Catholic, East Linn, Regis, Toledo and Waldport, in addition to host Amity.
Freshmen Ethan Unruh and Zac Will posted personal-best 97s to come in next-lowest for Taft, while another freshman, Eston Whisler, came home in 114 to sign his best competitive card for the Tigers.
The following is a report from Taft High coach Andy Morgan:
"Tee off was under a mostly cloudy sky, first group beginning at 11 a.m. Host school Amity welcomed Special District 2 schools: Blanchet, East Linn, Regis, Toledo, Waldport, and Taft 7-12 Tigers.  Only the second match this season, attended by a complete Taft roster.  The Tigers only other match occurred at home course, Salishan, under in the miserable rainy conditions of two weeks prior.  Though it was Taft's home track, the Tigers struggled to a last place finish.
"This week, under overcast, but dry, conditions, it was quite a different story.  With six teams competing in the varsity match, Taft finished in first place, with a team score of 404.  This was not only good enough to win the match, it also contained three personal best scores by the three freshmen competing for Taft.
"Senior leader William Brooks did not card a personal best, but it was a season-best 94 as William continues to improve with a swing that has been redesigned by himself with the help of assistant coach Dean Konecny.
"While the changes have not been dramatic, it has been a struggle for Brooks to find consistency as he focuses on some minor changes. Brooks struggled a bit on the practice range, but found his stride and came in with a respectable 46 on the back nine.
"With the second-best Tiger score of 97, freshman Ethan Unruh was all smiles as he climbed the hill on the approach to the 18th green. Ethan was proud of his season-best 49 on the first nine, only to improve upon it with a second-nine score of 48, coming in.
"Ethan doesn't strike the ball with great power, but he doesn't make huge errors through the fairways. Unruh is steady around the greens, and plays with even tempo and a genuine smile, as he enjoys the competition and the camaraderie. His teammates were quite pleased with his round, and it was a particularly nice experience to watch the Tiger pride.
"Third-best score for the Tigers today belonged to freshman Zac Will.  A personal-best 97, brought Will to a new plateau, as praise was given by his teammates. The Tiger coaches have talked about scoring plateaus, and the process for continued improvement.
"Will has worked harder than anyone on the team and has been rewarded by his commitment. The first shot of the day from the tee box on No. 1 was errant for Will, but he stayed calm and remained committed to his strategy. A literal approach to playing and scoring works well for Zac, who shows little emotion while he works on his game.
"While it was a huge step for the young Tigers to bring home three scores below 100, it should not overshadow another personal best of the day, belonging to the third freshman on the team, Eston Whisler.
"Another passionate young Tiger, Whistler had a big score on a hole, but managed to minimize his struggles by finishing with a great score of 114.
"To begin scoring below 120 and becoming more aware of the simple adjustments necessary to improve, Whisler is on track to shave more than 30 strokes from his preseason efforts. As a key future Tiger championship golfer, Whisler has been a very good student of golf and a great teammate. He enjoys playing, and has shown a great desire to continue to improve. Passionate about golf, three more years of playing for Taft will guarantee some great results.
"Playing nine holes as a JV golfer, Jonathan Freilinger approached a personal-best achievement as well. Jonathan has improved dramatically this year, pounding drives and continuing to work hard around the greens.
"Freilinger has changed his approach this season, focusing on his game with a renewed consistency. After missing a putt for birdie in practice a couple of weeks ago, Freilinger has committed to becoming a driving force for the Tiger golfers.
"Next Saturday, April 27, the entire Tiger Team will travel to Central Oregon for their annual trip, playing 18 holes each day, finishing in the final SD2 tournament of the year, hosted by La Pine at Quail Run Golf Course. Tee Time is 11:15 am, and everyone will be looking to knock LaPine from its perch atop the District standings."